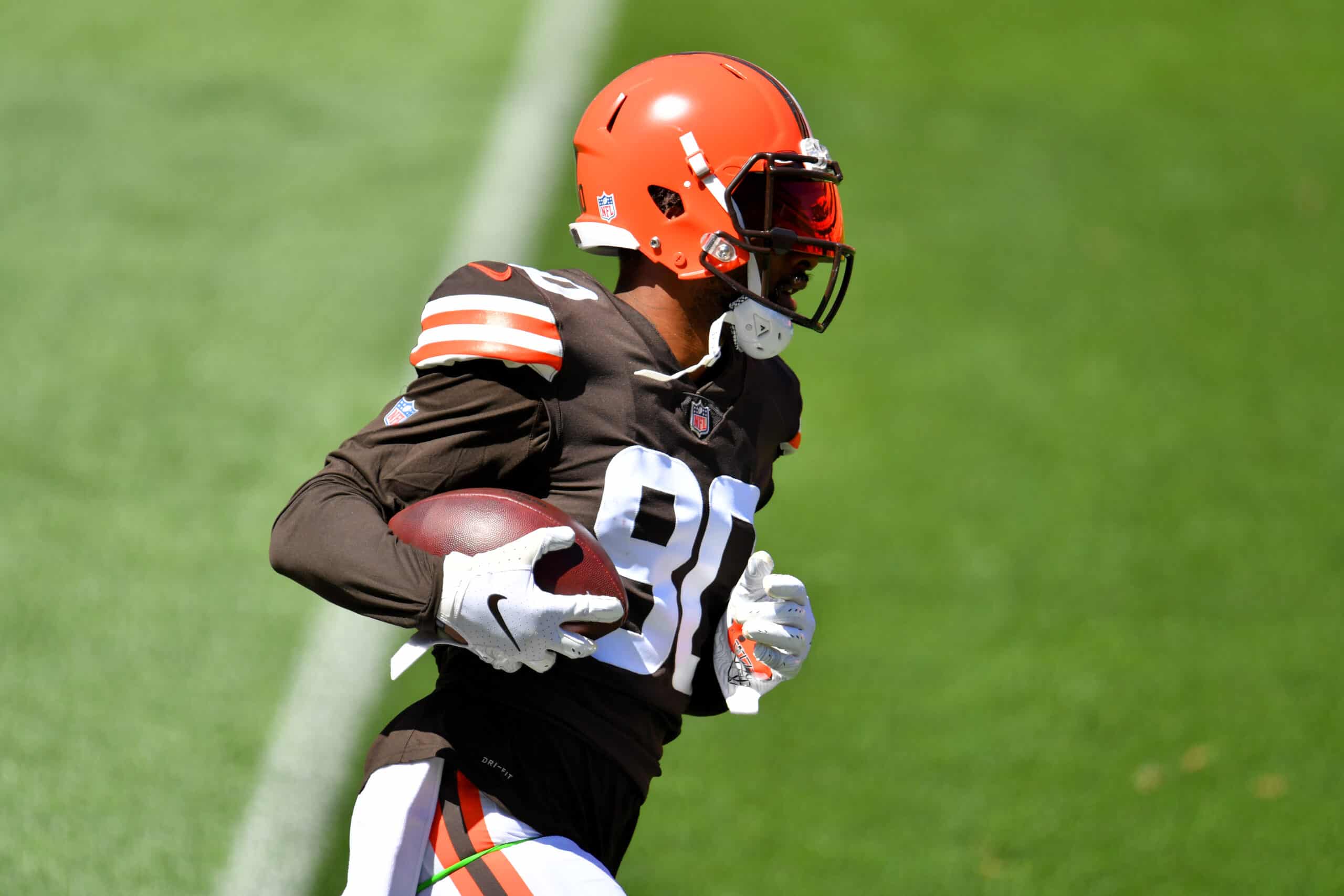 On Tuesday morning, Jarvis Landry took to Twitter and expressed that he would like to stay with Cleveland:
1/2 Reality behind all this is I came back to play in the best shape of my life, I got hurt week 2 with a high grade MCL Sprain,Partial quad tear and bone bruise. Then came back way to early and ended up staying hurt the entire season. You never heard me mention anything about it

— Jarvis Juice Landry (@God_Son80) February 22, 2022
Landry, who failed to play 16 games for the second straight season, also did not make the Pro Bowl again.
His targets per game increased from 2020 to 2021, but his receptions per game, yards per game, and receiving touchdowns have been consistently decreasing:
2019: 8.6 targets per game, 5.2 receptions per game, 73.4 receiving yards per game, and six receiving touchdowns
2020: 6.7 targets, 4.8 receptions, 56.0 yards, and three receiving touchdowns
2021: 7.3 targets, 4.3 receptions, 47.5 yards, and two receiving touchdowns
It is possible that Landry's down season was due to injury.
However, the 29-year-old experienced career lows in receptions — and receptions per game — as well as yards, touchdowns, and first downs.
So, it could be that Landry is getting old or it could be that he was injured, or it could be both.
Anyway, it appears that Landry did not know he was going to go with three tweets here.
He had much more to say:
2/3 Also my media availability didn't happen because I was focused on getting on the field as healthy as possible during the week and after games.. a strategic plan was set in place to be followed. I put the ball in CLE court by telling them I would like to stay but if not then

— Jarvis Juice Landry (@God_Son80) February 22, 2022
3/3 I have put the ball in CLE court by telling them I would like to stay but if not then I'm confident enough in myself to be a better healthy me this year and moving forward to helping do my part in winning a championship elsewhere.

— Jarvis Juice Landry (@God_Son80) February 22, 2022
Landry would like to re-sign with Cleveland, so what will the Browns organization do?
What are the top three reasons to re-sign him?
3. He can Perform Like a Pro Bowl Receiver Again
Landry did make the most Pro Bowls of any wide receiver since 2015:
Most Pro Bowl Selections as a Wide Receiver since 2015:

Jarvis Landry 5
Tyreek Hill 5
Davante Adams 5
Keenan Allen 5
DeAndre Hopkins 5
Julio Jones 5 pic.twitter.com/OhdsFrDYsO

— NFL on CBS 🏈 (@NFLonCBS) February 22, 2022
Although he has not made a Pro Bowl in 2020 or 2021, he could be back there in 2022.
In Miami, he performed better for the most part.
His experience in Cleveland has had some great moments, but we do not know if his time with the Browns is over.
He has seen a frustrating drop in statistics recently.
So, could Baker Mayfield or the Cleveland offense be the problem?
2. Could it be that Cleveland's Offense is the Reason for Landry's Downturn?
Landry has played four seasons in Miami and four seasons in Cleveland.
With Ryan Tannehill (three seasons) and Jay Cutler (one season) as his Dolphins quarterback, Landry posted the following numbers:
2014: 112 targets, 84 receptions, 758 receiving yards, and five receiving touchdowns
2015: 166 targets (career-high), 110 receptions, 1,157 yards, and four receiving touchdowns
2016: 131 targets, 94 receptions, 1,136 yards, and four  receiving touchdowns
2017: 161 targets, 112 receptions (career-high and led NFL), 987 yards, and nine receiving touchdowns (career-high)
From 2015 to 2017, Landry made the Pro Bowl.
Then, the Dolphins traded him to the Browns for a 2018 fourth-rounder and a 2019 seventh-rounder.
Jumping forward to 2021, Landry led the Browns in targets and receptions.
However, the team's passing offense ranked among the worst ones in the league.
So, who can be blamed?
It seems like it is a combination of factors, and Landry may not be the main one.
Therefore, it would be fine to re-sign him.
1. Landry Would be the Best Remaining Receiver in Cleveland
Here is how his perception has been around the league recently:
2016: NFL Top 100 #98
2017: #42
2018: #52
2019: #84
2020: #61
2021: #94
It does not seem like Landry will land in the NFL's Top 100 entering the 2022 season.
However, no other Browns receiver will make it in the Top 100 either.
On the bright side, Landry is still a strong receiver in the NFL, and he can make an impact.
The Browns are in need of a turnaround in 2022 and having to rebuild the offense will be tougher without Landry.
Re-signing Landry — the team's current best receiver — is the way to go.