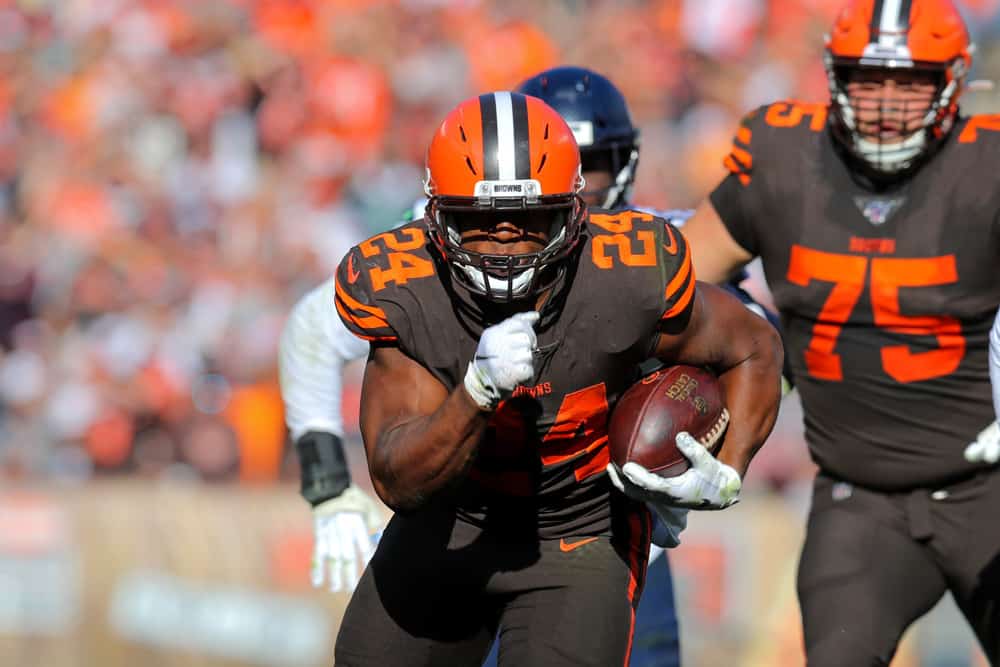 With three weeks remaining in the regular season, I wrote an article discussing Nick Chubb's chances at the 2019 NFL Rushing Title.
At that time, it seemed to be a three-man race with Nick Chubb barely ahead of Tennessee's Derrick Henry and a little bit more ahead of Carolina's Christian McCaffrey.
Now with one week remaining, Chubb seems to have all but locked up the Rushing Title this season, barring any record day from McCaffrey & a terrible day from Chubb.
Let's go back at the four guys I listed two weeks ago and see how they've fared since then.
Nick Chubb — 1,453 yards (1st)
Last week Chubb racked up 127 yards rushing against the Cardinals, providing a comfortable cushion heading into the last two weeks.
Against the Ravens yesterday, he only managed 45 yards on a season-low 15 carries.
He currently holds a 92-yard lead over second place, so unless he runs backwards next week, this trophy is all but his.
And Chubb has already passed the mark of the last two season's rushing yards leaders – Zeke Elliott's 1,434 yards in 2018 and now current teammate Kareem Hunt's 1,327 yards in 2017.
Chubb is also in position to finish 2nd all-time on the Browns single-season rushing list behind Jim Brown.
Over the last couple of weeks, Nick Chubb has passed Jim Brown, Jim Brown, and Jim Brown on the #Browns single season rushing list. If he gets 92 yards this week he will pass Jim Brown and Jim Brown, putting him 2nd all-time, just behind Jim Brown. pic.twitter.com/hQ0zc6D8D5

— DollarDog Nick @BIGPLAY (@DollarDogSports) December 24, 2019
Christian McCaffrey – 1,361 yards (2nd)
Two weeks ago McCaffrey was in 3rd place behind Chubb & Henry and was 61 yards behind Chubb, so it seemed like no chance he could pass both of them.
However, he's managed to get just enough to remain within an amount that's not impossible to pass.
He ran for 87 yards against the Seahawks last week, but managed just a 54-yard performance against the Colts yesterday that may have done him in.
The Panthers' season finale will be against the Saints 5th-ranked rush defense, so McCaffrey is against some heavy odds.
Derrick Henry – 1,329 yards (3rd)
Henry found himself firmly in 2nd place and just 79 yards behind Chubb, but he sat out this week's game against the Saints due to injury which pretty much ended his chances at passing Chubb.
He's now in third place and 124 yards behind Chubb, so even if Chubb doesn't gain any yards next week, I don't think Henry is passing Chubb.
Dalvin Cook – 1,135 yards (9th)
Cook was a long shot a couple weeks ago and was in 4th place behind the previous three.
His chance at the rushing title was all but taken away when he injured his shoulder in the 3rd quarter of the Vikings Week 15 matchup against the Chargers.
He had only 27 yards to that point, and is not suiting up against the Packers this week.
If the Vikings are smart, they'll rest their starting running back next week to ensure he's 100% heading into the playoffs.
This means Cook will probably stay sitting on 1,135 yards on the season, which should be enough to keep him in the Top 10.