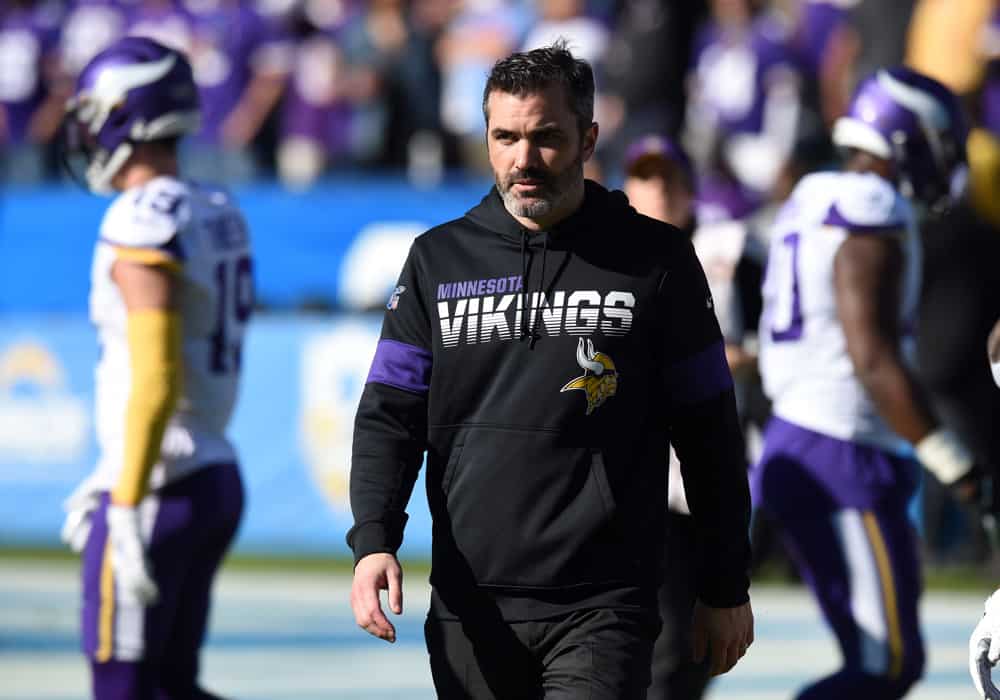 The Cleveland Browns finally have their guy.
The Browns hired Minnesota Vikings offensive coordinator Kevin Stefanski to become their next head coach in franchise history.
Browns are planning to hire Vikings' OC Kevin Stefanski, as @RapSheet reported.

— Adam Schefter (@AdamSchefter) January 12, 2020
As the Browns move forward, there's going to be questions about Stefanski in his first year.
Here are 3 reasons to like/dislike the hiring of Kevin Stefanski
Reasons To Like
1. Kirk Cousins Thrived Under Stefanski
Kevin Stefanski enjoyed great success this past season with the help of former Denver Broncos head coach Gary Kubiak.
In his first season with Vikings quarterback Kirk Cousins, Stefanski led Cousins to a career-high in passer rating (107.4).
Cousins was fourth in the league in passer rating, as well as eighth in touchdowns (26),
It was also the least amount of interceptions in a season (6) since 2012 for Cousins.
If Stefanski can do that for Cousins, then he might be able to fix Baker Mayfield.
After a successful rookie season where Mayfield tossed 27 touchdown passes, he regressed in 2019.
Mayfield threw for 3,827 yards but threw 22 touchdowns to 21 interceptions.
2. Stefanski Would Have Talent Right Away
On paper, the Browns have a juggernaut of an offense in the works.
The Browns have the former Offensive Rookie of the Year (Mayfield), the league's second-leading rusher (Nick Chubb), former league-leading rusher Kareem Hunt, and two 1,000-yard receivers (Odell Beckham Jr. and Jarvis Landry).
Despite all this talent on paper, the Browns finished 22nd in the league in scoring offense and total yards per game.
Meanwhile in Minnesota, the Vikings finished the season scoring the eighth-most points-per-game.
Dalvin Cook, Stefon Diggs, and Aaron Thielen are no slouches either; however, Stefanski would have the talent to get the Browns offense back in the top tier of the league.
3. Andrew Berry Most Likely Becomes The Next General Manager
With the hire of Stefanski, this means that Andrew Berry is most likely taking over as the general manager.
Browns requested permission Saturday to interview Eagles' VP Andrew Berry for their GM job. He is a favorite to be matched with new HC Kevin Stefanski.

— Adam Schefter (@AdamSchefter) January 12, 2020
Berry has experience with the Browns, including three years as Sashi Brown's right-hand man.
Berry would become one of the youngest executives in the NFL.  He is known to be very intelligent and embraces the analytics of the game.
He was always on owner Jimmy Haslam's radar.
As I reported first on Sunday, Haslam would like to bring #Eagles personnel exec Andrew Berry back into the #Browns fold. He loves Berry and has always viewed him as a future Browns GM https://t.co/nWlOtfFCd8

— Mary Kay Cabot (@MaryKayCabot) December 31, 2019
Reasons Not To Like
1. Vikings Had A Bottom Tier Passing Game
Even though Cousins had one his best seasons, the Vikings offense, in general, was average, especially the passing game.
The Vikings ranked 23rd in the NFL in passing yards per game and that was not all.
#Vikings offense since Kevin Stefanski took over (including playoffs:
– 51.7% pass plays (28th in NFL)
– 48.3% run plays (4th)
– 60 plays per game (28th)
– 29 rush att per game (8th)
– 29 pass att per game (30th)
– 127.3 rush YPG (7th)
– 225.9 pass YPG (24th)

— Michael Florio (@MichaelFFlorio) January 12, 2020
When you have a running back like Dalvin Cook, the rushing stats are likely going to be skewed.
However, when your star quarterback (Mayfield) is coming off a disappointing passing season, these are not the numbers you want to see.
2. The Hire Feels Desperate 
The Browns could have hired Josh McDaniels but balked at the idea at how McDaniels wanted the organization structured according to Albert Breer of MMQB.
Two notes on the Browns' search.

• 49ers DC Robert Saleh made a very real impression on the group. I'm told he made the call harder on the Cleveland brass.

• Patriots OC Josh McDaniels did very well. My sense: the "problem" was he wanted sweeping organizational change.

— Albert Breer (@AlbertBreer) January 12, 2020
Cleveland also looked at Mike McCarthy, but Cleveland dragged their feet and McCarthy took the job in Dallas.
McDaniels has won six Super Bowls as a coordinator with the Patriots and McCarthy won a Super Bowl while in Green Bay.
Instead, the Browns hired Stefanski with the feeling he could be the next Sean McVay or Matt Nagy.
It just feels like the Browns are hoping for a homerun.
3. First-Year Coach Curse
The Browns have not fared well when it comes to giving coaches their first opportunity.
Romeo Crennel (2005-2008) recorded the best season in recent memory in 2007 when the team went 10-6, but the Browns missed the playoffs.
Overall, Crennell went 24-40 before being fired.
That's not all.
Pat Shurmur went 9-23 (2011-2012), Rob Chudzinski went 4-12 (2013), Mike Pettine went 10-22 (2014-2015), and Freddie Kitchens (2019) was just fired after a 6-10 season.
Maybe, Stefanski can finally break the curse.