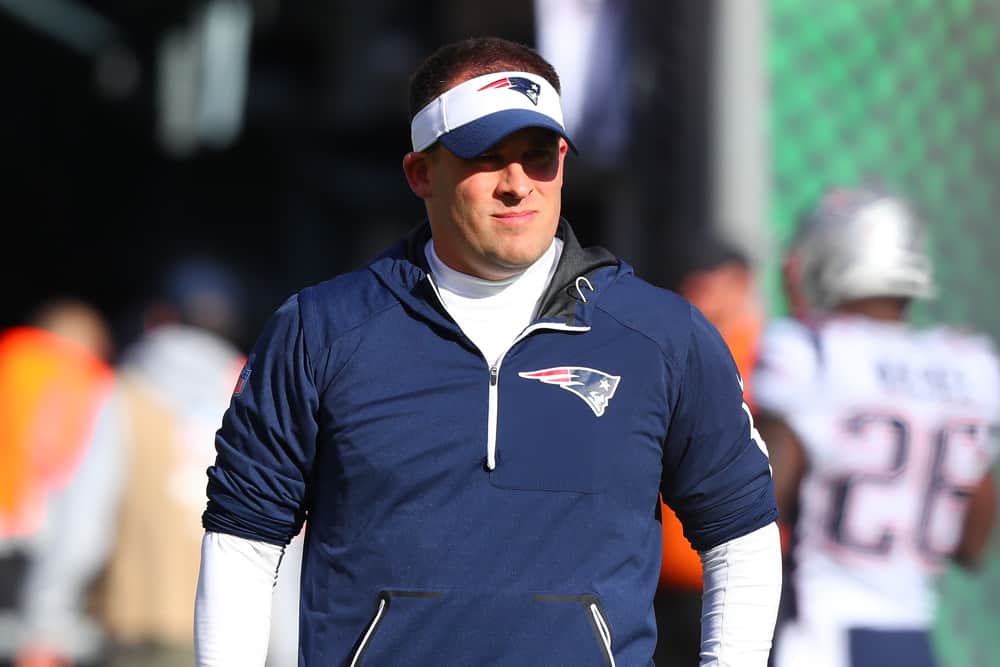 On Friday we were tracking planes.
Well, one plane.
That belonged to Cleveland Browns owner Jimmy Haslam and was carrying precious cargo.
Might be reach but… the same type of plane (FA50) that flew Josh McDaniels to Cleveland and back to Boston (then came back to Cleveland last night) just took off from Boston. Didn't notice it leave Cleveland today but I could've missed it. #Browns pic.twitter.com/SwQluIfBRD

— BrownsWave \: (@Brownswave) January 11, 2020
The cargo, of course, was Patriots offensive coordinator Josh McDaniels.
Browns fans were hopeful that this trip to Cleveland would be the one that kept him here for good as head coach.
The 43-year old had just been a part of a crushing upset at the hands of the Tennessee Titans.
With an aging Tom Brady and Bill Belichick in New England, the hope was that McDaniels would see an opportunity in Cleveland.
An opportunity to lead a young, talented roster to the postseason for the first time since 2002 was on the table.
McDaniels also seemed to be the fan-favorite of all the candidates due to his previous coaching experience and success with New England.
When no news broke on Friday or Saturday, fans became worried.
Had the Browns screwed up the interview with McDaniels?
Sunday a new coach was named.
Vikings offensive coordinator Kevin Stefanski will be the new man in charge in Berea, not McDaniels.
So, what happened?
Paul DePodesta
Mr. Analytics himself, Paul DePodesta, should be pointed to as the main reason Stefanski was hired.
Saleh's strong interview made the #Browns think hard about the decision. But with Paul DePodesta running the search, Stefanski — a finalist who DePodesta favored a year ago — went in with the edge and gets the job. https://t.co/IaAsXJJD7C

— Tom Pelissero (@TomPelissero) January 12, 2020
Stefanski was the man DePodesta wanted last season, but not former general manager John Dorsey.
Dorsey's man was Freddie Kitchens, and he got what he wanted.
But Dorsey is gone now, and it is clear the Haslams value DePodesta's input.
Perhaps they value his input too much.
Charles Robinson let us know a big reason McDaniels was not hired was DePodesta's involvement with the Haslams' decision making.
3. On #Patriots' McDaniels – as I said before – he wanted a specific structure with the #Browns and it wasn't going to be the right fit. I will repeat what I said before: Josh wasn't going to an org where DePodesta or anyone else was a "side jury" reporting to Haslam on his job.

— Charles Robinson (@CharlesRobinson) January 12, 2020
In addition, the term "analytics" has become as prevalent as "due diligence" in Cleveland.
An issue with the previous regime was a split in thinking in terms of analytics versus a more old-school football approach.
DePodesta sides with analytics, and Stefanski is the perfect new-school coach to align with that line of thinking.
Organizational Change
Steve Doerschuk of the Canton Repository said last week that if McDaniels was to be hired in Cleveland, fans should expect him to want an overhaul with how the organization operated.
This made sense considering things with the Browns' structure have been… not ideal.
As a result, fans seemed to be okay with that notion if it meant landing Josh.
However, it appears the Haslams (and probably DePodesta as well) were not okay with that.
Two notes on the Browns' search.

• 49ers DC Robert Saleh made a very real impression on the group. I'm told he made the call harder on the Cleveland brass.

• Patriots OC Josh McDaniels did very well. My sense: the "problem" was he wanted sweeping organizational change.

— Albert Breer (@AlbertBreer) January 12, 2020
This was probably the bulk of the conversation between the Browns and McDaniels on Friday.
Josh's structural changes seemed too much for the Haslams.
So much so, in fact, that he was not even a finalist in the teams' eyes.
49ers defensive coordinator Robert Saleh was the other man in consideration with Stefanski.
Kevin Stefanski and Robert Saleh were the #Browns 2 finalists, but Stefanski's QB track record clinched it: Coach search insider news and notes https://t.co/akks18x1LS

— Mary Kay Cabot (@MaryKayCabot) January 12, 2020
General Manager
Of course, the Browns still need a new general manager after parting ways with Dorsey.
The plan was to hire a coach then find a general manager to go with him.
Earlier this weekend before the Stefanski hiring, however, the Browns started to express interest in talking with general managers.
The Browns have put in a request to the Colts to interview Colts assistant General Manager Ed Dodds for the Browns vacant GM position.

— Dustin Fox (@DustinFox37) January 11, 2020
Browns requested permission to interview Eagles' vice president of football operations Andrew Berry for their general manager job, per source.

— Adam Schefter (@AdamSchefter) January 11, 2020
Neither of those two guys have any ties with McDaniels.
With a key proponent of this hiring process being to keep the building aligned in thinking, McDaniels was not the best fit for that.
This tweet from Daryl Ruiter of 92.3 The Fan sums things up a bit.
McDaniels didn't want DePodesta to remain, so stands to reason the guy leading the search wasn't going to recommend someone that wanted him gone. Called self preservation. #Browns been doing it since 1999. https://t.co/3Jxrc2C6r1

— Daryl Ruiter (@RuiterWrongFAN) January 12, 2020
So, Browns fans went from thinking McDaniels was for sure the hire after Friday's meeting to learning he was not even in the final two names on Sunday.
Patriots faithful will be glad they retained McDaniels, leaving Clevelanders wondering "what could have been" if Stefanski does not work out.