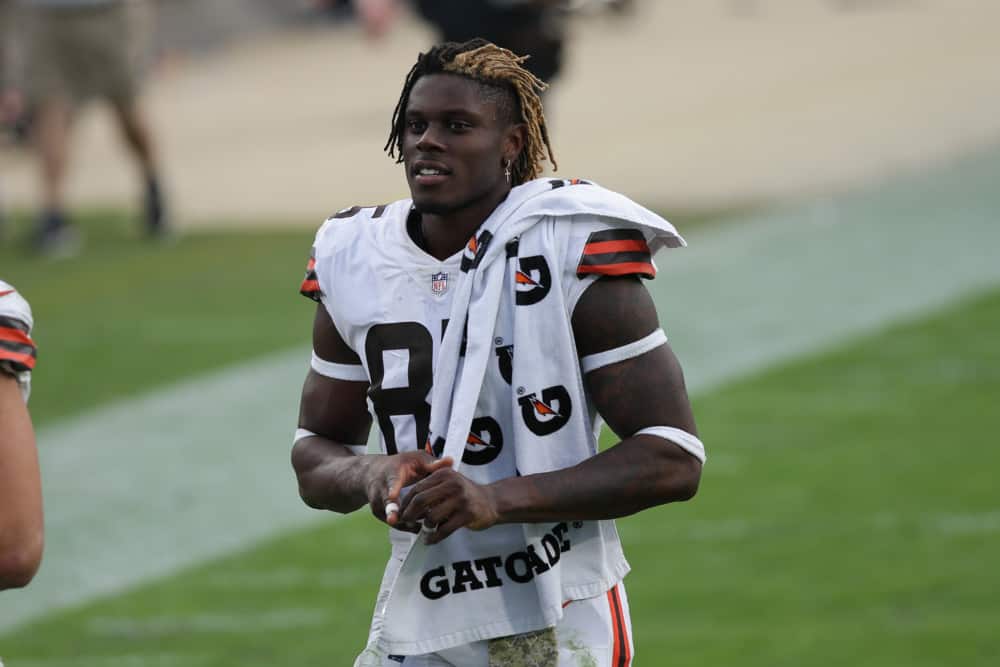 When Kevin Stefanski came to Cleveland, David Njoku was excited to see how the offense would look.
After all, everyone knew the new Cleveland Browns head coach liked his tight ends.
When the team picked up his $6 million fifth-year option, it looked like the former first-round draft pick had a role.
Browns coach Kevin Stefanski on TE: "We believe in David" Njokuhttps://t.co/fvF3mXq8iN pic.twitter.com/bq6imRDhDO

— Around The NFL (@AroundTheNFL) August 1, 2020
Then, Andrew Berry signed free agent Austin Hooper to a big deal and drafted the college Tight End of the Year.
Suddenly, Njoku's new agent, Drew Rosenhaus, was calling for a trade and Njoku went cryptic on social media.
As it turned out, Stefanski and his staff had plans for Njoku in their new offense.
Baker Mayfield ➡️ David Njoku

FOR 71 YARDS 🔥

(via @NFL)pic.twitter.com/AjKJYWJQ6f

— Bleacher Report (@BleacherReport) October 10, 2021
Njoku bought in, became a better blocker and receiver, fired Rosenhaus, and re-committed to Cleveland.
But the NFL is a business, and Njoku might field some offers the Browns simply won't match.
So here are 3 replacement options just in case David Njoku leaves in free agency.
Maxx Williams- 3 years, $20 million
Arizona's starting tight end was a top-5 tight end when he tore his ACL back in Week 5.
While that is a serious consideration, it also might keep him under the radar as bigger names are wooed.
Williams fits the Browns desired tight end model of a strong blocker with above-average hands.
Maxx Williams' first catch of the year is a touchdown! The Cardinals even it up 7-7 in the first pic.twitter.com/VvDXrgaVOK

— 12 SPORTS (@12SportsAZ) November 8, 2020
In fact, if the Browns can land a healthy Williams, they could release Austin Hooper to save $9.5 million in June.
Playing opposite Hooper, Williams would keep defenses guessing which way plays might flow.
Stefanski could field 7 strong front-line blockers against stacked boxes without sacrificing much in the passing game.
CJ Uzomah- 3 Years, $22 Milion 
Despite sharing the field with Ja'Marr Chase, Tyler Boyd, and Tee Higgins, CJ Uzomah made some noise as a receiver.
Cincinnati has a few important contract extensions and gaping holes in their offensive line to address.
This could make it difficult to hit Uzomah's expected signing price.
Joe Burrow to C.J. Uzomah was a 55-yard touchdownpic.twitter.com/V42yLqqO2m

— Dov Kleiman (@NFL_DovKleiman) October 24, 2021
And if they are willing to spend at tight end, Rob Gronkowski could make them ask, "C.J. who?"
Uzomah came off an ACL tear to take over the starting role for the AFC Champions.
He should only be stronger in 2022, making him a worthy addition to the Browns' tight end room.
O.J. Howard, 2 Years, $5.5 million 
Andrew Berry might find one of his special projects in OJ Howard, a former first-round draft pick, fallen on hard times.
Howard entered the NFL with much fanfare, but injuries and circumstances derailed his status.
Tom Brady's arrival bode well for the Buccaneers' tight end, but an injured achilles ended Howard's season in Week 4.
A touchdown for former Alabama TE O.J. Howard. pic.twitter.com/zOGIg1Poq6

— Michael Casagrande (@ByCasagrande) October 4, 2020
He returned to start the 2021 season behind Rob Gronkowski and Cameron Brate in the pecking order.
Howard caught 14 of his meager 21 targets across 17 games, after seeing 19 in Brady's first 4 games in Tampa Bay.
But his yards-after-catch average (6.1) and injury-free season make Howard an interesting prospect.
Don't Forget Harrison Bryant 
Njoku's replacement might already be on the Cleveland Browns' roster.
Harrison Bryant caught 21 of his 28 targets this year, the best catch percentage on the team.
With roughly half the snaps of Njoku, Bryant managed to score 3 touchdowns to Njoku's team-leading 4.
D'Ernest Johnson baits the defenders and Harrison Bryant sneaks behind them for a #Browns touchdown.#NFL | #CLEvsGB pic.twitter.com/hmE1eY7Xth

— Pro Football Network (@PFN365) December 25, 2021
Entering his third season as an Andrew Berry draft pick, Bryant might be Njoku's projected replacement.
With a healthier Baker Mayfield and offensive tackles, Stefanski can drop his 3-tight-end sets.
And that could open the door for Howard or another 2nd- or 3rd-tier free agent to join the Browns.