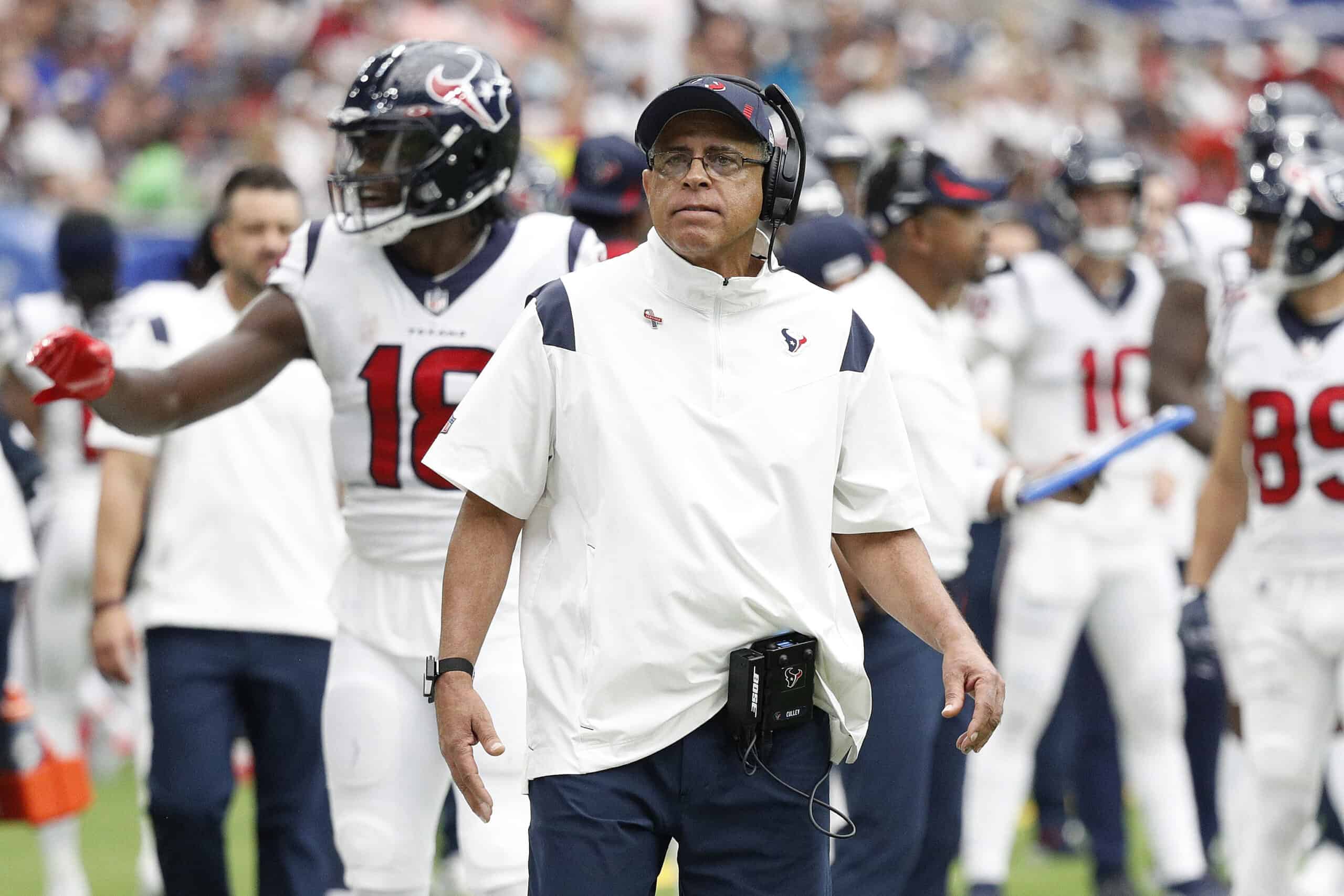 For the first half of last Sunday's game in Kansas City, the Cleveland Browns looked like the team that had played in the last two Super Bowls.
Then, the second half got underway and circumstances changed.
Defensive lapses, miscues and an unfortunate interception cost Cleveland an upset.
NFL: The Chiefs hold off the Browns to win big Week 1 match-up.

FINAL: KC 33 CLE 29https://t.co/FkPFuLNkR7#NFL #Chiefs pic.twitter.com/QzULWKCt8Z

— Revolution Sports (@RevoSports2021) September 12, 2021
Meanwhile, down in Texas, Houston was dismantling Urban Meyer, Trevor Lawrence and Jacksonville.
The 37-21 result was somewhat unexpected.
Without DeShaun Watson and JJ Watt, most football people believed the Texans would fold like a cheap suit this year.
The Jags are rebuilding, but Houston looked better than advertised.
Heading into Week 2, a win in Cleveland would provide a measure of legitimacy to the 2021 Texans.
They don't have the horses the Browns have, but stranger things have happened.
Here are three Houston players Cleveland has to be concerned about this Sunday.
(A couple of the names may sound familiar).
1. Quarterback Tyrod Taylor
In March of 2018, the Browns traded with Buffalo to get Taylor in exchange for a third-round pick in the '18 NFL Draft.
The Browns planned for Taylor to be their new starting quarterback.
Then, with the first overall pick of said draft, Cleveland selected Baker Mayfield.
Taylor was injured during a Week 3 game versus the Jets and Mayfield took over.
That would be it for the Taylor plan.
Mayfield started in Week 4 and has not looked back since.
Taylor left Cleveland following the 2018 season and made a two-year stop with the Chargers before signing with Houston.
Texans QB Tyrod Taylor 'excited' for first return to Cleveland since leaving Browns in 2019https://t.co/UQx0ARatqc pic.twitter.com/yg8DFXRupX

— Around The NFL (@AroundTheNFL) September 16, 2021
Last week, he started in place of Watson, who is out indefinitely due to his ongoing legal issues.
The result was a 21 of 33 day for 291 yards and two touchdown passes.
Taylor was a threat to run as well, picking up 40 yards on four carries.
Taylor's ability to pass and keep plays alive with his feet should be familiar to the Browns.
The team struggled to contain Patrick Mahomes last week, who's dual-threat ability is the stuff of legends.
Earlier this week, Mayfield himself commented on his time with Taylor and noted his former teammate's athleticism.
"I think people took Tyrod for granted," said Mayfield. "He's an extremely good leader. His work ethic alone, just his routine and being the same guy every day for every single person in the building is a tremendous way of showing his leadership.

"Obviously great athlete and he's a great quarterback."
Taylor is not on the same level as Mahomes.
But the Cleveland defense will need to keep their heads on a swivel yet again this weekend.
2. Linebacker Christian Kirksey
Another Texan that Browns fans are familiar with.
Kirksey played in Cleveland for six seasons from 2014-2019.
His last two seasons with the team were injury plagued and he moved on to Green Bay in 2020.
After a season with the Packers, Kirksey was released and signed by Houston.
Last week, Kirksey was everywhere on defense.
He was stout against the run and harassed the Jacksonville passing game.
Kirksey had six total tackles including two tackles for a loss.
He also picked off a Trevor Lawrence pass and defended two other passes.
LB Christian Kirksey's interception of Trevor Lawrence marks his first as a Texan and the fifth of his career.

Houston has recorded three interceptions in today's game, the team's most since recording four vs. Tampa Bay on 12/21/19. #JAXvsHOU pic.twitter.com/Ff6VHlKA8n

— Houston Texans PR (@TexansPR) September 12, 2021
Kirksey is the type of linebacker who can play every down.
The Browns will have to account for him and keep him honest with good blocking and some play action fakes here and there.
Kirksey made Pro Football Focus' team of the week for his performance against the Jags.
PFF gave him an 82.9 overall grade.
3. Receiver Brandin Cooks 
Cooks is a speed demon who is capable of big plays at any moment.
Last season, he had 20 receptions for 20 or more yards which was good for fifth in the league.
Cooks had three such plays against the Jags.
Two of those catches were for 40 plus yards which led to an 18.9 yards per target average.
Brandin Cooks has the Texans' offense looking fast 🔥 @espnnfl pic.twitter.com/tvAUkncz6d

— ESPN (@espn) April 10, 2020
His totals last Sunday were five receptions for 132 yards.
Cooks has been in the NFL since 2014 and the Texans are his fourth organization.
His vagabond career belies the fact that he was a former 20th overall pick in the '14 draft.
Every time he steps on the field, defenders must prepare for a dog fight.
Cooks can beat you short or long and it's a safe bet he'll hit on a big strike or two sometime during the game.
Last week the Browns defense had a difficult time stopping Tyreek Hill.
He sliced and diced the revamped Cleveland D to the tune of 11 catches for 197 yards and a touchdown.
His yardage total was helped by a 75-yard touchdown in the fourth quarter.
Cleveland's defense seemed to lose the 5'10" Hill on a regular basis.
Cooks is nearly identical in size to Hill.
You better believe the Texans coaching staff took a page from Hill's day last week to prepare for the Browns.
Honorable Mention
Houston may not have the depth that Cleveland does, but they have some playmakers on both sides of the ball.
Two other Texans the Browns need to keep an eye on are receiver Danny Amendola and corner Vernon Hargreaves.
Amendola is on his seventh NFL team and is a bit long in the tooth.
However, he is also a two-time Super Bowl champion.
His size and skills are similar to Cooks and last week Amendola hauled in five receptions for 34 yards and a score.
His veteran presence helps Taylor make the safe plays.
Hargreaves had five total tackles, two passes defended and an interception against Jacksonville.
He is another former first-round pick and this is his third season with Houston after starting his career in Tampa Bay.
Hargreaves will provide just enough defensive coverage to make Baker Mayfield pause before throwing in his direction.