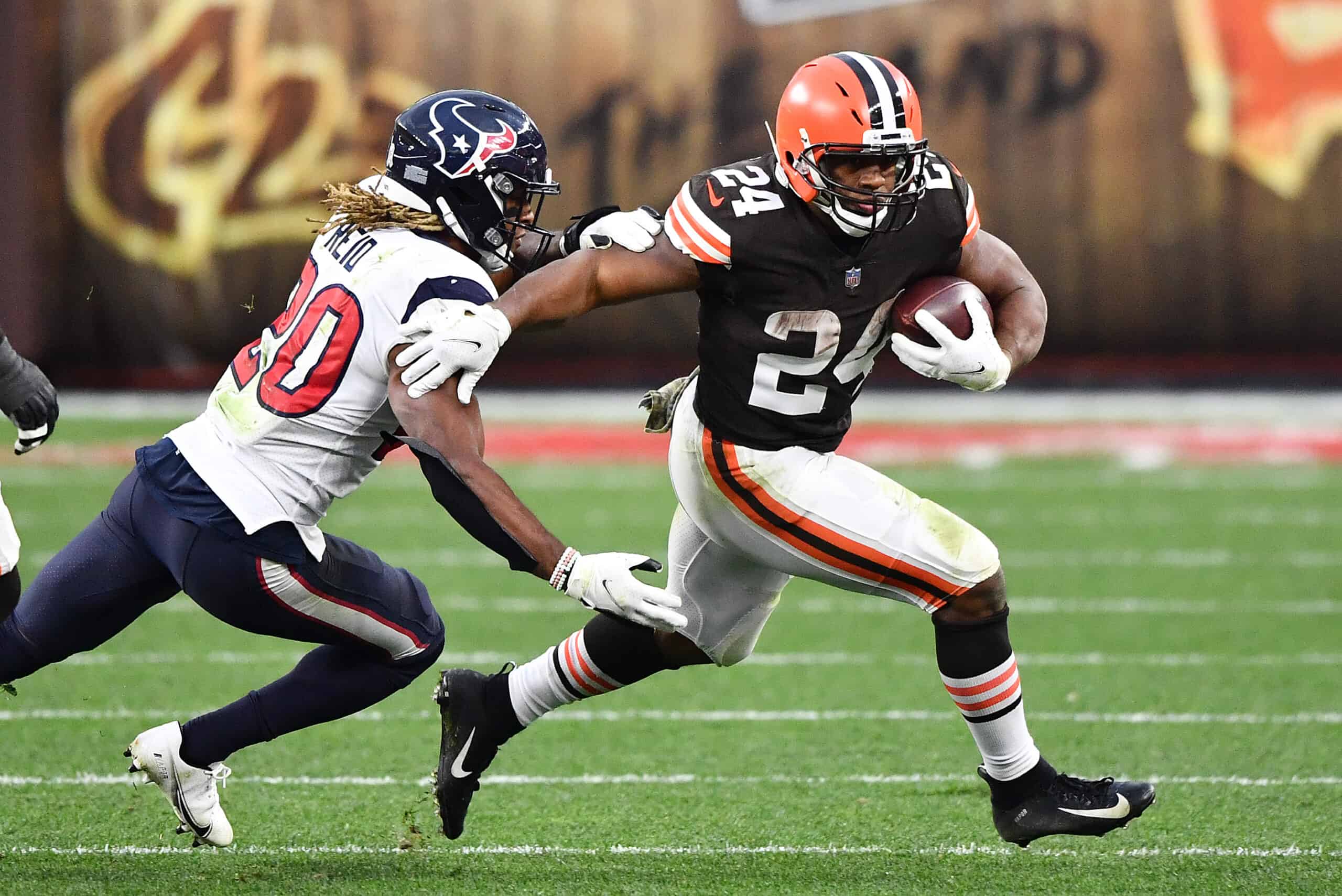 The Cleveland Browns will host the Houston Texans on Sunday at First Energy Stadium.
Last week the Texans defeated the Jaguars 37-21.
The Browns are 0-1 after suffering a disappointing loss to the Kansas City Chiefs.
Which team will prevail in Week 2?
Let's take a look at our writer's bold predictions for this Sunday's matchup.
Writer: Rocco Nuosci

After a heartbreaker in the opener, Cleveland has a great chance to get their first win of the season on Sunday at home.
The Houston Texans come into town with former Browns quarterback Tyrod Taylor leading their offense.
It was an ugly offseason for the Texans, however, a Week One win over Jacksonville has them off to a strong start.
Taylor threw for nearly 300 yards and two touchdowns last week.
He isn't leading Houston to a Super Bowl, but he can still hurt you if you aren't careful.
For the Browns, as long as turnovers are limited and the defense comes to play, they should have no problem taking care of business at home.
My Prediction: Browns 28, Texans 17
Writer: Wendi Oliveros

Here we are at Week 2 where all the oddsmakers are picking the Browns at home as the overwhelming favorite over the Houston Texans.
The Browns and Texans played a close game last November that the Browns barely won; the final score was 10-7.
I think the Browns will win this game but believe it will be close.
The Browns O-line injuries have me mildly concerned.
Wills, Conklin, Hubbard, and Tretter missed practice this week, and the offensive line was not as sharp after Wills left the Chiefs game on Sunday.
#Browns starting RT Jack Conklin (knee) back on practice field, C JC Tretter (knee) on side riding bike.
Starting LT Jedrick Wills Jr. (ankle) and backup OL Chris Hubbard (triceps) were not seen in the window open to media members.

— Tom Withers (@twithersAP) September 16, 2021
#Browns offensive coordinator Alex Van Pelt said he doesn't know who'll be available Sunday at left tackle with Jedrick Wills Jr. and Chris Hubbard dealing with injuries, adding they're getting rookie James Hudson III ready

— Nate Ulrich (@ByNateUlrich) September 16, 2021
And the Browns defense needs to step up and show what it can do this week.
The Texans are not the Chiefs so I expect to see a lot more dominance from this revamped defense.
My Prediction: Browns 21, Texans 17
Writer: Ben Donahue
Fresh off their disappointing loss to the Chiefs last weekend, the Browns face the Texans on Sunday.
Houston could be considered "Cleveland-Lite" as the franchise has no less than eight former Browns on its roster.
However, this is not a friendly reunion.
Cleveland is looking to rebound from their opening week loss and the Texans are hoping to stay undefeated.
Barring something catastrophic, that most likely doesn't happen.
Former Brown Tyrod Taylor looked great against Jacksonville.
However, the Browns front seven should hold him accountable in front of the Dawg Pound.
Cleveland's offense was vicious for most of the game against Kansas City, then mistakes caught up with them.
Even though the Texans defense has a few decent players here and there, I don't expect them to cause any serious trouble.
Any way you look at it, I believe Cleveland will get their first "W."
My Prediction: Browns 34, Texans 17
Writer: Pat Opperman

The Houston Texans are riding the high of a decisive Week 1 victory with the NFL's 4th-ranked offense.
It's possible their experienced coaching staff made a better than anticipated team out of their collection of free agents.
That is why Kevin Stefanski is pushing a "winless Browns versus undefeated Texans" narrative.
Former Brown Tyrod Taylor might have Houston fans believing they can play the Browns tough.
But Cleveland is not Jacksonville.
And the only reason Baker Mayfield doesn't drop 50 points on this defense is the merciful nature of Stefanski.
My Prediction: Browns 45, Texans 13
Writer: Mark Bergin

The Houston Texans rushing defense couldn't stop a nosebleed last season.
The Texans allowed the most rushing yards in the NFL (160.25 yards per game).
While some may point to the Browns' narrow 10-7 victory over the Texans in Week 10 of the 2020 season, weather played a factor.
Rain, hail and wind forced a 35-minute delay for kickoff.
I'd expect for a healthy dose of Nick Chubb and Kareem Hunt against the Texans, especially considering they no longer have three-time NFL Defensive Player of the Year J.J. Watt.
While I expect the Browns to win Sunday, I believe a double-digit spread is too large in Week 2 of any NFL season.
The Texans will cover as 13-point underdogs.
My Prediction: Browns 31, Texans 20