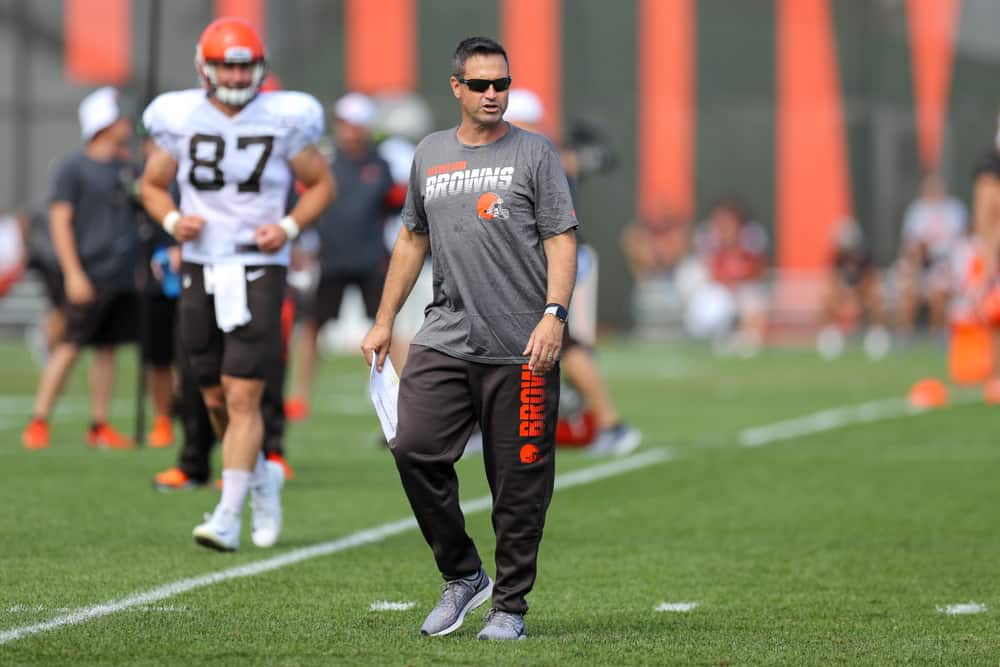 The Cleveland Browns had about five minutes to celebrate the franchise's entrance into the NFL playoffs for the first time in 18 years before the traditional Cleveland Browns luck fell onto the team.
Browns coach Kevin Stefanski, two other coaches and two players have tested positive for COVID-19. Team says plan is for special teams coordinator Mike Preifer to serve as acting head coach.

— Dan Graziano (@DanGrazianoESPN) January 5, 2021
Coach Kevin Stefanski has tested positive for COVID-19.
Though outbreaks have been plentiful in the past few weeks, no one expected this shoe to drop.
Current list of #Browns  with COVID:
BJ Goodson
Malcolm Smith
Andrew Sendejo
Harrison Bryant
Denzel Ward
Kevin Johnson
Joel Bitonio
Javon Patterson
KahDarel Hodge
Bill Callahan
Chad O'Shea
Jeff Howard
Drew Petzing
Kevin Stefanski.

— Baker Mayfield/Kevin Stefanski SZN (11-5) (@brownsculturee) January 5, 2021
In the meantime, the next man up mentality is in play.
Stefanski's replacement is special teams coach Mike Priefer.
Here are three things to know about acting Head Coach Mike Priefer.

1. Coaching Runs In The Family.
Priefer is 54 years old and is the son of Chuck Priefer.
Chuck Priefer was an NFL coach and special teams coordinator.
The elder Priefer is 79 years old, and he spent 34 years coaching in the high school, collegiate, and NFL ranks.
He started his career in Parma, Ohio with Padua Franciscan High School.
Chuck coached at the NCAA level with Miami (Ohio), North Carolina, Kent State, and Georgia Tech.
In the NFL, he worked with the Green Bay Packers from 1984-1985, the San Diego Chargers from 1992-1996, and the Detroit Lions from 1997-2006.
2. Special Teams Is His Forte.
Priefer is a product of the United States Naval Academy.
He broke into coaching as a graduate assistant at Navy from 1994-1996.
From 1997-2001, he worked in the college ranks at Youngstown State, Virginia Medical Institute, and Northern Illinois.
In 2002, he made his NFL debut as an assistant special teams coach for the Jacksonville Jaguars.
He made a lateral move to the New York Giants in the same capacity from 2003-2005.
Priefer was the special teams coordinator for the Kansas City Chiefs from 2006-2008 and the Denver Broncos from 2009-2010.
His longest stint was with the Minnesota Vikings from 2011-2018.
Priefer worked under Freddie Kitchens during the 2019 season.
3. He Was Born And Raised In Cleveland.
Priefer came back to his hometown to coach in 2019.
He is one of the few coaches to remain on the staff between the 2019 and 2020 seasons.
Coach Kevin Stefanski knows Priefer well as they worked together in Minnesota.
Priefer's own words are now prophetic.
When asked about Cody Parkey's issues on December 31 and whether preparation was an issue with COVID-19, Priefer said:
"There's no excuses. We're going to press on and go out and help our team win."
Of course, this is a tragic situation.
Most importantly, the hope is that all who have tested positive in this recent announcement recover fully.
An interim coach due to health reasons has happened before and with positive results.
When Indianapolis Colts Coach Chuck Pagano was recovering from leukemia in 2012, offensive coordinator Bruce Arians served as the interim head coach for 12 weeks during the season.
The Colts went 9-3 during his tenure.
It can be done, and if the Browns learned nothing else this year about Coach Stefanski, it is that he prepares.
During training camp, he talked about contingency plans for the coaching staff should something like this happen.
Let's hope he is absent for just one week, and the Browns capture a big victory in his absence.