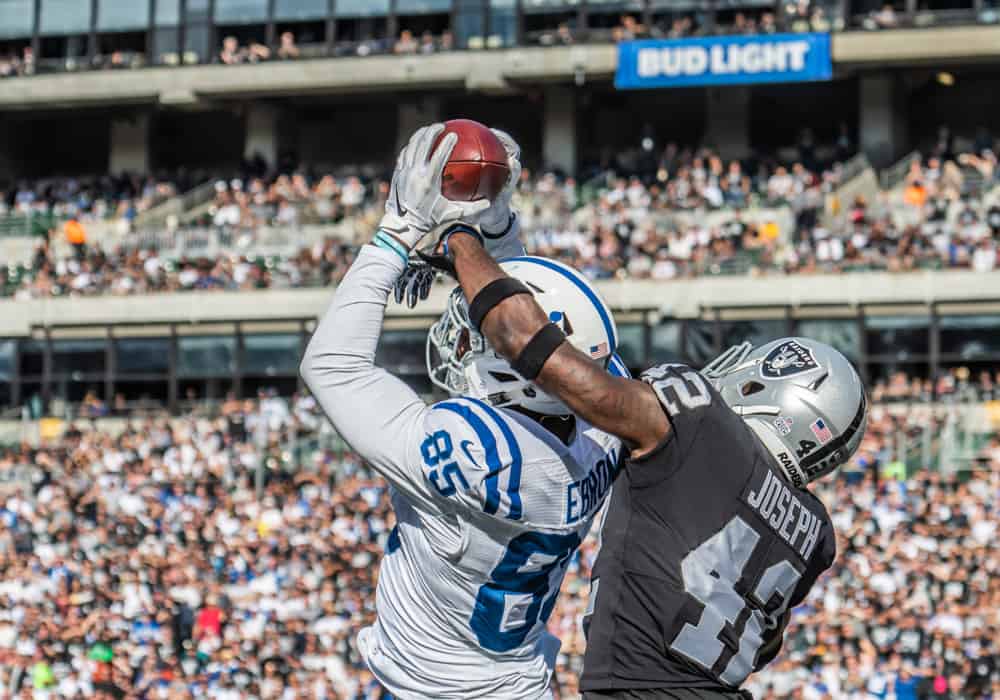 The Cleveland Browns needed a safety, so they signed one.
According to multiple reports, the Browns signed Karl Joseph to a one-year contract.
Joseph spent all of his career with the Oakland Raiders.
After being selected with the 14th overall pick in the 2016 NFL Draft, Joseph hasn't played a complete season in all four years.
Injuries proved to be the key in the Raiders declining Joseph's fifth-year option.
In what could be a career-resurrecting season, here are three things to know about the new Browns safety.
1. Hard-Hitting Tackler When On The Field
The unfortunate truth is that injuries have hampered Joseph's career.
In 2017, Joseph played and started 15 games, but that number dipped to 13 (eight starts) in 2018, and nine games in 2019.
A season-ending foot injury last season landed Joseph on the IR.
However, when Joseph is on the field, he makes plays.
Before the injury, according to Pro Football Reference, Joseph's missed tackle percentage was just 14%.
Karl Joseph 2019 thread:

Will include plays highlighting the things that he does well and a few plays that show some of his limitations.

Joseph makes sense for Pittsburgh as a 3rd safety where they desperately need depth. Solid season before a season ending foot injury. pic.twitter.com/cUxHRrXNBB

— Derrick (@derrick_daKidD) March 17, 2020

In 2019, Joseph was on pace for a career-year as he had 49 combined tackles in nine games.
In 2018, Joseph had 48 tackles in 13 games.
If Joseph can stay healthy, the Browns will get bang for their buck.
NFL News: #Browns sign SS Karl Joseph to a one-year deal.

*2016 1st-round (No. 14)
*High football character (passion for the game)
*Hard hitter in the box
*2019 Foot injury (IR)
*4 career INTs

— Ryan Sakamoto (@BEASTwriter_) March 19, 2020
2. Thrives In The Box
Joseph does not excel in coverage and will likely be used more closer to the line of scrimmage.
We mentioned his tackling abilities, which means defensive coordinator Joe Woods can use Joseph as a third linebacker.
With a safety roaming, Joseph can use his abilities as a physical tackler that plays downhill.
Karl Joseph (@_IamKJ8) again coming down into the box, comes thru B gap, navigates traffic to make stop. Slippery in the hole.#Raiders #Raidernation pic.twitter.com/o8bCy0n3tG

— Ryan Holmes (@Rholm22) September 30, 2019
In 49 career games with the Raiders, Joseph made 236 total tackles, nine tackles for loss, four interceptions, 15 passes defended, and four interceptions.
Using Joseph in a blitzing package is very possible.
3. A Traveling Man
Joseph has bounced back and forth across the world.
Joseph was born in Haiti and missed the NFL draft to watch the show with his parents.
In Haiti with his family, safety Karl Joseph got our call. He wanted to let #RaiderNation know how he's feeling…https://t.co/2vNhuXzqcZ

— Las Vegas Raiders (@Raiders) April 30, 2016
After playing high school football at Edgewater High School in Orlando, Florida, Joseph signed with West Virginia University.
Before an ACL injury cut his senior season to just five games, Joseph led the nation with five interceptions at the time.
He was then drafted by the Raiders, and will now play the 2020 season in Cleveland.