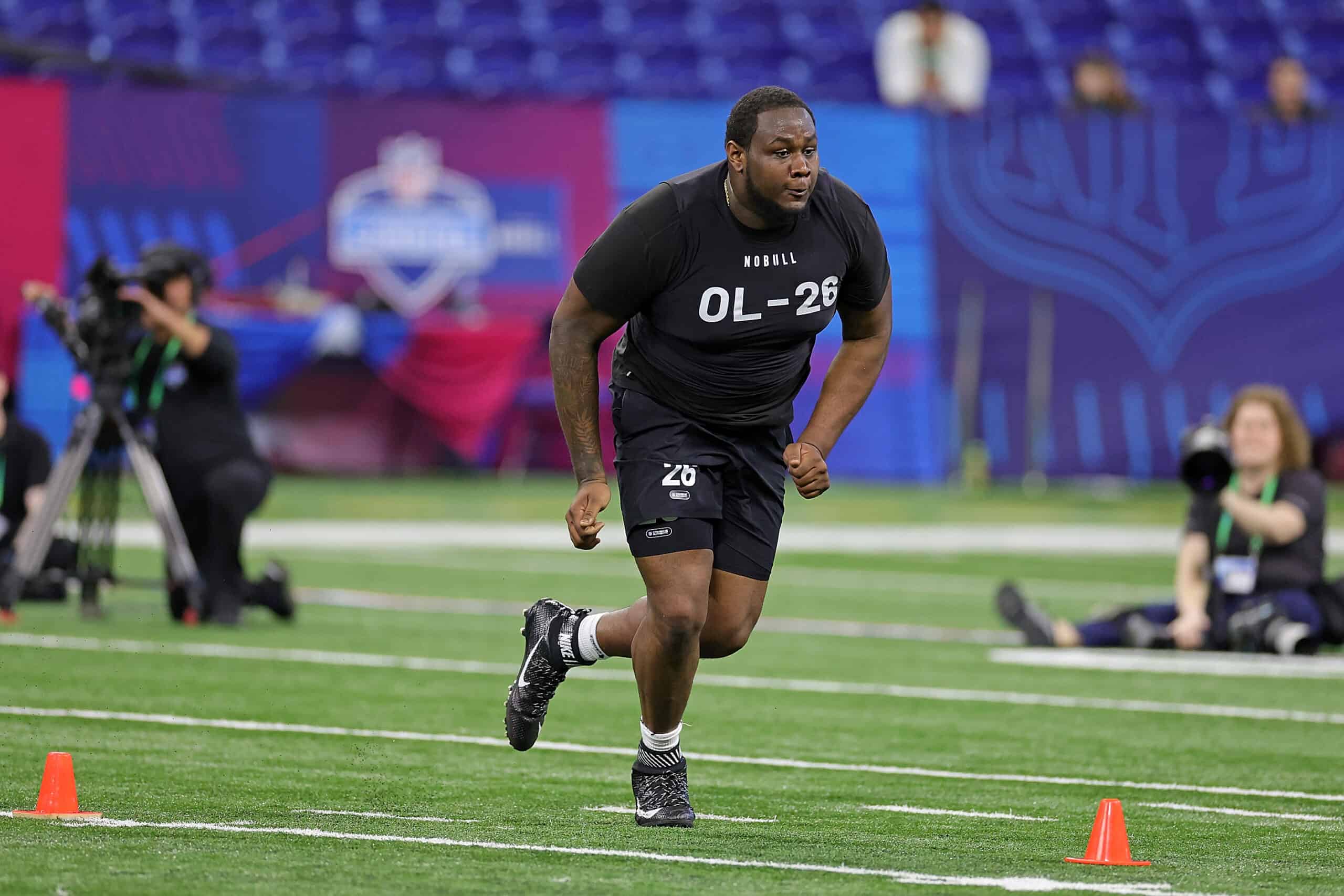 Due to the Deshaun Watson trade last year, the Cleveland Browns had to wait until Day 2 of the NFL Draft to begin adding to their roster.
They did so by picking another receiving weapon for Watson in Tennessee's Cedric Tillman and adding a run-clogger in nose tackle Siaki Ika.
Day 3 has brought a flurry of activity from Cleveland and the organization began with a local product in the fourth round.
With the No. 111 overall pick in the 2023 @NFLDraft, the @Browns select Dawand Jones!

📺: 2023 #NFLDraft on NFLN/ESPN/ABC
📱: Stream on NFL+ https://t.co/D3EqkrKdIw pic.twitter.com/3p5rhugZ2f

— NFL (@NFL) April 29, 2023
Here are three things to know about Ohio State tackle Dawand Jones.
1) Basketball Player in a Lineman's Body  
Jones attended Ben Davis High School in Indianapolis, Indiana, and played basketball and football.
His favorite sport as a youth was basketball and Jones envisioned himself one day gliding up the court as an NBA player.
"He used to walk around the house and say, 'I hope when I grow up I'm tall like a basketball player,'" his mother, Deanna Jones said. "I'd be like, 'Oh my God, I hope you don't.' Before you knew it, at 12 years old he was 6 feet tall."
However, as he continued to grow into his eventual 6'8, 370-pound frame, that goal became unrealistic.
As a high school senior, Jones averaged 17 points a game for the Giants and set a program record for field goal percentage.
Save this photo.
Future NFL lineman blocking out future NBA player…
Ben Davis big man & Ohio St football commit Dawand Jones blocking out likely Mr Basketball & IU Basketball commit Trayce Jackson-Davis of Center Grove at the Washington Semistate. pic.twitter.com/sGa75J2EdG

— (812)-H🏀🏀PS! (@BbalEvv) March 17, 2019
A few schools recruited Jones, especially after he was added to the Indiana All-Star basketball team.
Although he loved the hardwood, Jones had to pivot and focus on his other sport when college basketball coaches worried about how his girth would translate to the court.
"I just had to take my business from basketball and push it to football and make that dream the same dream," Jones said. "I used to say I wanted the NBA. So I just switched that to the NFL. All that's changed. I just let it go out the window."
Jones played well enough that he was given a three and four-star designation (depending on the recruiting service).
2) "Big Thanos" Also Bowled
Given Jones' size, it was only inevitable that he be given a nickname.
Thanos is a supervillain in the Marvel universe and is massive in size.
Therefore, friends and teammates gave Jones the moniker "Big Thanos" as an homage to their buddy.
Big Thanos aka @dawand_jones and the boys puttin in work with the kids for the holidays. Gotta love this stuff. #Buckeyes #OhioState pic.twitter.com/s71yc8BYkc

— CLEology (@_CLEology) December 24, 2019
Jones may not be a villain unless one is on the receiving end of his earth-shattering blocks, but the comparison is apt.
At one point during his prep years, Jones decided to quit playing football and only focus on basketball.
His mother was okay with it as long as he took up another sport.
So, for his sophomore year, Big Thanos was perhaps the largest athlete in the history of the Ben Davis bowling team.
3) Four Year Player for the Buckeyes
Jones sorted through offers from several high-profile schools and chose Ohio State.
OSU was slow to recruit Jones initially because the coaching staff waited to see where his commitment was.
If Jones leaned more toward hoops, the Buckeyes were going to pass.
Jones finally convinced Coach Ryan Day that he wanted to play football and he was offered a scholarship.
As a freshman in 2019, Jones played in nine games as a backup for the 13-1 Buckeyes.
The following year he played in six of the contests during Ohio State's Covid-shortened season.
Then, when camp ended before the 2021 season, Jones was inserted as the starter at right tackle.
When the season concluded, he had helped the Buckeyes to an 11-2 record, and a Rose Bowl win, along with a second-team All-Big 10 selection for himself.
Cleveland selects Ohio State OT Dawand Jones 111th overall

🟠 ZERO sacks allowed last season (419 pass block snaps) pic.twitter.com/T9cOwo7eup

— PFF College (@PFF_College) April 29, 2023
Jones could have declared for the 2022 NFL Draft, but he stayed in school for his senior year.
In 2022, he was named a second-team All-Big 10 for the second time as OSU finished 11-2.