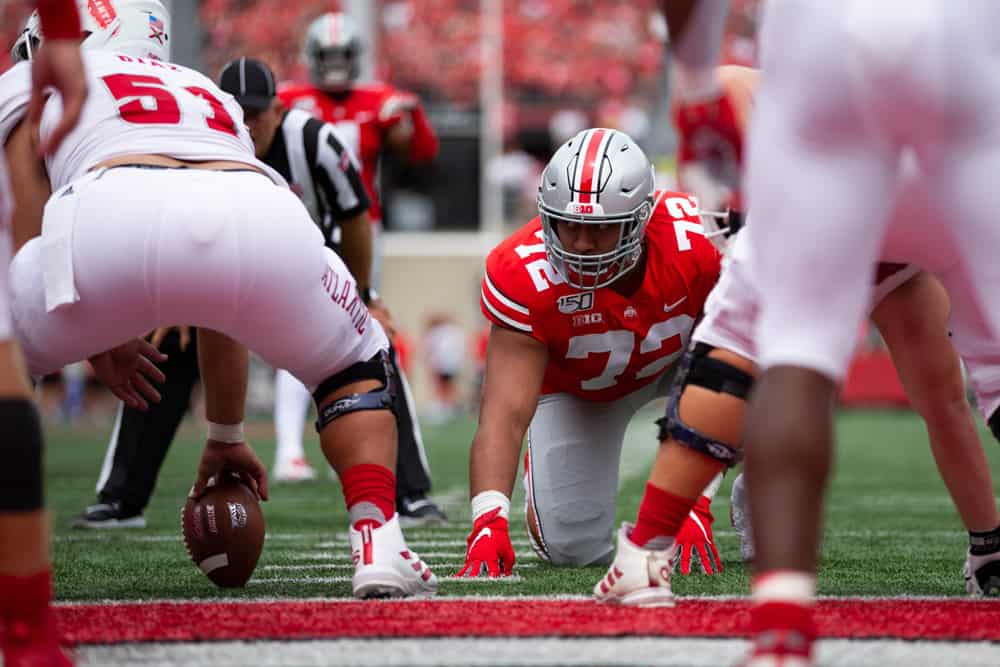 Interior defensive lineman was one of the Cleveland Browns' projected needs heading into the NFL Draft.
And while Andrew Berry waited until the fourth round to address it, he found a potential gem in the mix.
Tommy Togiai only started 7 games for the Ohio State Buckeyes.
Welcome to Cleveland, Tommy Togiai!#BrownsDraft pic.twitter.com/2U2c4QYJpI

— Cleveland Browns (@Browns) May 1, 2021
He missed the 2020 College Football National Championship with a positive Covid-19 test.
Togiai might have benefited from another season of college ball, but he decided to skip his senior season.
Now he is a member of the rebuilt Cleveland Browns defense.
And Director of Player Personnel Dan Saganey says Togiai is in a position to be a rotational player right away.
Here are 3 things to know about the new Browns DT Tommy Togiai.
1. Talk About Early NFL Projections! 
Some kids grow faster than others, prompting parental dreams of an athletic career.
But Tommy Togiai looked like an NFL lineman right out of the womb.
Coming in at a whopping 12 pounds at birth, doctors immediately bet he'd do 40 reps on his Pro Day benchpress.
I know there's a lot of OSU fans that are Browns fan and I know there's a lot of people who hate the "draft OSU players"…

Tommy Togiai is awesome! Very underrated while at OSU. He's a STUD

— Browns Time (@DevotedBrownie) May 1, 2021
Well, that might be a slight exaggeration, but they had a good idea he would be an athlete for other reasons.
Talalelei (Tala) Togiai, Tommy's father, was a professional rugby player in his native Samoa.
And his grandfather played college football and basketball.
Tommy's older brother, TJ, was a four-year defensive tackle at Idaho State.
2. Best High School Player in Idaho History? 
Highland High School in Idaho had lots of visitors during Tagiai's senior year.
Everyone wanted to see the kid racking up 93 tackles and 11 sacks from the tackle position.
He also forced 2 fumbles and picked off a pass on the way to his third First Team, All-State selection.
Congratulations to Tommy Togiai on being drafted by the Browns!! Excited for you and your family!! Continue to make Idaho proud even though ESPN thinks you played in Utah. Same HS as Taysom Hill yes, Highland Rams – Pocatello, Idaho!!!! 🔥👊🏻🏈🐏 pic.twitter.com/o17fhR6bfQ

— Gino Mariani (@GinoMariani14) May 1, 2021
Togiai was named an Army All American and the Gatorade Idaho Player of the Year.
Rival Sports and ESPN ranked him among the best players in the country and the 4th best tackle.
He helped lead the Highland team to the 5A State Championship.
Then he became the first player from Idaho to play football for Ohio State.
3. Togiai Saves His Best For Teams From Western Pennsylvania 
Tommy Togiai didn't become a starter for Ohio State until the 2020 season.
But he saw playing time right away, including in the 2018 Rose Bowl, won by the Buckeyes.
As a starter, Togiai was credited with 23 tackles, 4.5 tackles for a loss, and 3 sacks.
Tommy Togiai is staying in Ohio as a Brown! 😌 pic.twitter.com/Qgf6QdvGsL

— Barstool OSU (@BarstoolOSU) May 1, 2021
But all 3 of those sacks came in one game against the Penn State Nittany Lions.
Could it be that the Browns' defensive tackle has a particular mean streak versus Western Pennsylvania teams?
Three sacks against Ben Roethlisberger would make Togiai the toast of Berea.
And enhance the legend of Andrew Berry's magical draft abilities.