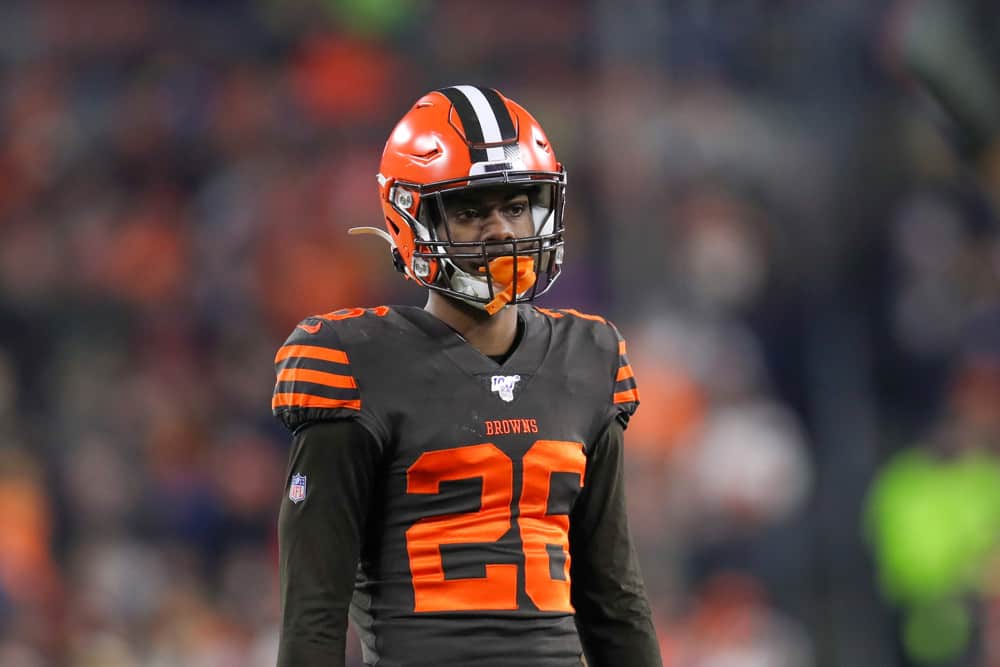 To basically no one's surprise, the Cleveland Browns went defense heavy early on draft day.
They used the No. 26 overall pick to select Northwestern defensive back Greg Newsome II.
A player that should give the Browns length and speed with an above average ability in pass coverage.
That's not all, the addition of Newsome also gives the Browns added depth on defense.
However, it could mean former second-round pick Greedy Williams will have to battle for his starting spot.
Extra Reinforcements
It was tough watching the Browns secondary last season, but the front office shouldn't be blamed.
Cleveland lost Williams and Grant Delpit to season-ending injuries in training camp.
It didn't help that Denzel Ward went down for a period of time as well.
That being said, Cleveland wasted no time adding to their secondary this offseason.
They signed both John Johnson II and Troy Hill in free agency.
How things have changed in Cleveland: John Johnson says he had bigger offers in free agency but took less to sign with the #Browns. "It was the opportunity of a lifetime coming to a situation where things are moving in the right direction. That's rare." pic.twitter.com/Uc8pxoKl9z

— NFL Update (@MySportsUpdate) March 19, 2021
Both underrated players that should make an immediate impact in Cleveland.
On draft day, Cleveland decided to add another defensive back in Newsome.
Both Ward and Hill should basically have guaranteed starting spots heading into the season.
Obviously, Ward is going to start because he's a superstar and Hill is a lockdown slot defensive back.
That means Williams and Newsome are probably going to compete for the final starting spot during training camp.
Don't Get Too Greedy
Williams is heading into his third professional season and the Browns still aren't sure what they have in him.
His rookie season was a bit of a disappointment, but some of the blame can be put on then-coach Freddie Kitchens.
At the time, Kitchens didn't utilize Williams to his strengths and opposing teams exploited it.
In 2020, the Browns weren't able to see much of Williams because he missed the entire season due to a shoulder injury.
However, the organization is hopeful that Williams will be able to play a full season in 2021.
Browns defense is already going to be radically different in 2021.

-Return of Andrew Billings, Grant Delpit, and Greedy Williams, plus Myles Garrett post COVID.

-Additions of John Johnson, Takk McKinley, Malik Jackson, Troy Hill, and Anthony Walker.

— Johnny Kinsley (Andrew Berry Hive CEO) (@Brickwallblitz) March 20, 2021
He is certainly still young and has plenty to offer at the professional level.
Sadly, Williams has been injured during both of his seasons in Cleveland.
At some point, Williams becomes a liability, assuming he is being trusted as the starter alongside Ward.
The addition of Newsome should not only give Williams a reason to fight harder, but also gives Cleveland extra depth.
Regardless of who starts, both players are extremely talented and will find their way onto the field next season.
The Browns didn't draft Newsome in the first round, so he can sit on the sideline.
He is a quick, athletic, and intelligent player that has a tremendous amount of upside.
Before tonight, Northwestern's last first-round pick came in 2005.

Greg Newsome II makes that ✌️ on the night for the Wildcats, selected at No. 26 for the Browns. #NFLDraft pic.twitter.com/63Js8SqLl8

— SportsCenter (@SportsCenter) April 30, 2021
This move will make Williams have to prove himself, which shouldn't be looked at as a punishment.
However, Cleveland might look to trade Williams, assuming Newsome shows he is capable of being the full-time starter.
Williams doesn't have second-round value anymore, but the Browns might be able to get something out of him.
It also means that he'd get a chance to play and improve as a starter elsewhere.
Although, that would only happen if Newsome runs away with the starting job.
Until then, the two of them should compete and the best player should get the starting gig to open the season.