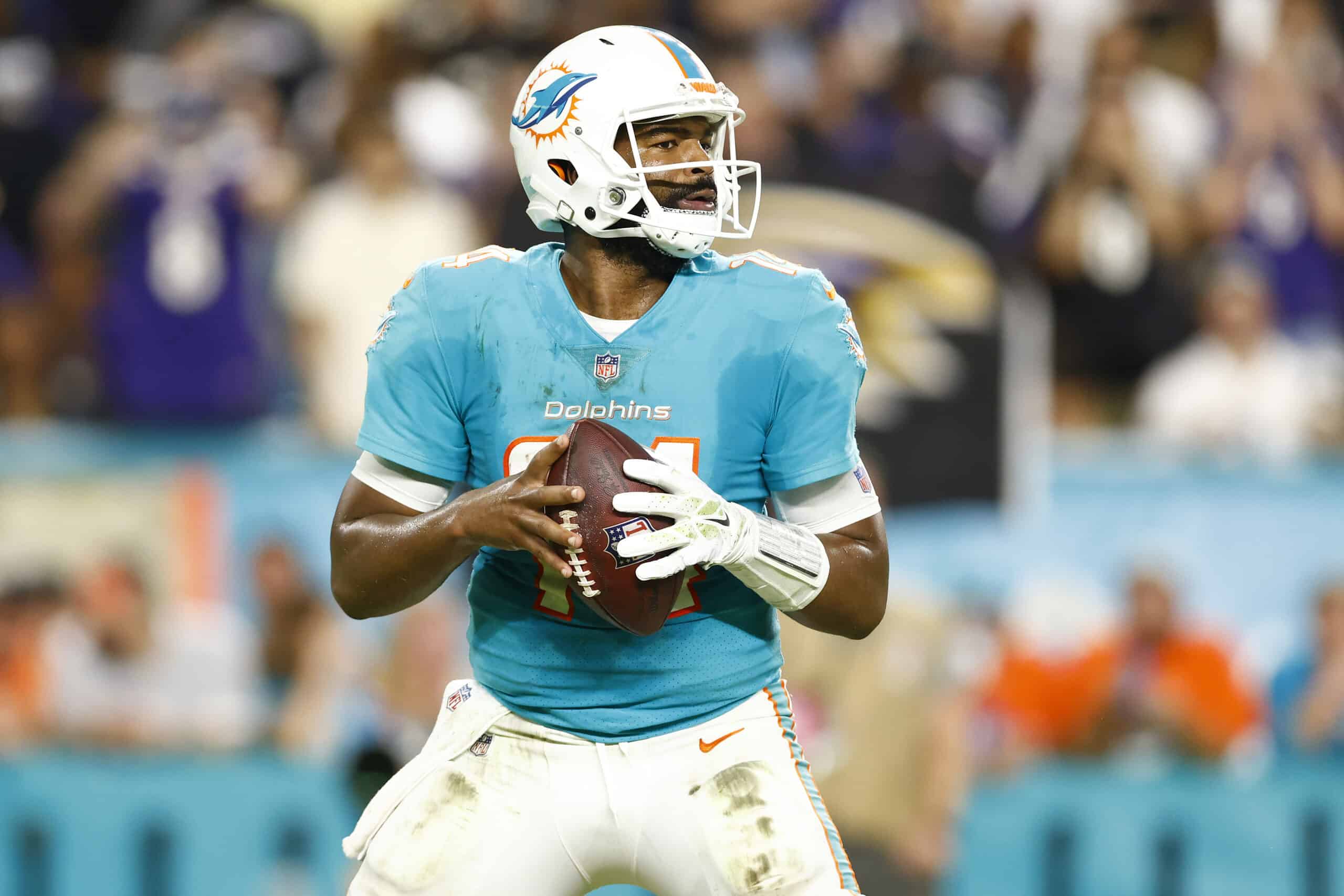 The Cleveland Browns have been busy preparing for 2022 after a disappointing 8-9 season in 2021.
Free agency has been eventful for the Browns after first adding receiver Amari Cooper then shocking the sports world by trading for Deshaun Watson.
Then, Cleveland traded away backup quarterback Case Keenum and added former Dolphin Jacoby Brissett.
Browns sending Case Keenum to Bills for 2022 seventh-round pick; Cleveland expected to sign Jacoby Brissett (per @TomPelissero)https://t.co/q6ASIi6eT5 pic.twitter.com/rVMuaJY9VQ

— Around The NFL (@AroundTheNFL) March 19, 2022
Just like that, the Browns' quarterback room has changed dramatically in a matter of weeks.
By now, even casual football fans know the ins-and-outs of Watson's story.
However, Brissett may be unfamiliar to some.
Without further ado, here are three interesting facts about Jacoby Brissett.
3. Dual Threat High School Star
Brissett was a standout athlete at William T. Dwyer High School in Palm Beach Gardens, Florida.
He was ranked by Rivals.com as a four-star recruit his senior year and also viewed as the third-best dual-threat quarterback in the nation.
Brissett accepted a scholarship to the University of Florida where he received little playing time in two years.
In 2013, Brissett transferred to North Carolina State.
After sitting out for a year due to NCAA transfer rules, he started for the Wolfpack in 2014 and 2015.
In those two years, he passed for 5,268 yards, 43 touchdowns, and 11 interceptions.
NC State QB Jacoby Brissett is completing a power 5-high 73.2% of his passes (2nd best in FBS). #NCSUvsVT pic.twitter.com/50g3gH5NvU

— ESPN College Football (@ESPNCFB) October 10, 2015
Brissett also rushed for 899 total yards and nine more scores.
2. First ever African-American Starting QB for the Patriots
Brissett was selected with the 91st overall pick in the third round of the 2016 NFL Draft.
Remarkable for a modern athlete, Brissett was the only player selected in the draft to represent himself.
He negotiated his own contract with the Patriots and saw action in three games that year.
Brisset began his rookie season as the Patriots' backup quarterback.
This Patriots QB group was unreal 😳

Tom Brady, Jimmy Garoppolo and Jacoby Brissett are a combined 9-2 heading into Week 5. pic.twitter.com/6CeYAI1NjM

— ESPN (@espn) October 6, 2019
Regular starter Tom Brady was serving a four-game suspension to begin the year for his role in the Deflategate scandal in the previous season's playoffs.
In Week 3 against the Houston Texans, Brissett started his first NFL game after an injury to starter Jimmy Garoppolo.
Brissett's start marked the first time in Patriots history that an African-American started at quarterback.
During the Texans game, Brissett completed 11 of 19 passes for 103 yards.
He also ran for 48 yards, which included a 27-yard scramble for a touchdown.
New England won the game 27-0.
After Brady returned from suspension, Brissett didn't see any more playing time in 2016.
However, he was on the team's active roster for their Super Bowl LI victory over the Atlanta Falcons.
1. Two-Year Starter in Indy
In September of 2017, Brissett was traded to the Indianapolis Colts.
We have officially traded WR Phillip Dorsett to the @Patriots in exchange for QB Jacoby Brissett: https://t.co/Ze8pI7YXIu pic.twitter.com/zw73cyveA1

— Indianapolis Colts (@Colts) September 2, 2017
The Colts were in desperate need of a quarterback due to starter Andrew Luck's slow recovery from shoulder surgery.
Brissett ended up starting in 15 games for the Colts in 2017.
Without Luck, Indy struggled to a 4-12 record (although their first win was in Week 3 against the Browns).
Brissett passed for 3,098 yards, 13 touchdowns, and seven interceptions and rushed for 260 yards and four more scores that year.
Luck returned for 2018, putting Brissett back on the bench.
However, before the 2019 season, Luck announced his retirement, shocking the NFL community.
Luck's announcement thrust Brissett back into the starter's role for 2019.
That year, he passed for 2,942 yards, 18 touchdowns, and six picks.  Brissett also rushed for 228 additional yards and four touchdowns.
In 2020, Indy signed former Chargers quarterback Phillip Rivers, making Brissett a backup once again.
Then, in March of 2021, Brissett signed a one-year deal with the Dolphins where he started five games last season.
Tua left the game injured in the first quarter.

He's replaced by Jacoby Brissett. pic.twitter.com/Nb7OTk96GM

— SportsCenter (@SportsCenter) September 19, 2021
In his career, Brissett has passed for 7,742 yards, 36 touchdowns, 17 interceptions and added 653 rushing yards, and 13 rushing scores.