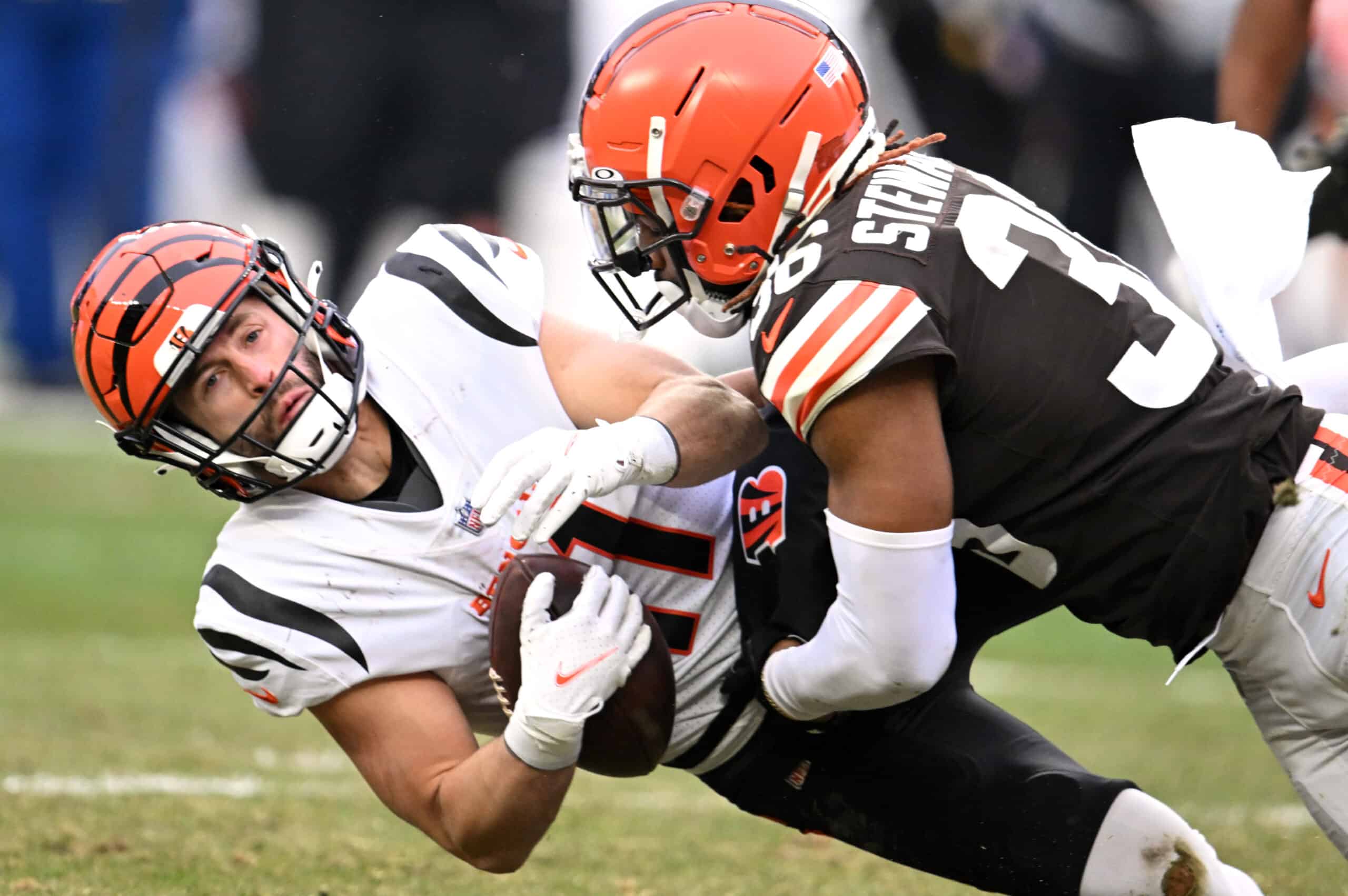 The Cleveland Browns finished the 2021 season on a positive note.
They defeated the Cincinnati Bengals by a score of 21-16.
The Browns own the Bengals and are 4-0 against them in the Stefanski era.
Check out my TikTok with a game recap.
Here are the three things we learned today.
1. Winning When It Doesn't Matter Is Not As Fun
Today was bittersweet for #Browns fans. It was great to get a W and sweep the division leader. But it sucks that it didn't mean anything and we are bottom of our division once again. Here's to next year (#TheresAlwaysNextYear) and finally getting it together.

— Rob Zaleski (@robzie_) January 9, 2022
A win is definitely a win.
And thankfully the Browns held on to win this one.
However, winning is a lot more fun when it counts.
This game, between the weather and the mood, seemed a little dreary.
Many times fans during this game had to ask themselves questions that began with the two ominous words of "what if".
One of those moments was after Jarvis Landry scored a touchdown, and it was noted it was only his second of the season.
No one would have predicted such a low number of touchdowns for Landry especially in a season that had one extra game.
Taking it a step further, we wonder if Landry will even be a part of this team next season.
His touchdown was bittersweet for both of those reasons.
Case Keenum's postgame words about Landry only add to the speculation.
"He's one of the greats that I've played with. One of my favorite receivers that I've played with… I'm very honored to be one of the guys to have thrown him a touchdown."
Browns' Case Keenum on Jarvis Landry: "He's one of the greats that I've played with. One of my favorite receivers that I've played with… I'm very honored to be one of the guys to have thrown him a touchdown."

— Ben Axelrod (@BenAxelrod) January 9, 2022
2. Case Keenum Is A Capable Backup
Speaking of Case Keenum, it is not exactly new information that he is a great backup quarterback, and the Browns are lucky to have him.
Keenum has the fire and poise to come off the bench and win games.
He maintained control of the game and played very well absent a couple of bad plays.
Utilizing the "what if" theme mentioned above, we have to wonder what would have happened had Keenum relieved an injured Baker Mayfield a lot earlier in the season.
Keenum is not a glitzy quarterback, but he is steady and gets the job done.
Where would this team have finished if he was utilized sooner?
He was 2-0 and won 25% of the Browns games this season in 100% of his attempts.
A healthy Case Keenum >>> a hurt Baker Mayfield. It's not complicated.

— scott pianowski (@scott_pianowski) January 9, 2022
3. Demetric Felton Is Hopefully A More Prominent Part Of 2022 Offense
#Browns Demetric Felton touchdown. Love that his first season gets to wrap up with a trip to the end zone.

— Camryn Justice (@camijustice) January 9, 2022
We had plenty of opportunities to see the Browns explore the depth chart this season.
One of the most intriguing rookies this season is Demetric Felton.
He scored a touchdown in this game, and it really begs the question of what role he will have in the 2022 season.
Felton's appeal for the Browns is his versatility so hopefully we see a lot more of him next season.
Conclusion
The Browns finish the season 8-9 which is not horrible but far below expectations.
The offseason has officially begun.
Andrew Berry needs to figure out what went wrong and examine the roster and depth chart piece by piece to figure out who needs to be added or subtracted to get this team back on a winning track next year.
There are so many players on this Browns roster that are in the prime of their football careers.
It appears the Bengals are going to be around for years to come as their roster is very young also.
The Browns need to level up and be ready to compete next season.