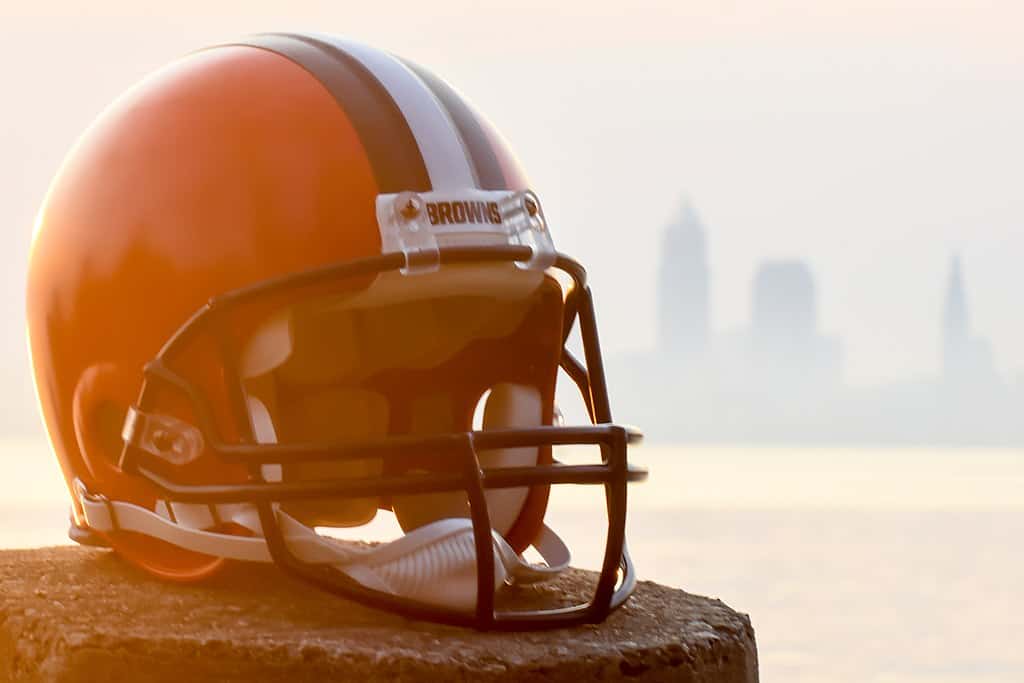 The Cleveland Browns released Episode 2 of 2021's "Building The Browns" on April 25, 2021.
It is an action-packed episode that includes the long-awaited arrival of defensive end Jadeveon Clowney.
This episode underscores just how much the city of Cleveland and the Browns organization are flourishing in 2021.
Here are three things we learned in Episode 2.
1. Cleveland Is Bustling With Activity.
Browns fans know this was not always the truth, but it is definitely the case in 2021.
To begin with, the city is eager to host the 2021 NFL Draft beginning April 29.
1 week til #NFLDraft kicks off in Cleveland. A picture is worth 280 characters, but some deets on the massive main structure which is going to be lit: 220' x 200' & 70' tall; 28 million pixels of LED in the theater & on site; 3 miles+ of cable to power lighting fixtures pic.twitter.com/Li2pNRdt22

— Brian McCarthy (@NFLprguy) April 22, 2021
Plans have been ongoing, but ground was broken and construction began during the episode.
We even see the voice of the Browns, Jim Donovan, taking a 45 minute trip to the Pro Football Hall of Fame in nearby Canton during the episode.
A trip to Canton could be part of the itinerary for fans traveling from out of town to visit Cleveland for the first live in person NFL draft since 2019.
Cleveland Browns unveil logo to celebrate 75th anniversary of the franchise: https://t.co/YegnXWlcpr pic.twitter.com/W9dGEGDUNN

— J.D. Kunes (@JDKunes) January 29, 2021
The excitement will continue after the draft because this is the 75th anniversary of the Cleveland Browns franchise.
We can expect a lot of activity and discussion about the 75th anniversary throughout the 2021 season.
2. Offseason Preparations Continue
Free Agent Signings
We see Jadeveon Clowney finally in the Browns building.
He is eager to get started and wants to get his hands on the playbook.
Clowney talked about not being at training camp in recent years so he is looking forward to that experience and of course, being a teammate to Myles Garrett.
He also mentioned that he wished he had signed with the Browns last year.
Clowney is just the latest free agent that wanted to come to Cleveland and recognizes the culture change and excellence happening within the franchise.
Voluntary Program
#Browns coach Kevin Stefanski said he just finished day two of virtual meetings with players in offseason program, organization in middle of draft process with GM Andrew Berry doing great job and excited for Cleveland to host the draft

— Nate Ulrich (@ByNateUlrich) April 20, 2021
There is a clip showing us the kickoff of the voluntary virtual offseason program on April 19.
Coach Stefanski is on Zoom, and we can see Baker Mayfield, Nick Chubb, Jedrick Wills, and OBJ among many on the call.
Player Assessments for Draft
GM Andrew Berry talks about selecting 26th and the strategy of being prepared for however the draft board falls the first day,
That involves watching a lot of film and getting as much information on the draft prospects on the Browns board as possible.
Preparation is underscored through everything Coach Stefanski, GM Berry, and the entire staff are doing.
We see an organization where everyone is bought into the mission, leadership, and goals from the top down.
This may not be the glitzy glamorous stuff, but it is really important and reassuring to fans.
3. Social Justice And Community Service Are Important
We follow Myles Garrett in his work in Cleveland.
Calling Cleveland his home, Garrett lends his time and name to improving the city.
One of Garrett's appearances is near a new downtown mural with inspirational figures.
ICYMI, #Browns DE Myles Garrett shows off "love for Cleveland" with mural of local icons he commissioned. Also looking forward to playing with Jadeveon Clowney, other new pieces on defense. https://t.co/l5uVSdZAEL

— Scott Petrak ct (@ScottPetrak) April 23, 2021
This area had been destroyed last year, and Garrett talked about building it back up to give people hope.
Among the figures appearing on the mural are legendary athletes LeBron James and Jim Brown.
Machine Gun Kelly, who is scheduled to perform during the NFL Draft festivities, is also featured on the mural.
Stay tuned for Episode 3 of "Building the Browns" which will most certainly be filled with exciting NFL draft highlights.