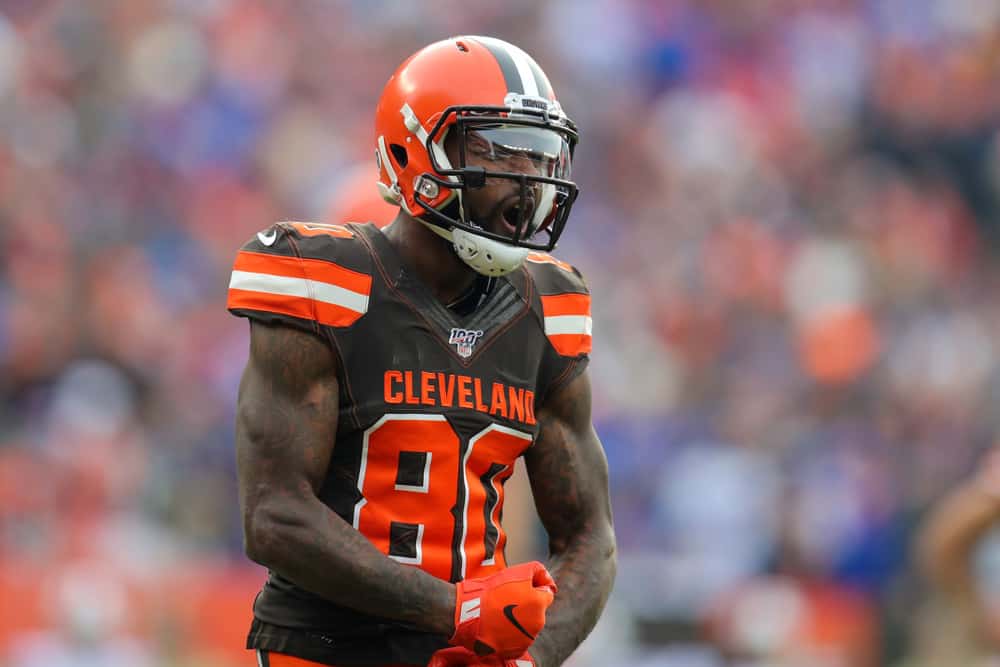 It'd an odd feeling that the Cleveland Browns are actually potential Super Bowl contenders in 2021.
A team that not too long ago went winless through an entire season.
However, general manager Andrew Berry has done a tremendous job of rebuilding this roster.
In 2020, the Browns went 11-5 and won a postseason game.
This organization has quickly become a highly coveted landing spot for big-name free agents.
It wasn't an easy turnaround for Cleveland, but they did it with the help of a few key players.
4. Nick Chubb
Browns fans are certainly not going to miss the days of Trent Richardson and Isaiah Crowell running the football.
Those were dark days in Cleveland and it appears they've finally found a franchise running back in Nick Chubb.
The former second-round pick has been better than advertised since joining the Browns roster.
He has already notched two Pro Bowl campaigns and has rushed for nearly 1,000 yards or more in every season.
Chubb has quickly become arguably a top-five running back throughout the entire league.
Nick Chubb. GONE ♨️

(via @NFL) pic.twitter.com/xEPBDhyulj

— Bleacher Report (@BleacherReport) January 11, 2021
He seemingly gets better each and every season, which means the Browns should considering extending him soon.
Through three seasons, Chubb has 3,557 rushing yards, 28 rushing touchdowns, and nearly 600 receiving yards as well.
Chubb is a dangerous threat in both the running and passing attack for Cleveland.
Before Chubb arrived, the Browns heavily struggled to find a consistent run game for years.
The Browns offense wouldn't be nearly as effective without Chubb running through opposing defenses every week.
3. Myles Garrett
Superstar pass rusher Myles Garrett is the type of player that can take over a game by himself.
His presence on defense alone makes it more difficult for the opposing offense.
Often times, opposing offensive lines must double team Garrett throughout the game.
Although, Garrett is usually able to break free at times and still make an impact.
As of right now, it's tough to find another defensive end as impactful as Garrett in the NFL today.
Myles Garrett can't be stopped 😤

He strip sacks Burrow

(via @thecheckdown)pic.twitter.com/JWQxgQZzVq

— Bleacher Report (@BleacherReport) October 25, 2020
The numbers Garrett produces are jawdropping and he seemingly continues getting better.
Through four seasons, Garrett has 152 tackles, 42.5 sacks, and 10 fumbles forced.
Best of luck to any offensive line attempting to slow down Garrett.
Last season, the Browns secondary was near the bottom in many statistical categories.
Although, Cleveland still managed to go 11-5, which is partly due to the fact Garrett was on the field.
His 12 sacks in 14 games was an enormous asset and Garrett is a big reason why the Browns are trending upward.
2. Jarvis Landry
The table was set in 2018 when Jarvis Landry appeared on Hard Knocks and immediately voiced his expectations to his new teammates.
It can be argued that Landry was the start of the entire turnaround in the Browns organization.
Landry was quick to let his teammates know that the old ways in Cleveland were a thing of the past and things going forward would be different.
"Honestly my inspiration was that if you're not hurt and you can practice, practice," Landry said. "Nobody gets better on the sideline. The team doesn't get better that way and you put stress on other guys. That was my biggest thing, if you can practice, practice."

"It's going to allow us to have to create a mindset and a culture," Landry said. "If we're going to change the culture, that's where it's got to begin with. We can't be having favors and taking days off and stuff like that. We gotta practice and put in the work to be great."
1. Baker Mayfield
Everyone knows about the revolving door of quarterbacks the Browns have been through over the years.
However, it finally appears that they have a franchise quarterback in Baker Mayfield.
The former No. 1 overall pick has quickly helped turn this franchise around.
He put together a borderline Pro Bowl campaign during the 2020 season.
That is not all, Mayfield also put together two solid performances during their playoff matchups.
Baker Mayfield flings it to Austin Hooper for another #Browns touchdown. pic.twitter.com/LNtlRPNpCK

— Justin Groc (@jgroc) January 11, 2021
Last season, Mayfield threw 3,563 passing yards, 26 touchdowns, and eight interceptions in 16 games.
He helped lead Cleveland to a playoff victory and appears to have finally turned a corner.
It certainly seems that Mayfield has given the Browns the best chance at winning over the last decade or so.
Obviously, Mayfield cannot do it by himself, but he has been a huge reason why this team has become this strong.