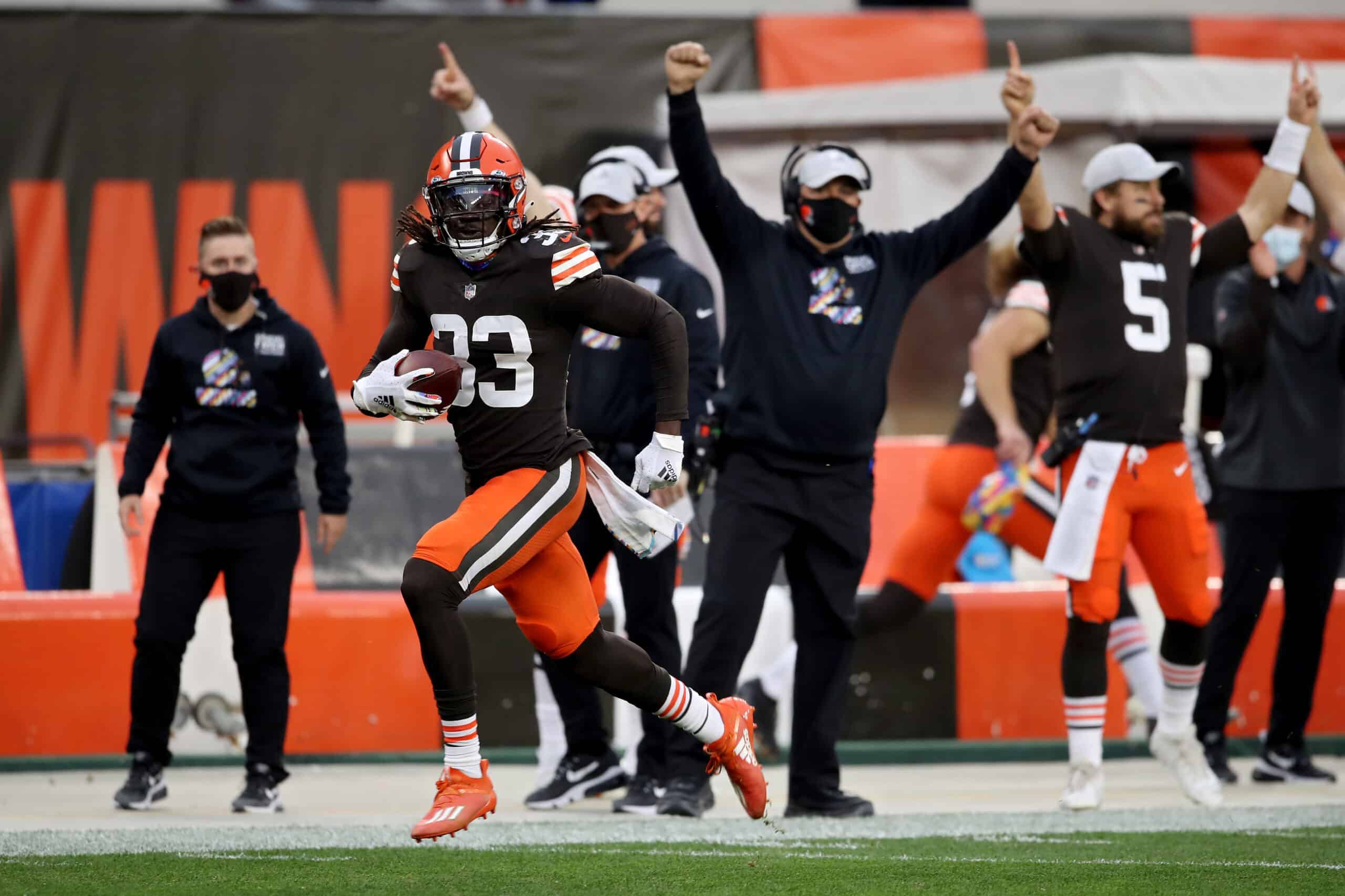 It's no secret that the Cleveland Browns have one of the best rosters in the entire league.
They have a stacked offense featuring talent like Baker Mayfield, Nick Chubb, Jarvis Landry, Odell Beckham Jr. and even more.
The defensive side of the ball got stronger as well with the additions of Jadeveon Clowney and John Johnson III over the offseason.
However, there are a handful of other players that have fallen under the radar because of how much talent is around them.
Fans could be surprised by the performances of a few players coming into the 2021 season.
1. Curtis Weaver
It might be too early to say, but the Browns could have a potential steal of their hands.
For some reason, the Miami Dolphins decided to cut linebacker Curtis Weaver last season.
They drafted him in the fifth-round and that cut him following an injury during training camp.
That injury caused him to miss the entire 2021 season, but the Browns gave him a chance anyway.
We've claimed DE Curtis Weaver and placed Grant Delpit on IR

Details » https://t.co/nbSxxGcggC pic.twitter.com/1wJLAKAPcF

— Cleveland Browns (@Browns) August 25, 2020
A year later, Weaver is back to being healthy and could make an impact on the roster this season.
In 2019, Weaver recorded 52 tackles, 19.5 tackles for loss, and 13.5 sacks in 14 games with Boise State.
He put together a solid resume in college and somehow dropped to the fifth round on draft day.
The Browns have a handful of options at linebacker, but Weaver is versatile.
In college, Weaver played both defensive end and linebacker while at Boise State.
That gives him a better chance of making the roster and having a rotational spot on the roster.
The hope is that Weaver can eventually become a reliable option for the Browns defense.
2. Mack Wilson
The 2020 season was a frustrating year for the second-year linebacker Mack Wilson
He was drafted by the Browns in 2019 and put together a strong rookie campaign.
The former fifth-round pick surprised both fans and coaches with his performance on the field.
In 2019, he recorded 82 tackles, one sack, and one interception in 16 games with Cleveland.
He put together a solid career while at Alabama, but fell under the radar on draft day.
.@AlabamaFTBL is off to an Alabama start.

Mack Wilson with the interception! pic.twitter.com/wxlSZQFeeR

— CBS Sports (@CBSSports) September 22, 2018
Sadly for Wilson, the Browns have added plenty of depth at the linebacker spot.
The additions of Anthony Walker, Jeremiah Owusu-Koramoah, and Tony Fields will make it tough on Wilson.
However, he has clearly shown he can make an impact at the professional level.
He saw a sophomore slump in 2019 with 39 tackles and two passes defended in 13 games.
The talent is there, so if the playing time becomes available then expect Wilson to capitalize on the opportunity.
3. Ronnie Harrison
Somehow, the Browns were able to acquire safety Ronnie Harrison from the Jacksonville Jaguars for a fifth-round pick.
It was surprising that Cleveland was able to acquire Harrison for that cheap considering how he performed in 2019.
That season he recorded 71 tackles, two sacks, nine passes defended, and two interceptions in 14 games.
The former third-round pick could very well be a starting safety on plenty of rosters in the NFL.
However, the Browns have newly signed Johnson III and youngster Grant Delpit projected as the starters.
Although, fans shouldn't be surprised if Harrison is able to fight his way into playing time in Cleveland.
He has shown that he can able a capable option on defense and could very well be a secret weapon for the Browns defense in 2021.