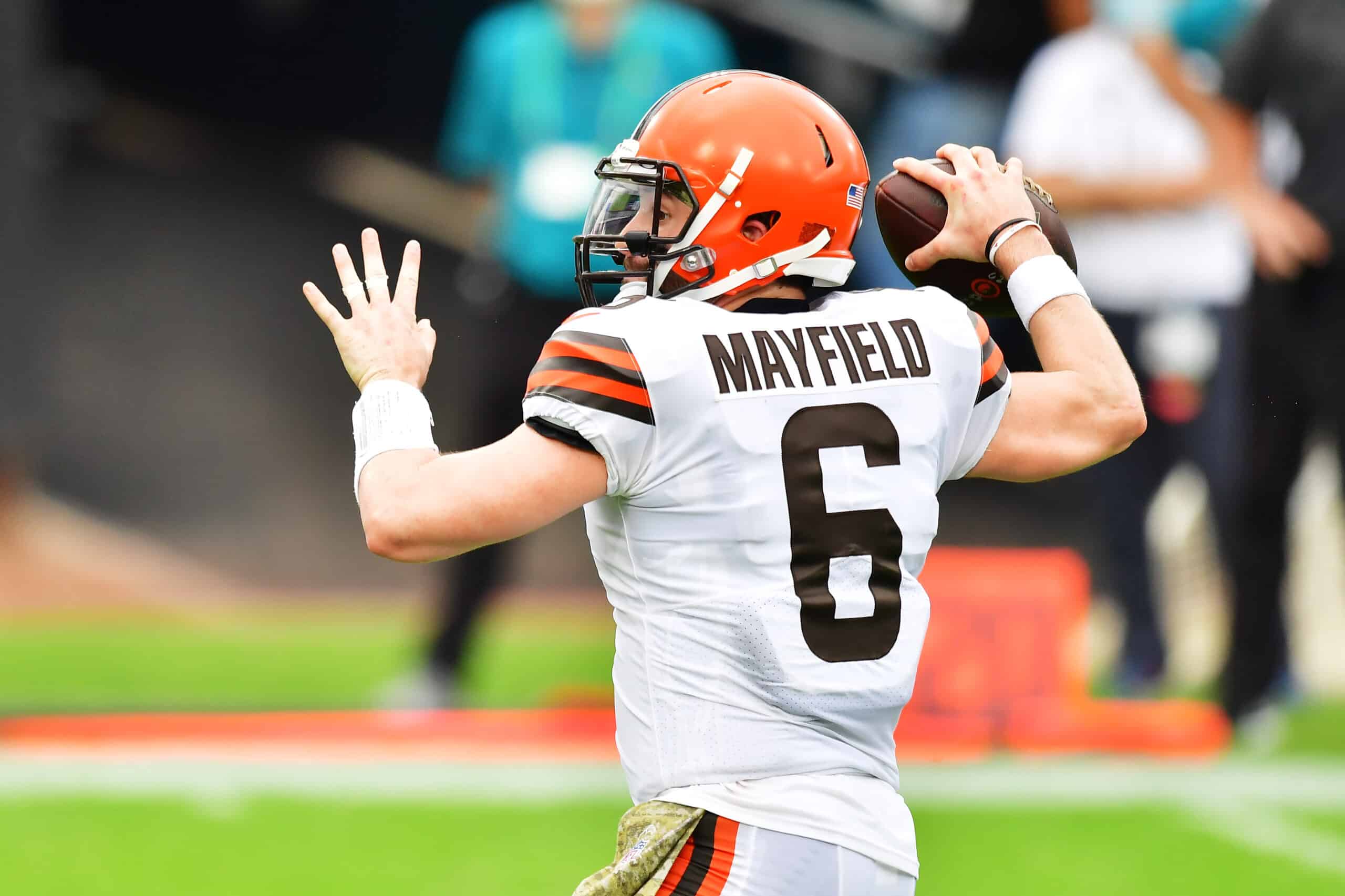 Does any Cleveland Browns fan really want to see Case Keenum play quarterback this season?
And would we really want to play against Baker Mayfield twice a year with, say… the Steelers or Ravens?
Those might sound like silly questions, but there are a bunch of folks claiming either scenario would be no big deal.
Social media, podcasts, and sports networks are full of folks denigrating the Browns' starting passer.
#Browns QB Baker Mayfield has had the most money wagered on him to win NFL MVP via William Hill Sportsbook. pic.twitter.com/qj9Uh3mlRX

— MoreForYouCleveland (@MoreForYou_CLE) June 17, 2021
For some reason, a rash of folks believes Baker Mayfield is a system quarterback, and "easily replaceable."
It hasn't been unusual for NFL fans to point to Mayfield's supporting cast as a factor in his 2020 success.
And Kevin Stefanski earned his share of the credit, too.
But to say Baker Mayfield brings nothing to the table seems a little extreme.
What Is a System Quarterback?
To say a quarterback fits a particular game plan or strategy well should be a compliment.
Baker Mayfield executes Stefanski's play-action and roll-out passing game well.
But calling someone a "system quarterback" is usually meant as an insult.
Why it is an insult is unclear, mainly because each NFL fan or coach you ask has a different definition.
Baker Mayfield believes our offense is "hitting the ground running"

📰 » https://t.co/vF5foJpDpg pic.twitter.com/P7w95h9ief

— Cleveland Browns (@Browns) June 16, 2021
But the Draft Network's Benjamin Solak asks 2 questions that seem to encompass what the label infers.
He says we need to ask if a starting quarterback
does not elevate the system they play in further than a replacement-level quarterback would.
would not be as productive or efficient in another, generally effective replacement-level offense.
So let's ask those questions about Baker Mayfield to see if the system quarterback label sticks.
Does Mayfield Elevate Stefanski's System Enough? 
Quite a few established star quarterbacks found their names attached to trade rumors this offseason.
And it is not an insult to Baker Mayfield for fans to dream of Deshaun Watson or Russell Wilson under center.
Mayfield is a system quarterback in the sense he runs Stefanski's offense well.
Cleveland's star passer threw deep passes more accurately than any other quarterback.
Since when did successful play action pass plays become a bad thing for a quarterback? Asking for Baker Mayfield #Browns pic.twitter.com/r5QyF4aDmw

— CleWest (@erjmanlasvegas) June 30, 2021
He thrived in motion and on play-action, but it's not like the Browns were awful in straight dropbacks.
Of course, there are other quarterbacks who might thrive in the Browns offense.
But there are just as many who Browns fans don't want to see rolling out in FirstEnergy Stadium.
There are far more Cam Newton and Nick Foles examples than Tom Brady stories in the annals of NFL history.
Would Baker Mayfield Find Success Elsewhere? 
Players and locker rooms offer too many variables to predict how things will work out.
But a player has to have some usable talent to have a chance at a successful transition between teams.
Baker Mayfield is a quarterback who owns one of the most accurate arms in the league.
He can put some mustard on his passes when he needs to, but also has a good touch to go over the top.
Only rookie QBs w/ 10+ PASS TDs on throws 20+ yards since '06:

🔹Justin Herbert (2020) – 12
🔹Baker Mayfield (2018) – 11 pic.twitter.com/y4MTx2XqCN

— PFF (@PFF) May 14, 2021
Nobody will call him a running quarterback, but he can escape a rush and throw on the run.
He brings leadership qualities and enthusiasm to the huddle and the locker room.
About the only knock on Mayfield is his 6'1″ height, even as critics pine for Wilson (6′) and Watson (6'1″).
And most teams won't present the game plan challenges Mayfield faced with the 2019 Browns.
Why Should We Care? 
Tom Brady was accused of being a system quarterback for years.
After Tampa Bay's Super Bowl victory, the burden is now on Bill Belichick to prove he wasn't a "Brady coach."
But in the end, it doesn't really matter if a quarterback is a system quarterback or not.
In fact, the smartest coaches develop or tweak a system for their quarterback.
Kevin Stefanski will be the first person who tells you that Baker Mayfield is a stud and he has nothing to do with it #Browns pic.twitter.com/WqCzgaE3Nh

— CleWest (@erjmanlasvegas) June 28, 2021
It worked out very well for Lamar Jackson in Baltimore, and it probably elevated Mayfield's status, too.
Every successful quarterback fits a system, and that means changing the system more often than not.
That doesn't discount the talent of the quarterback who makes each system work.
All it does is validate how well a quarterback and his coaches work together to bring success.