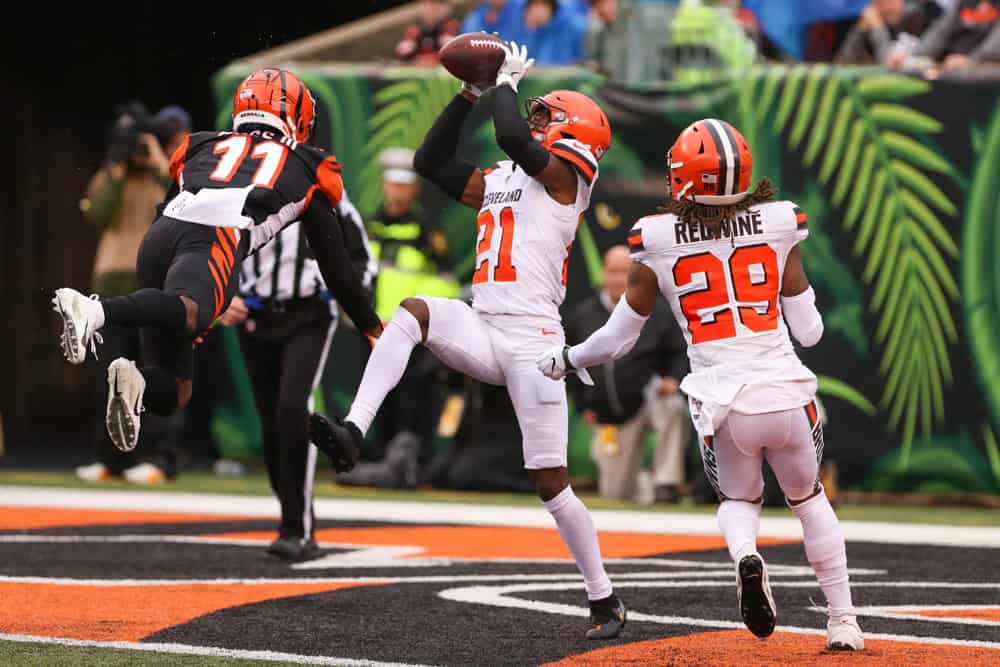 The Cleveland Browns have finally hit their bye week of the 2020 campaign.
They head into Week 9 with a 5-3 record on the year.
The Browns are in playoff position despite their below-average performance on defense.
Cleveland does have a fairly favorable schedule in the second half, but that doesn't guarantee a playoff berth.
The Browns are going to need to improve on defense if they want to be legitimate contenders down the stretch of the season.
3. Get Healthy
This isn't exactly something the Browns can control, but is a factor on why the team is struggling.
Rookie safety Grant Delpit suffered a season-ending Achilles injury during training camp.
That was a significant blow to the defense before the regular season began.
The Browns secondary took another hit when defensive back Greedy Williams went down.
The former second-round pick has been unable to suit up at all this season.
Cleveland is hopeful that Williams will be able to suit up for their Week 10 matchup, but we'll see.
Sadly it doesn't end there, superstar pass rusher Myles Garrett suffered a knee injury during Sunday's loss to the Las Vegas Raiders.
He underwent an MRI and luckily nothing significant is wrong with his knee.
MRI shows #Browns DE Myles Garrett has "nothing structurally" significant with his knee. Stefanski said No. 95 should be ready for next game.

— Tom Withers (@twithersAP) November 2, 2020
Multiple other defenders are dealing with injuries as well heading into the bye week.
It's tough to expect good results on defense when so many of your backup players are asked to step up and start.
Safety Andrew Sendejo is a perfect example of a backup player who should've never started.
Sadly, Delpit is done for the year, so Browns fans will be forced to continue to suffer with Sendejo.
2. Sign A Veteran Linebacker
The Browns front office failed to address the lack of depth at the linebacker spot this offseason.
As expected, the linebacker group has struggled heavily this season.
To be fair, a majority of the Browns linebackers are young and inexperienced players.
Cleveland did make a smart move by adding veteran linebacker Malcolm Smith to the roster.
Hellllllooooo Malcolm Smith!

📺: @NFLonFOX pic.twitter.com/mOEQADoAPy

— Cleveland Browns (@Browns) September 27, 2020
Sadly, Smith looks like the only linebacker who actually knows what he's doing on the field.
Opposing offenses continue to expose the Browns for their inexperience and lack of talent at linebacker.
The front office needs to make a trade in bring in another veteran player to help boost this defense.
Smith can't do it by himself and this defense could use another experienced player.
1. Make An Addition To The Secondary
The Browns secondary has been laughable to watch this season.
Honestly, defensive back Denzel Ward looks like the only player in the secondary that can be trusted.
Although, safety Ronnie Harrison is looking better with 19 total tackles over his last two games.
Everyone else has looked absolutely lost all season long.
It's unclear why the Browns continue to use Sendejo at safety.
At this point, Browns fans have turned the disaster that is Sendejo into an internet joke.
If 2020 had a football team, Andrew Sendejo would be it's safety.

— McNeil (@Reflog_18) October 11, 2020
It's hard to believe that the Browns are 5-3 with how bad this secondary has been this season.
Losing both Delpit and Williams has been a factor as well, but injuries happen.
The front office needs to either make a trade or sign somebody before it's too late.
Cleveland can't trust Sendejo at safety against a playoff caliber team.
Upgrades need to be made if the Browns are serious about winning this season.