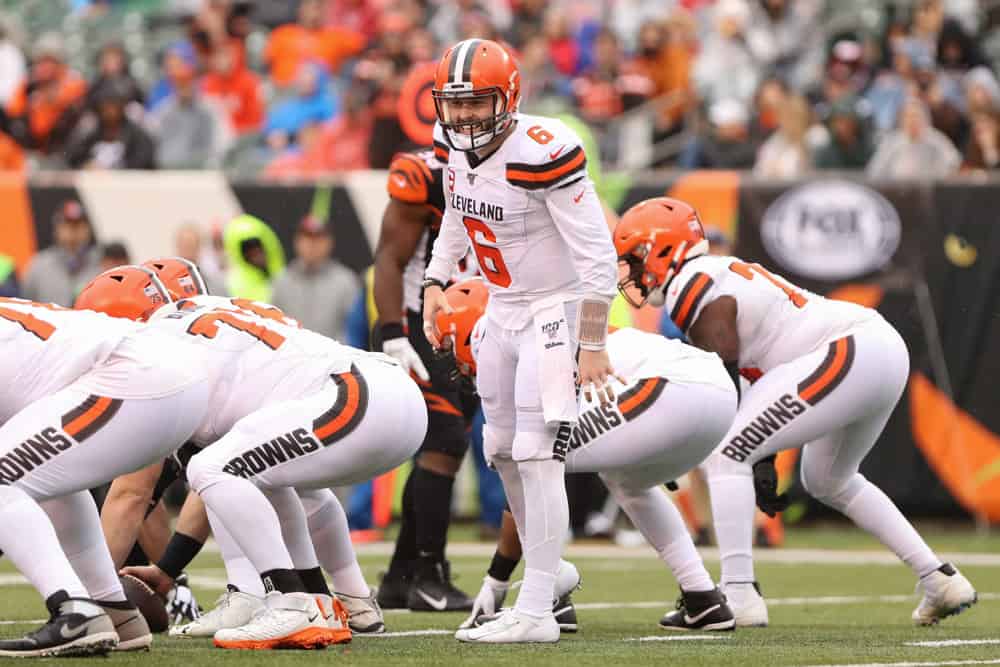 At 5-3, the Cleveland Browns have hit the bye week.
It arrives in somewhat disappointing fashion, as Sunday's game against the Raiders feels like it should have been a brown and orange winner.
Still, the Browns haven't entered the bye week above .500 since 2001, so they'll take where they're at for now.
The poor play on Sunday stems from a number of guys not performing at a high enough level.
The losses Baltimore and Pittsburgh were bad from the head coach to the equipment manager.
Losing to Las Vegas, however, did not fall on everyone.
A number of guys' stock on the roster have taken a big hit heading into the bye.

1. Mack Wilson
I detailed Mack Wilson's game against the Raiders in my "Studs and Duds" article.
It was reflective of his play when he's been on the field all season.
Wilson was behind the play consistently and let Darren Waller run circles around him on passing downs.
He has been dealing with knee issues since a hyper-extended left knee back in August.
This forced him to sit out the first three weeks of the season, but it has not been good since.
His PFF rating comes in at a very pedestrian (and that's being generous) 29.1.
Each week brings another tweet, or set of tweets, with an inspirational message hinting at better days ahead.
We'll see if the extra week off does anything, because so far it seems like those better days aren't coming.
They say I'm awful 🥴

I'm not even 100% yet.. 😏 Just relax you'll see soon! 🙏🏾

— Mack Wilson (@5mackwilson1) October 28, 2020
Take our L's and learn from them. Got a chance for us to get healthy as a team during the bye week and come back ready to attack, and finish the 2nd half of the season off strong. Save your negative comments. 💯 #BlockOutTheNoise

— Mack Wilson (@5mackwilson1) November 2, 2020
2. David Njoku
Oh how quickly the narrative can change for David Njoku.
Following a beautiful touchdown reception in the win over Cincinnati, Njoku dropped a crucial would-have-been first down on a 3rd and 8.
You can't say that play alone cost them the game, but it doesn't have many fans eager to keep him around with the trade deadline coming up and other tight end options on the roster.
He's at the center of a number of different trade rumors as well.
Really hope the Browns trade David Njoku tomorrow or Tuesday.

— Christian Williams ◻️ (@FFBaldMan) November 1, 2020
Adam Schefter has reiterated that #Browns TE David Njoku could likely be on the move before Tuesday's deadline pic.twitter.com/N53Jm2W7XX

— MoreForYouCleveland (@MoreForYou_CLE) November 1, 2020
From @GMFB: With the trade deadline looming, players to watch include #Texans WR Will Fuller, #Browns TE David Njoku and Washington Football Team QB Dwayne Haskins. pic.twitter.com/J04rW5tQ0i

— Ian Rapoport (@RapSheet) November 2, 2020
I don't think he is a bad player at all, but it is clear he has not met the Browns' expectations.
Njoku's PFF rating, while not bad, sits at just 67.9.
Again, with other options on the roster, his stock is plummeting heading into the bye.

3. Andrew Sendejo
One way or another, Andrew Sendejo will find a way to upset you on a Sunday afternoon.
If you see the Browns defense involved in a gang tackle, you can bet the house Sendejo is the last one in on the play.
It's infuriating, as the safety position should be someone with good instincts.
#Browns Safety, Andrew Sendejo, has been a liability this year.

Andrew is the only player in the #NFL to allow a perfect Passer Rating in the 1st 5 games.

He has allowed 3 TDs (2nd) and a Completion Rate of 80% (14th).

His Overall Grade of 44.6 per @PFF ranks 75th/83 Safeties. pic.twitter.com/aqKKNjc7qJ

— The Hottest Take Sports Podcast (@Hottest_TakePod) October 13, 2020
What was #Browns Andrew Sendejo doing on this touchdown?pic.twitter.com/5LbjJIF16Y

— Dov Kleiman (@NFL_DovKleiman) October 4, 2020
The team is thin at safety right now.
Sendejo is not going to cut it for a defense that desperately needs to turn things around if they have aspirations of a playoff run this season.
Andrew Berry is in a predicament here.
Grant Delpit, who is out this entire season due to a torn Achilles, is expected to take that starting spot next season.
That makes it tough to justify making a major upgrade at the position this season with a trade.
If he can find a way to make a short-term acquisition happen, however, it needs to be done.