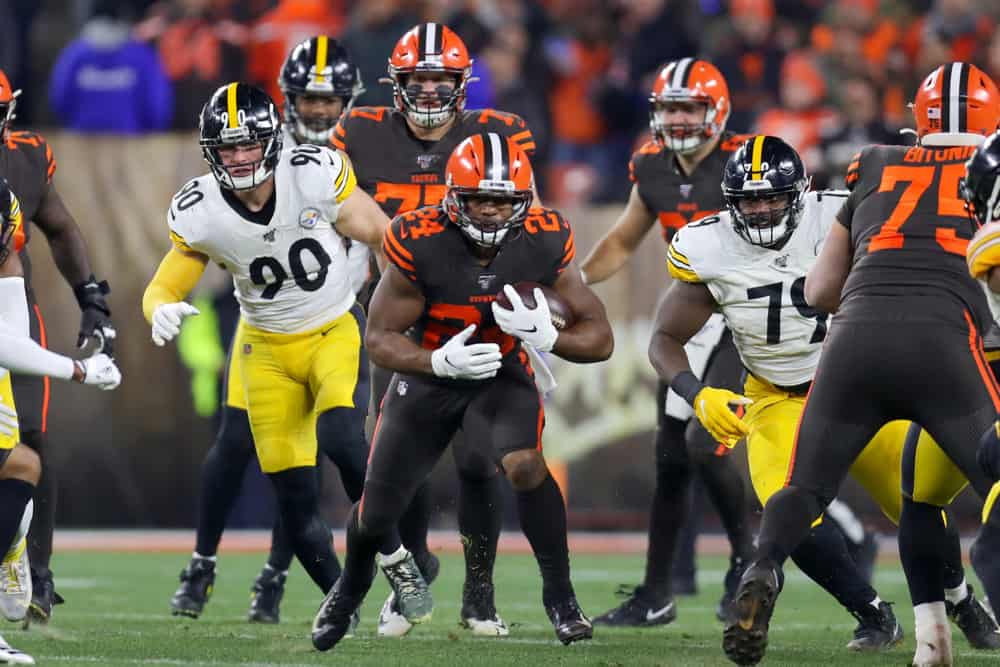 The world is watching, as the Cleveland Browns travel to Heinz Field to square off against bitter, in-division opponent the Pittsburgh Steelers.
Two weeks ago, Mason Rudolph and Myles Garrett partook in an on-field altercation that eventually led to a rest-of-the-season suspension for Garrett.
Rudolph is no longer the Steelers' starting quarterback, but for performance reasons.
The Browns need to win this game to keep their playoff hopes alive and crush Pittsburgh's playoff aspirations.
Here are four keys to the game that will give the Browns their best chance to go 1-0 this Sunday.
1. Keep Calm, and Carry On
Cleveland is especially upset at Pittsburgh, and multiple Browns' players voiced their desire to compete against Rudolph again, but Devlin Hodges is the better matchup.
Freddie Kitchens made it clear all week that his team needs to stay focused on winning games, not on the renewal of an age-old rivalry.
The Browns have a game plan to defeat the Steelers, as was evidenced in their 21-7 victory in Week 11.
As long as their players don't lose their cool and do execute their individual jobs, the Browns can win again this Sunday.
2. Pressure Devlin Hodges
In Week 11, the Browns defensive line and linebackers pressured Rudolph, and he struggled. Young quarterbacks are significantly worse when under pressure. It messes up their timing and their reads.
After Mike Tomlin asked Hodges to "not kill [the team]," the Steelers' new quarterback is probably not feeling confident. If he makes a few mistakes early, those mistakes could snowball into an easy Browns' victory.
Pressure is the key to ensuring those mistakes happen.
3. Establish the Run
Nick Chubb was mediocre against the Steelers in Week 11. He carried the ball 27 times, gaining 92 yards, on 3.4 yards per carry. As one of the best running backs in the league, Chubb needs to be better.
Ensuring Chubb performs better starts with the offensive line. If the Browns can establish the run early on, it makes any Steelers' turnovers a lot more costly. Controlling the clock is important this Sunday, especially away from Cleveland.
Establishing the run and dominating the game's time-of-possession will keep the Steelers' fans from distracting Baker Mayfield.
4. Force the Steelers to Pass
If the Steelers did one thing well in Week 11, it was running the ball. Fortunately, they only handed the ball off 14 times. Jaylen Samuels averaged 5.2 yards per carry.
The Browns establishing the run is important, but so is ensuring the Steelers do not establish the run.
A strong running game will take pressure off of Hodges, hurt the Browns' time-of-possession, allow Pittsburgh's fans to get back into the game, and increase the emotions of all Cleveland's players.