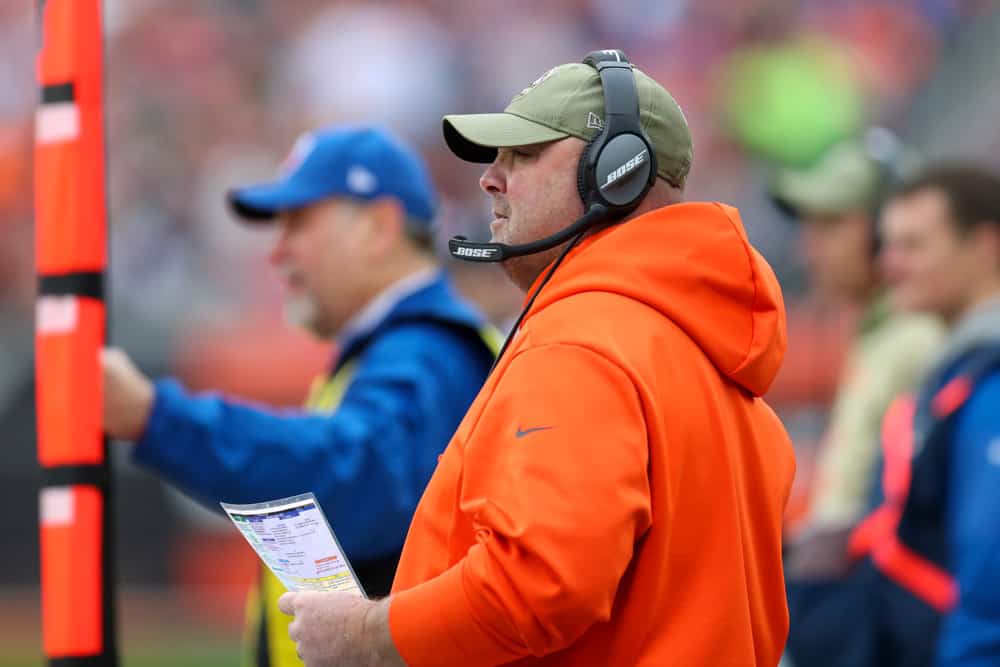 Shortly after the Steelers' and Brown's infamous Thursday Night Football incident, while tempers still flared and details waited to be discovered, Freddie Kitchens took questions from the media.
After a solid and important Browns victory, Kitchens let the focus go to the ugly melee.
The rookie head coach's attempt to explain the unexplainable was in stark contrast to how veteran coach Mike Tomlin handled the press.
In the opposing locker room, Tomlin opened with a firm "no comment" regarding the free-for-all and only answered game-related questions about Pittsburgh's loss.
Trying to walk the fine line between supporting a popular locker room figure while admitting the incident deserved punishment proved tricky for Kitchens.
Questions about Kitchens' control of his players quickly led to speculation of Kitchen's job status.
Was his first head coaching job at any level too much for him to handle?
But that was Kitchens' Browns taking care of business against Miami Sunday while Tomlin's Steelers tripped all over themselves in Cincinnati, almost losing to the 0-11 Bengals.
Even as fans whacked a Mason Rudolph pinata with a helmet and signs of support for Myles Garrett filled the stands, Kitchens' troops remained focused on beating the Dolphins.
In the postgame locker room, every Browns player said the right things about the right game.
The team was 1-0 that week.
On Monday, they would focus on the Steelers.
Kitchens has been speaking of this "1-0" mindset every week as the Browns continue to make a playoff push.
"I think the wording of it is to go 1-0 this week because that is what we have to do, but our focus and our preparation, nothing should change," Kitchens stated. "We just need to have a little more focus on our focus. We have to have a little more focus on the preparation and then our whole goal at the end of each week is just to go 1-0. That is the way it is throughout the whole year. "
Kitchens will do all he can do to keep the team just as focused on this week's game. It should be easy to harp on the playoff implications for the Browns and the Steelers.
But it won't be as easy to block out the follow-up to the Myles Garrett incident as it was last week.
Social media will fill with references of disapproval and support for Garrett and revenge for Mason Rudolph.
Memes regarding what Rudolph did or said and Garrett's answer will be too creative to ignore.
Steelers fans aren't forgetting what happened to JuJu Smith-Schuster and Diontae Johnson, either.
Both were knocked out of the game in Cleveland after head-to-head blows from Browns' defenders.
Terrible Towels will be peppered with signs and banners referencing everything the Steelers fans didn't like about the beat down they took in Cleveland.
Pittsburgh's fan's verbal assault will start well before kickoff.
Mike Tomlin presents the biggest problem for Kitchens. Pittsburgh is an underdog at home for a reason.
Cleveland's resurgent offense stands in stark contrast to the debilitated and largely dysfunctional Steelers unit of the past two weeks.
Tomlin is a savvy NFL coach. He will not only use the emotions of the Myles Garrett fight to fire up his under-manned team. He will also try to get under the skin of Browns players.
Odell Beckham Jr has been coaxed into confrontations before.
How will any of Cleveland's young players respond to post-whistle jabs or late hits?
Kitchens has to prepare his team for such shenanigans and protect his players from taking provoked penalties or worse.
Kitchens and the Browns proved they can manage the distractions of a big incident with a fine team performance in Week 12.
Things will be more difficult in Pittsburgh.
If Cleveland puts forth another focused effort, it should put any doubts about Kitchens' coaching prowess to rest as they continue with their "1-0" mindset each and every week.