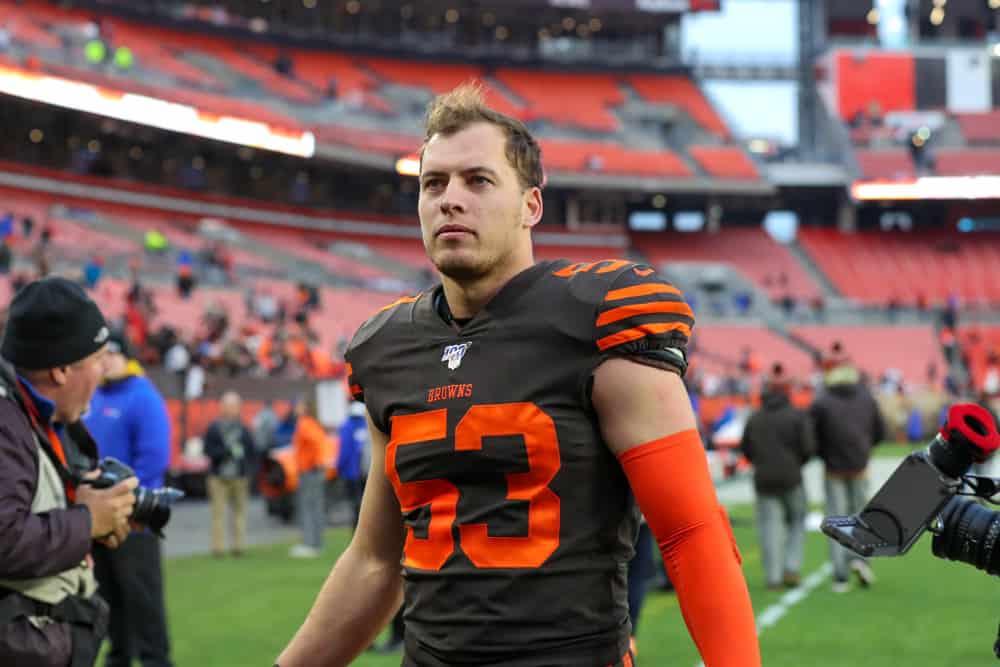 After a disappointing season comes to an end, the Cleveland Browns' new front office must regroup and plan for what will be a critical offseason.
The new general manager will need to be clever and strategic in the free agency arena in the next few months.
January is an interesting "feeling-out" month for club executives, who traditionally use the college all-star games as informal opportunities to gauge interest in each other's noteworthy free agents.
The Browns have some decisions to make regarding 14 players whose contracts expire in 2020, representing over $20 million in salary cap capacity.
Here's a look at some of the key Browns' free agents for 2020, and some thoughts on whether they'll be resigned, and some possible options if not.
The overwhelming sentiment throughout Browns' Nation is that Greg Robinson's tenure in Cleveland has run its course.
After a promising 2018 season, Robinson struggled this season with penalties and allowed sacks, and lost his starting position midway through the year.
His one-year contract is expiring, and most believe that the Browns won't be interested in paying the type of money that it would take to resign him.
Replacing Robinson: The new general manager will certainly be looking for an Offensive Tackle in the draft, which appears to be the most critical pick for the Browns this year.
Fortunately, the 2020 draft class is stacked with good OTs, and the Browns may be able to pick up a franchise-worthy addition to a beleaguered offensive line.
Some early names to remember are Andrew Thomas (Georgia), Jedrick Wills (Alabama), Tristan Wirfs (Iowa), and Alex Leatherwood (Alabama).
It isn't unreasonable to think that three OTs may be gone before the Browns pick in the first round.
Stanton finished the season on injured reserve status, but was Baker Mayfield's undisputed backup, even though he hasn't thrown a pass in a regular-season game since 2017.
Stanton is a serviceable back-up, who has been a relatively valuable mentor to Mayfield.
But his price tag might be too much for the Browns to stomach for another year with other free-agent options available.
Replacing Stanton: The list of available unrestricted free agents for 2020 is interesting, with some possibilities for quality backups that aren't substantial hits to the Brown's salary cap.
Matt Moore (KC) and Trevor Siemian (NYJ) are interesting names and potential bargains, as both have stepped in for injured starters for their respective teams this year.
Case Keenum (WSH) is another possibility, as Dwayne Haskins, Jr. seems to have solidified his status as the Redskins' starter.
Keenum might be a good fit in Cleveland, especially if an affordable deal can be negotiated.
Rashard Higgins was beginning to emerge as one of Baker Mayfield's favorite targets in 2018 alongside Jarvis Landry but started to become out-of-sight / out-of-mind as Odell Beckham, Jr. joined the team.
He was used sparingly this past season, and it seems very unlikely that the Browns will extend an offer for a new contract in 2020.
Replacing Higgins: Damion Ratley and Khaderal Hodge were the only other receivers seeing significant snaps this season after the Browns released Antonio Callaway earlier in the 2019 season.
The Browns must find another solid complement to Beckham, Jr., and Landry this offseason.
It's not likely that the Browns will look for an immediate contributor in the draft, given that there are too many other holes that need to be filled on defense (and offensive line).
In evaluating the free agency list, one name that sparks interest is Tavon Austin (DAL), who the Cowboys are unlikely to resign.
A former high school running back, Austin is a smaller, but speedy slot receiver with an impressive demeanor and work ethic and could be a good third target for Mayfield.
Randall is a very solid free safety, who has anchored the secondary at times this past season with rampant injuries around him.
Yet it is unclear whether the Browns will make a move to negotiate a new deal with Randall with the new front office and coach.
The potential absence of Damarious Randall in 2020 puts even more pressure on the Browns to shore up a defensive backfield that did not perform to expectations this season.
Replacing Randall: Again, the Browns are likely counting on the draft to find an immediate contributor at free safety to play alongside Sheldrick Redwine, Denzel Ward, and Greedy Williams.
The top name that seems to come up frequently in early speculation is Grant Delpit from LSU, who is likely to be the first free safety taken in the 2020 draft.
Drafting Delpit means that the Browns are waiting to draft an offensive tackle in the second round, which is concerning.
This will be a challenging decision for the new front office.
The saddest outcome of the upcoming offseason is the thought of Joe Schobert not returning to the Browns in 2020.
Schobert has been the best player on the Browns defense this season and was robbed of a roster spot on the NFL Pro Bowl team.
However, it appears more and more unlikely that the Browns are prioritizing a new deal with Schobert, and the future for injured linebacker Christian Kirksey in Cleveland is also unclear.
This would leave a gaping hole in the linebacking crew, with the need for a middle Linebacker alongside second-year linebackers Mack Wilson and Sione Takitaki.
Replacing Schobert: This is a daunting task for the new GM with offensive tackle and free safety being such a high priority in the draft.
It's hard to imagine a third or fourth-round linebacker being an immediate replacement for Schobert, so free agency or even a trade might have to be considered.
Joe Bachie is an inside linebacker for Michigan State that enters the draft in 2020, albeit coming off of a suspension for a banned supplement that kept him out of the Spartans' lineup for most of the 2019 season.
Bachie might be available as late as the fourth round because of the suspension but is probably second or third-round talent.
His play is similar to Schobert's as he is a smart and fast attacker that can drop into coverage when asked.