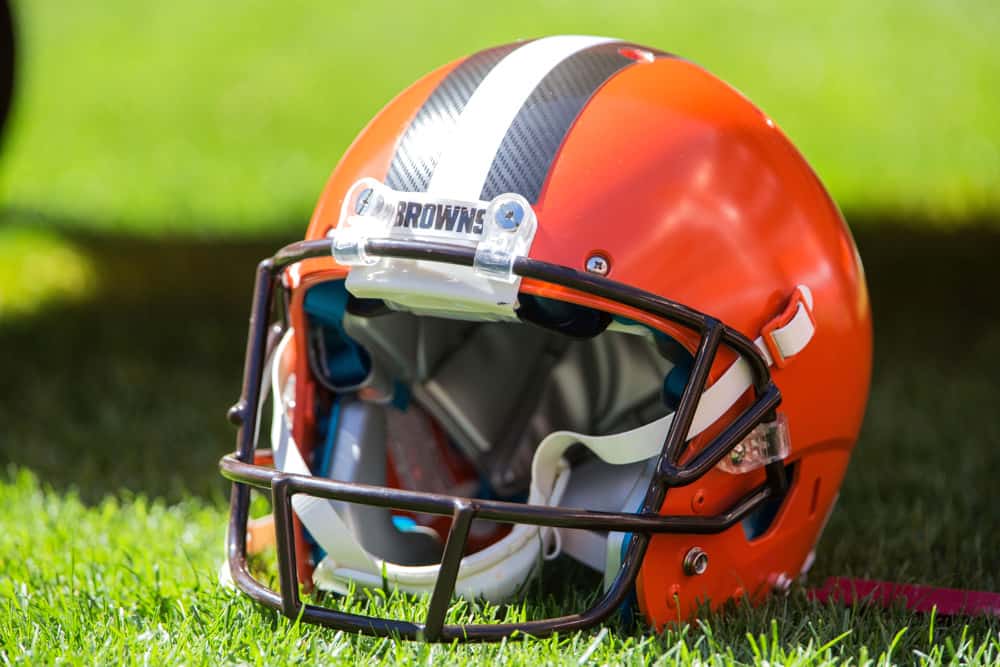 The Cleveland Browns are the last NFL team with a head coaching vacancy.
The Washington Redskins hired former Carolina Panthers coach Ron Rivera, the Dallas Cowboys hired former Green Bay Packers coach Mike McCarthy, the Panthers hired Baylor coach Matt Rhule and the New York Giants hired New England Patriots special teams coordinator Joe Judge.
After firing Freddie Kitchens at the end of the regular season, Browns owner Jimmy Haslam told media members the team will hire a new head coach before a general manager.
The Browns still have interviews scheduled with Philadelphia Eagles defensive coordinator Jim Schwartz on Wednesday, Minnesota Vikings offensive coordinator Kevin Stefanski on Thursday and New England Patriots offensive coordinator Josh McDaniels on Friday.
The team has already interviewed Kansas City Chiefs offensive coordinator Eric Bieniemy, Baltimore Ravens offensive coordinator Greg Roman, San Francisco 49ers defensive coordinator Robert Saleh and Buffalo Bills offensive coordinator Brian Daboll.
A franchise can't officially hire a coach until his current team's postseason ends.
Here is the case for and against each of the Browns' seven coaching candidates:
Josh McDaniels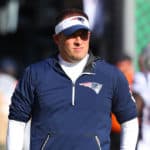 The case for Josh McDaniels:
The long-time Patriots' coach has been on the staff for all six of the team's Super Bowl victories.
McDaniels, 43, has served as the team's offensive coordinator from 2005-2008 after getting rehired in 2012.
He was a Patriots personnel assistant in 2001, a defensive assistant from 2002-2003 and the quarterback's coach in 2004.
McDaniels is largely responsible for Tom Brady's success as a quarterback.
On Tuesday, McDaniels was supposed to interview for the Panthers' head-coaching job, but the team decided to hire Rhule.
A good way to assess value is to see if other franchises would also want to hire a coach — what is a coach's value in an open market?
However, McDaniels did not get an interview with the Giants or Cowboys.
McDaniels has head-coaching experience, serving as the head coach of Denver Broncos from 2009-2010.
Oddsmakers consider McDaniels as the favorite to become the Browns' next head coach.
Odds to be the next head coach of the Cleveland Browns (BetOnline):

McDaniels +150
Stefanski +200
Saleh +450
Bienemy/Roman +900
Riley/Meyer +1000
Schwartz/Lewis +1400
Daboll/Campbell/LaFleur +1600

— Odds Shark (@OddsShark) January 7, 2020
The case against Josh McDaniels:
McDaniels has some baggage.
In less than two seasons with the Broncos, McDaniels compiled an 11-17 record.
In February 2018, McDaniels withdrew from the Indianapolis Colts' head coaching position on the same day the team announced his hiring.
Agent Bob LaMonte terminated his relationship with McDaniels the next day.
Also, Bill Belichick's assistants have had mixed success as head coaches.
Kevin Stefanski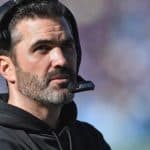 The case for Kevin Stefanski:
The name might sound familiar to Browns fans.
Stefanski, 37, interviewed with the Browns twice before the team decided to hire Kitchens in January 2019.
In his first year as Vikings offensive coordinator, the team averaged 25.4 points per game (eighth in the NFL) and 353.5 total yards per game (16th).
Stefanski helped Kirk Cousins to a 107.4 passer rating, which is a career-high for the eighth-year quarterback.
The Panthers were scheduled to interview Stefanski on Thursday, but instead hired Rhule.
Oddsmakers consider Stefanski as the second-favorite to become the Browns' next head coach.
The case against Kevin Stefanski:
Stefanski has never been a head coach at any level having spent most of his coaching career working for the Vikings.
He got his NFL start as an operations intern with the Philadelphia Eagles under Andy Reid in the summer of 2005.
In 2006, Stefanski joined the Vikings' staff under Brad Childress.
Stefanski held the role of assistant to the head coach (2006-2008), assistant quarterbacks coach (2009-2013), tight ends coach (2014-2015), running backs coach (2016), quarterbacks coach (2017-2018), interim offensive coordinator (2018), and the official offensive coordinator in 2019.
If the Browns hired Stefanski, he would be the third-youngest coach in the NFL behind Cincinnati's Zac Taylor and Los Angeles' Sean McVay.
Also, how would the Browns fanbase react knowing the organization hired Kitchens over Stefanski last offseason?
Robert Saleh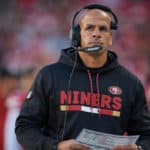 The case for Robert Saleh:
Saleh, 40, is one of two defensive coaches among the Browns' seven candidates.
In his third year as 49ers defensive coordinator, this year's team gave up an average of 19.4 points per game (eighth-lowest in the NFL) and allowed 281.8 yards per game (second-lowest in the NFL).
In 2019, the 49ers defense also averaged 1.7 takeaways per game, which ranked sixth in the NFL.
Saleh was a linebackers coach for the Jacksonville Jaguars (2014-2016), defensive quality control coach for the Seattle Seahawks (2011-2013) and held various positions for the Houston Texans (2005-2010).
In 2013, Saleh helped the Seahawks' famous "Legion of Boom" unit win a Super Bowl.
In Houston, Saleh oversaw AP Defensive Rookie of the Year performances by DeMarco Ryans (2006) and Bryan Cushing (2009).
He also served as a defensive assistant at Michigan State (2002-2003), Central Michigan (2004) and Georgia (2005).
Oddsmakers consider Saleh as the third-favorite to become the Browns' next head coach.
The case against Robert Saleh:
Despite experience with several NFL and college teams, Saleh has never been a head coach at any level.
Saleh is a defensive-minded coach.
If the Browns' next offensive coordinator performs well, he could become a head-coaching candidate.
Of the NFL's 32 offensive coordinators, only three — McDaniels, New Orleans' Pete Carmichael, and San Francisco's Kyle Shanahan — have been with their current team since before 2018.
Shanahan serves as the 49ers head coach and its offensive coordinator.
The possibility of coaching turnover could be an issue for the development of Baker Mayfield, who has played for three offensive coordinators in two seasons.
Greg Roman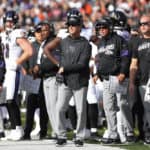 The case for Greg Roman:
Roman, 47, is a big reason Ravens quarterback Lamar Jackson will likely win MVP this season.
In Roman's first year as Ravens offensive coordinator in 2019, the team led the NFL with 33.2 points per game, 37 touchdown passes and 3,296 rushing yards.
He served as Bills offensive coordinator from 2015-2016 and as 49ers offensive coordinator from 2011-2014.
Roman helped put Colin Kaepernick and Tyrod Taylor in the Pro Bowl.
At the NFL level, Roman has also coached with the Panthers and Texans.
Roman's teams consistently have a strong rushing attack.
In seven seasons as an NFL offensive coordinator, his teams finished top five in rushing yards six times.
In his last three seasons as an offensive coordinator, Roman's teams finished top five in rushing touchdowns.
Imagine pairing Roman with running back Nick Chubb and if the Browns decide to retain Kareem Hunt, who is a restricted free agent.
The case against Greg Roman:
Roman has extensive experience, but he's never been a head coach before.
Would Roman be able to find success without a mobile quarterback?
Taylor wasn't as mobile as Jackson or Kaepernick, so maybe Roman could find success with Mayfield.
Also, it appears Browns are the only NFL team known to have requested to interview Roman.
Eric Bieniemy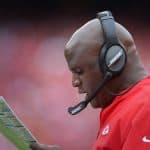 The case for Eric Bieniemy:
Bieniemy, 50, has served as the Chiefs offensive coordinator since 2018.
Before that, he was the team's running backs coach from 2013-2017.
In 2013, running back Jamaal Charles led the NFL in rushing touchdowns (12) and was second in yards from scrimmage (1,980).
Bieniemy has overseen an offense with MVP quarterback Patrick Mahomes, wide receivers Tyreek Hill and Sammy Watkins and tight end Travis Kelce.
Even despite Mahomes' injuries this season, the Chiefs rank fifth in the NFL in scoring this year at 28.2 points per game.
Hill also missed part of this season.
Bieniemy also interviewed with the Panthers and the Giants.
Last offseason, Bieniemy interviewed for four different head coaching jobs.
From 2006-2010, Bieniemy was the Vikings running backs coach.
At the collegiate level, he was Colorado's running backs coach from 2001-2002, the UCLA running backs coach from 2003-2005 and the Colorado offensive coordinator from 2011-2012.
From 1991-1999, Bieniemy played as a running back for the San Diego Chargers, Bengals and Eagles.
The case against Eric Bieniemy:
Bieniemy has never served as a head coach before at any level.
Plus, the Browns just fired Kitchens, who also had experience as a running backs coach.
However, many people around the league — including Chiefs head coach Andy Reid — believe it's a matter of when not if Bieniemy becomes an NFL head coach.
Andy Reid on Eric Bieniemy, 4 weeks ago: https://t.co/pTCRvYULa5 pic.twitter.com/AbIXZImn5d

— John Ellis (@OnePantherPlace) January 2, 2020
Jim Schwartz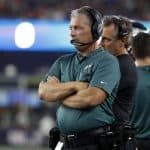 The case for Jim Schwartz:
Jim Schwartz, 53, has more NFL head-coaching experience than any of the other six candidates.
He coached the Detroit Lions from 2009-2013.
In 2011, Schwartz guided the Lions to their first playoff appearance in 11 seasons.
After the Lions fired Schwartz, he served as the Bills defensive coordinator in 2014 and as the Eagles defensive coordinator since 2016.
The Eagles gave up 20 or fewer points in five of their six playoff games during Schwartz's tenure with the team.
Schwartz won the Super Bowl LII with the Eagles.
At the NFL level, he's also coached for the Ravens (1996-1998) and Tennessee Titans (1999-2008).
Schwartz was a personnel scout for the Browns from 1993-1995 under Belichick.
The case against Jim Schwartz:
Schwartz finished with a 29-51 record during his tenure with the Lions.
However, he took over a Lions team that finished 0-16 in 2008.
Schwartz's defensive background leads to the same potential offensive coordinator issues as Saleh.
Brian Daboll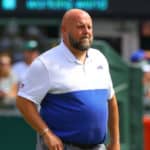 The case for Brian Daboll:
Brian Daboll, 44, has served as the Bills offensive coordinator for the past two seasons.
He's overseen the development of second-year Josh Allen.
Allen finished the season with 3,089 passing yards (23rd in the NFL), 20 touchdown passes (23rd), nine interceptions and an 85.3 rating (24th).
On the ground, Allen had 109 carries for 510 rushing yards and nine touchdowns this season.
In 2018, Allen threw for 10 touchdown passes, 12 interceptions and had a 67.9 rating.
Plus, the Bills made the playoffs for the second time in three seasons.
Daboll was the Miami Dolphins offensive coordinator in 2011, the Kansas City Chiefs offensive coordinator in 2012, an offensive assistant for the New England Patriots in 2012, the Patriots' tight end coach from 2014-2016 and a co-offensive coordinator and quarterbacks coach at Alabama in 2017.
He won a national title at Alabama under Nick Saban and five Super Bowl rings with the Patriots under Bill Belichick.
The case against Brian Daboll:
If this name sounds familiar, it's because Daboll served as the Browns' offensive coordinator from 2009-2010 under head coach Eric Mangini.
The Browns had a 5-11 record in both of those seasons after finishing with the worst offense in the league in 2009 and the fourth worst in 2010.
Daboll would be a hard sell to the Browns' fanbase knowing he already struggled in his two years with the team.