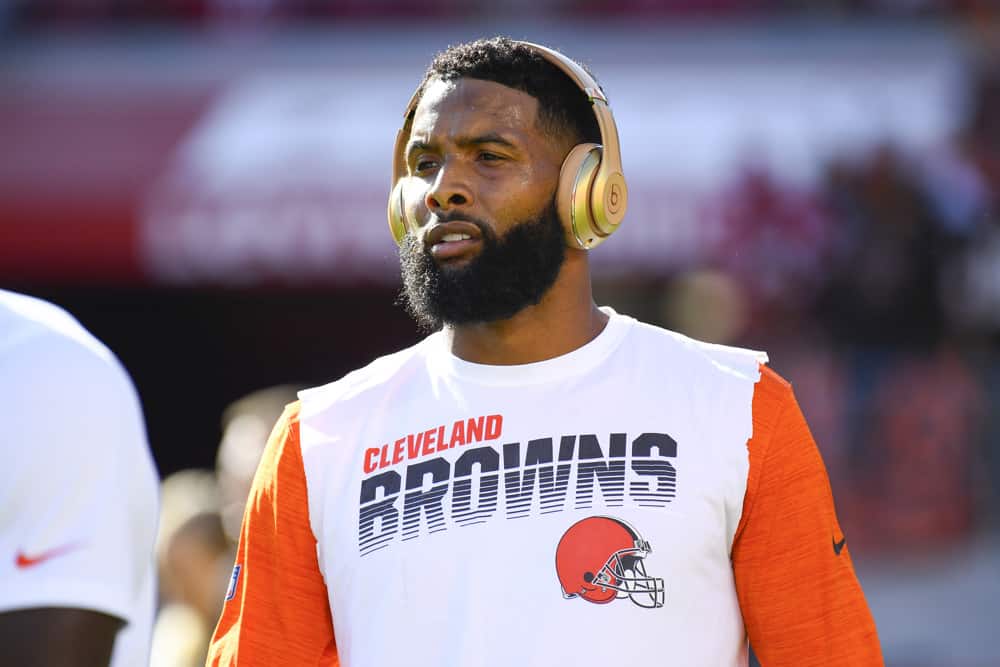 The Cleveland Browns fell well short of expectations in 2019.
There has been some backlash and rumors going around involving wide receiver Odell Beckham Jr. this offseason.
There were many factors as to why the Browns struggled last season, but FS1's Jason Whitlock believes that Beckham Jr. is part of the problem.
Whitlock's Comments
Saying that Whitlock has lost faith in the 27-year-old receiver is an understatement.
On the latest edition of "Speak for Yourself," Whitlock reportedly called Beckham Jr. overrated, big-mouthed, and not the kind of player who will help a team win a championship.
.@WhitlockJason isn't surprised that teams aren't interested in trading for OBJ.

"I think for teams who are interested in winning and winning right now, OBJ has very little value."#SFYin60 pic.twitter.com/cR6jbhK4HT

— Speak For Yourself (@SFY) March 30, 2020
There have been plenty of trade rumors this offseason involving Beckham, but Whitlock doesn't believe the receiver is all-in on football.
He went on to say that Beckham is undersized, cost too much money, and isn't as great of a player that everyone hypes him up to be.
Whitlock doesn't believe that Beckham contributes to a winning environment, but it's really not fair to pin all of the team's success or failures on one player.
What Happened to Beckham in 2019?
The 2019 season was not successful for the Browns, but all the blame can't be put on the shoulders of Beckham Jr.
Especially considering Beckham Jr. was injured for the entire 2019 season.
He didn't put together superstar numbers, but it was a fairly decent season, considering the Browns offense struggled.
Beckham hauled in 74 receptions, 1,035 receiving yards, and four touchdowns through 16 games with Cleveland last season.
That's not an awful season on paper, but Whitlock believes that Beckham is the problem for the Browns.
Beckham's numbers have taken a dip since his first three seasons in the league, but the three-time Pro Bowler was still able to contribute significantly in 2019.
Will Beckham Get Traded?
Whitlock believes that the lack of interest by organizations is because Beckham has very little value.
Beckham has finished with over 1,000 receiving yards in five of his first six seasons in the NFL.
The only season where he had less than 1,000 receiving yards was in 2017 when he played in four games due to injury.
Regardless of what Whitlock believes, the Browns have said that they are committed to Beckham for the 2020 season.
The lack of interest by teams might be because the Browns don't appear to be heavily shopping Beckham this offseason.
Browns fans should expect Beckham to be playing for Cleveland this season unless something changes over the summer.
What to Expect for Beckham in 2020?
The 2019 season was Beckham's first year with the Browns organization.
Sometimes it does take time before a player gets familiar with a different system and new players.
It wasn't an awful season for Beckham, but he didn't post the superstar numbers that are expected from him each season.
Despite the harsh comments by Whitlock, Browns fan shouldn't be ready to give up on Beckham yet.
Beckham underwent core-muscle surgery in January, but should be ready to play at the beginning of camp.
Head coach Freddie Kitchens was let go by the organization after a dysfunctional 2019 campaign.
Hopefully, both Beckham and the Browns can turn over a new leaf in 2020.