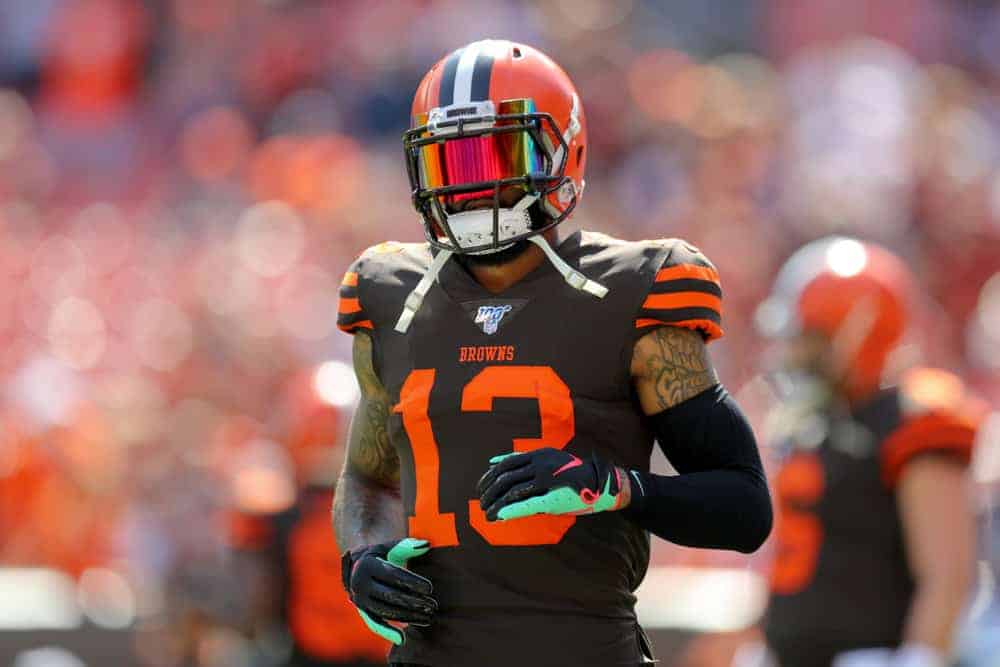 Cleveland.com's Mary Kay Cabot is refuting a report that Cleveland Browns wide receiver Odell Beckham Jr. is on the trading block.
Last week, former NFL linebacker and football analyst Bart Scott claimed otherwise on his ESPN radio show "Bart and Hahn."
"Just know you heard it here first," Scott said. "I'm telling you right now, Odell Beckham is on the trading block and it's real right now."
Cabot said Browns general manager Andrew Berry and coach Kevin Stefanski "made it clear at the NFL Combine that Beckham is a key part of their future."
Browns owner Jimmy Haslam told Cabot he expects Beckham to be a "big, big producer" for the Browns in 2020.
Berry also told Cabot he would listen to trade offers for Beckham, but he's not actively trying to trade him.
Cabot's stance is similar to what Radio.com NFL Insider Michael Lombardi said last week during an appearance on 92.3 The Fan's "Baskins and Phelps" show.
"For the right price, you can get Beckham," Lombardi said. "I think for the right price you can get Kareem Hunt as well.

"That doesn't mean they're going to trade them. That just means they're available like all players are available."
Lombardi does not think the Browns are actively shopping Hunt and Beckham at this point, but said both players are "available."
"I don't think they're shopping Beckham," Lombardi said. "I think people know well enough that if they want him to make a phone call. Look, I don't think Beckham is going to get traded because with the Stephon Diggs deal that came in, which was really a high-level price considering their quarterback."
With the draft being so deep at wide receiver, expect all these high priced wideouts, (yes that means specifically Beckham) to be available for the right or even the cheapest price.

— Michael Lombardi (@mlombardiNFL) March 16, 2020

If the Browns traded Beckham, the team would likely want to get a similar package to what the Minnesota Vikings got for trading Diggs to the Buffalo Bills, or what the Houston Texans got for trading DeAndre Hopkins to the Arizona Cardinals.
The Bills sent the Vikings four picks: a first, fifth and sixth in 2020, and a fourth in 2021.
Buffalo also received a 2020 seven-round pick from Minnesota.
The Texans traded Hopkins and a fourth-round pick to the Cardinals in exchange for running back David Johnson, a second-round pick in 2020, and a fourth-round pick in 2021.
Beckham has had an eventful offseason.
In January, he underwent surgery to repair a core muscle injury.
Despite the injury, Beckham played in all 16 regular-season games last season for the Browns.
It marked the first time since 2016 that Beckham did not miss a regular-season game.
Earlier this year, Beckham made headlines for handing LSU players cash in front of cameras after the College Football Playoff title game.
Beckham also slapped a security officer in the butt during the locker room celebration.
Police chose not to press charges against Beckham.
In 2019, Beckham caught 74 passes on 133 targets for 1,035 yards and four touchdowns.
Beckham is owed an average annual salary of $18 million through the 2023 season.
However, the Browns have an out with Beckham in 2020.