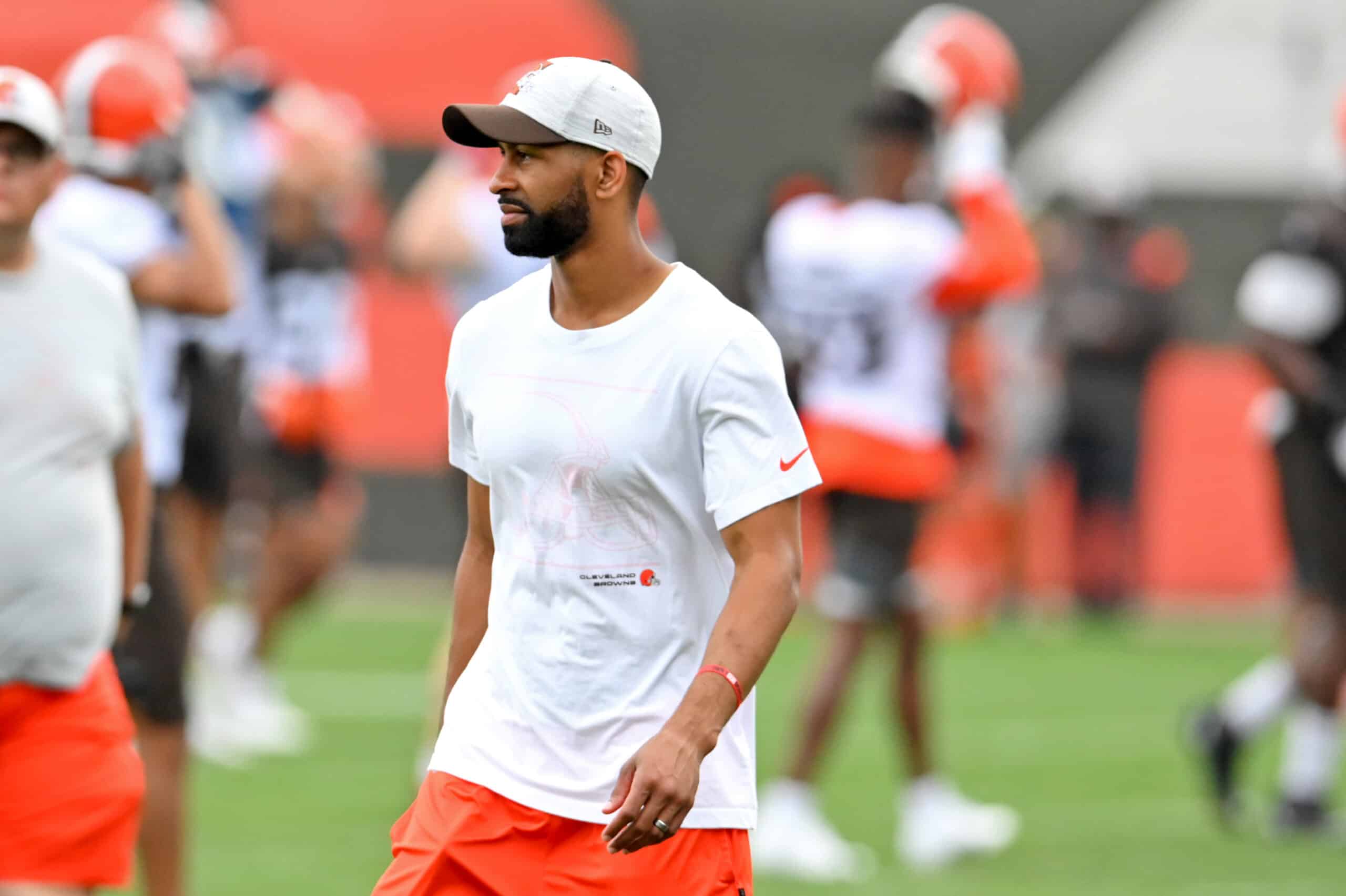 If you are expecting a Friday afternoon revelation regarding Baker Mayfield's long term future with the Cleveland Browns, you are not going to get it.
Browns GM Andrew Berry provided very little insight on the timeline for Mayfield's extension today.
#Browns Andrew Berry on possible extension for Baker Mayfield "Honestly, all he has to do is work, perform and he'll be fine."

— Fred Greetham (@FredGreetham) July 30, 2021
Berry is not going to reveal his strategy for Mayfield's extension.
Now that the Browns are in training camp, it seems unlikely Mayfield's extension is getting done before the season.
Earlier in the summer, Mayfield's agent reportedly believed the deal would be done sooner rather than later.
Baker Mayfield's agent on contract extension: "I think something will be done this summer." From Baker's agent via the land on demand.

— Feeling Dangerous Podcast (@FDPodcastCLE) June 23, 2021
Mayfield Echoed Berry's Sentiment
The media and fans appear to be more invested in Mayfield's contract extension at this point than Mayfield is.
He is focused on winning.
#Browns QB Baker Mayfield reiterated he's focused on winning instead of contract extension, but he has believed for years he's meant to play here. He added Cleveland is a great town with a blue-collar mentality and that's why it's a great fit for him

— Nate Ulrich (@ByNateUlrich) June 16, 2021
If Mayfield leads this team to a successful run into the playoffs and potentially to the Super Bowl, his contract extension will certainly take care of itself.
Mayfield Thinks He Can Play Better
It is clear that Mayfield has worked hard on his game and intends to improve his level of play in 2021.
Honestly, that is a more immediate and important priority for Mayfield and the Browns than the contract.
#Browns Baker Mayfield: "I can play a whole lot better than last year."

— Camryn Justice (@camijustice) July 29, 2021
He is fully aware that if he plays great and the Browns wait on his contract extension, the dollar value of the contract will increase.
It is also worth noting that he is not alone in not securing a contract extension at this juncture.
.@AlbertBreer on @BullandFox on whether Baker Mayfield, Josh Allen, Lamar Jackson will sign extensions this offseason: "I think all three of them will. I think there's a little pressure on the #Browns."

Says QB $ market can change drastically if Allen, Jackson sign first

— Keith Britton (@KeithBritton86) June 23, 2021
Fellow quarterbacks and 2018 first-round draft picks, Josh Allen of the Buffalo Bills and Lamar Jackson of the Baltimore Ravens, also have not signed extensions.
All have their fifth-year options exercised so they are with their respective teams until the end of the 2022 season.
The timing is not critical for the Browns (Bills or Ravens) to sign these young quarterbacks just yet.
It will be interesting to watch when, where, and how much these contract extensions cost the respective players' teams.