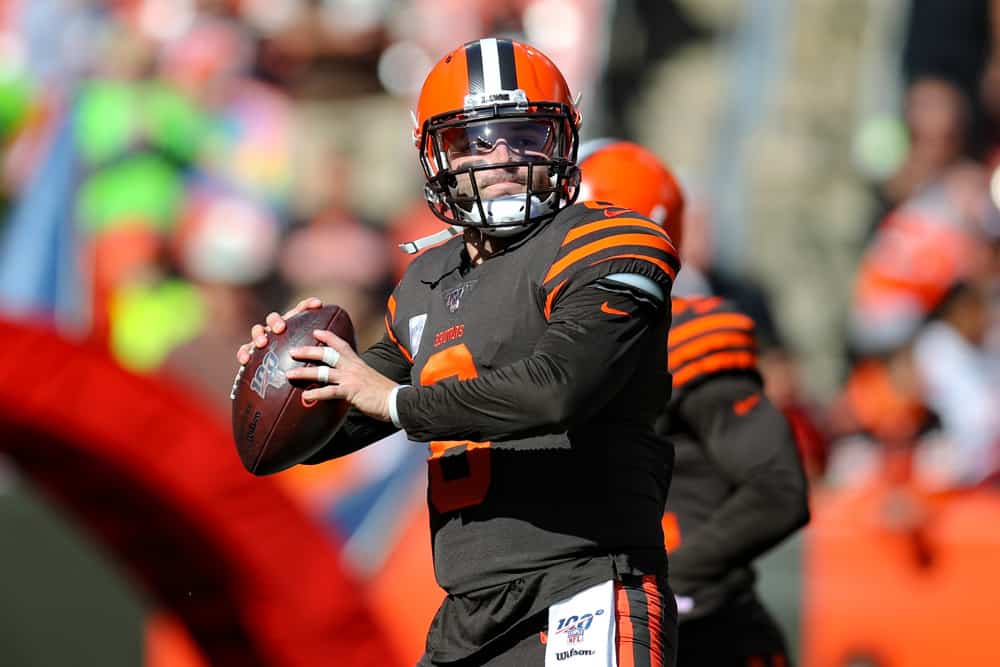 The Cleveland Browns are 5-3 heading into their Week 9 bye week.
This is the first time in a long time that Cleveland is actually contending halfway through the season.
Although, despite the team playing fairly well, general manager Andrew Berry isn't ready to fully commit to quarterback Baker Mayfield.
Berry mentions Mayfield has helped the team through the first eight weeks, but doesn't seem all-in on Mayfield.
#Browns Andrew Berry: "Baker's done everything that we've asked him through the first 8 weeks." Said that he's put the team in a good position to win so far.

— Camryn Justice (@camijustice) November 4, 2020
It sounds like Mayfield's performance in the second half of the season is going to be a big determining factor.
The front office is committed to Mayfield as the starter right now, but they don't seem sold on him being the franchise quarterback yet.
Mayfield On The Hot Seat?
Berry declined to discuss whether or not the organization will open up extension talks with Mayfield this offseason.
Mayfield has a guaranteed fifth-year option for 2022, which will be worth roughly $25-26 million a year.
"Honestly, I really don't get too caught up in that type of narrative," Berry said. "All I know is that I think Baker has played well and he's done a nice job during these first eight weeks. He's allowed us to play winning football.
The organization is hopeful that Mayfield can continue to lead this offense during the second half of the season.
It's not surprising that Cleveland isn't fully committed to Mayfield as the long term option.
The former No. 1 overall pick has been tough to watch at times this season.
Minka Fitzpatrick got the pick-6 off Baker.pic.twitter.com/dhQO1BRTtn

— Dov Kleiman (@NFL_DovKleiman) October 18, 2020
Mayfield did have a five-touchdown performance versus the Cincinnati Bengals in Week 7.
Although, he hasn't been impressive besides that one game against an awful Bengals secondary.
The Browns aren't going to give a massive extension to a quarterback they aren't positive is going to be their franchise player of the future.
What Mayfield does in the second half of the season is going to play a big role in whether or not the team decides to keep him around.
Believe In Mayfield?
Through eight games, Mayfield has looked much better than he did a year ago.
"He's shown weekly improvement and done a really nice job within the system, and again, put our team in a position to win," said Berry.
Mayfield is already on his third head coach and fourth playcaller of his career.
It takes time for a player to adjust and get comfortable with different schemes.
"He's progressing, he's making plays and I know he's going to tell you that he thinks there are more plays to be made. I do believe that he's going to continue to improve," said head coach Kevin Stefanski.
Fans shouldn't be too concerned with Berry deciding to decline talking about Mayfield's future.
The organization is uncertain what they really have in Mayfield and need to see a full season before they can make a logical decision.
Right now, Mayfield is ranked as the 27th-best quarterback in the NFL this season, according to Pro Football Focus.
There is still another half of a season to be played, but Mayfield might need to show signs of improvement if he really wants to stay in Cleveland.