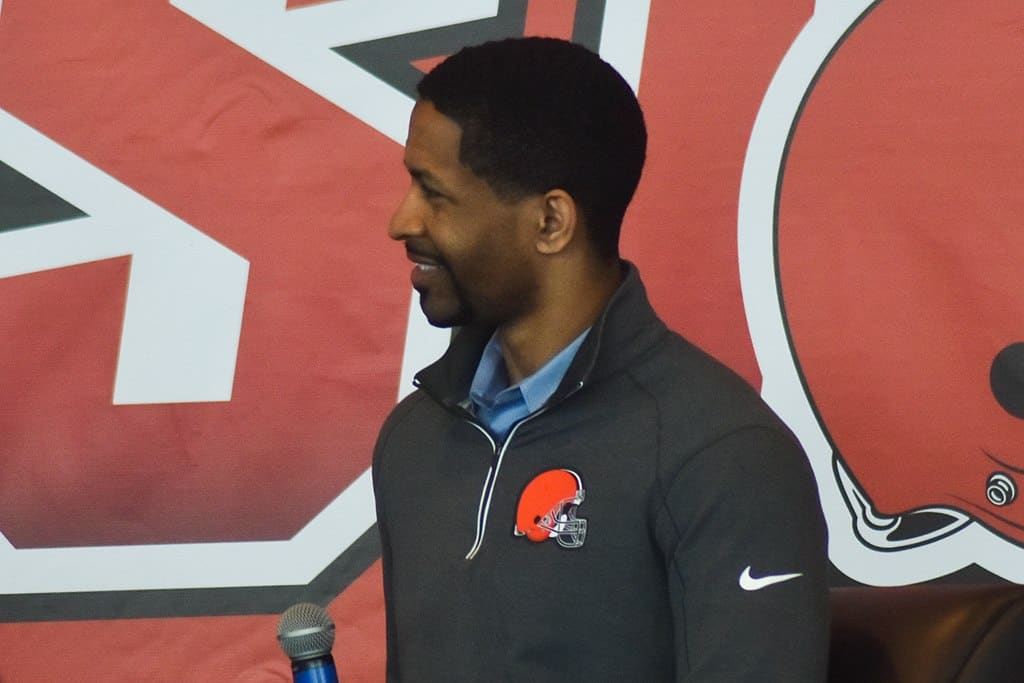 With each NFL Draft comes the opportunity for 32 general managers to showcase their scouting ability.
Months upon months of watching tape, conducting interviews, and evaluating culminate in just a couple days' worth of selections.
This is an especially important time for a new GM of a franchise, particularly one who's never steered the ship before.
That's exactly the situation in Cleveland with new General Manager Andrew Berry.
Christmas Come Early
Despite the amount of pressure with each selection, general managers should love the opportunity to put their mark on an NFL franchise.
After all, that's why they are in the position they have.
Berry, however, views it as a holiday.
"It's a little bit like Christmas coming early," Berry said in a teleconference on Monday. "Now we get to see who the newest member of the Browns organization are going to be".
#Browns GM Andrew Berry says he isn't nervous about first draft in charge. Says it's more excitement and a sense of confidence. Feels the organization is well-prepared.

— Scott Petrak ct (@ScottPetrak) April 20, 2020
Berry should relish at the opportunity to finally bring another winning season to northeast Ohio.
If he loses with the Browns, he's just the latest in a long line of other GM's to do just that.
If he wins, he's the savior of the Cleveland Browns.
That future title will be one of the most coveted milestones in the NFL.
It's a situation that Berry does not have much to lose, but a pillar of fame to win.
The question is, how does he plan to get to the top starting on draft night?
Best Player Available
Just about every mock draft out there has the Browns taking an offensive tackle with the tenth overall pick.
While likely, it's impossible to rule anything out, and Berry shares that same philosophy.
Andrew Berry said they're treating the draft, as if they have an expansion roster, to avoid zeroing in on specific positions only and ignoring others.

— Jake Trotter (@Jake_Trotter) April 20, 2020
Many go back and forth on the "don't draft for need, just take the best player available (BPA)" mentality.
But in recent years, more and more teams are adopting the BPA strategy.
That's essentially what helped the Seahawks build a dominant team just a few years ago.
Roster holes should not be completely ignored.
However, there are too many busts each year to pass on a player you know for sure will be of NFL caliber.
Berry seems hip to the times though, so count on him taking the best player available with each selection.
Trading
With COVID-19 forcing the draft to take place with telecommunications, some believe that the draft-night trades and mayhem might not be at its usual hectic place.
Berry, however, disagrees with that sentiment.
#Browns EVP/GM Andrew Berry believes draft will be "equally, if not more active on the trade front" Thursday night

— Daryl Ruiter (@RuiterWrongFAN) April 20, 2020
No, that doesn't mean that Berry wants to trade up or down from 10.
But, he might.
Despite what may seem like added difficulty trying to pull off draft-night trades, I don't expect Berry to be silent on that front.
This is a crucial draft for Berry and the Browns.
If his team strikes up a deal that they believe makes their football team better, don't expect any issues with "Zoom" or any other software to slow them down or stop them.
Berry may be a first time GM, but he's been a part of war rooms before.
Telecommunications won't stop him from treating this like Christmas.