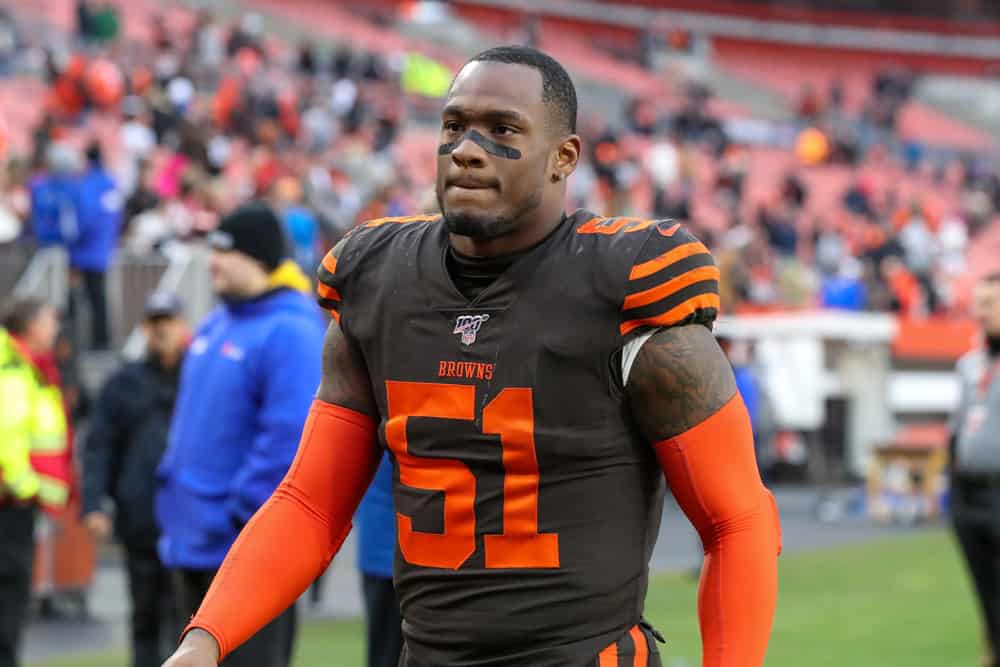 Cleveland Browns linebacker Mack Wilson expressed optimism for the team headed into the 2020 season.
During a Thursday appearance on 92.3 The Fan's "Bull and Fox" show, Wilson offered his support for new Browns head coach Kevin Stefanski and defensive coordinator Joe Woods.
"I feel like coach Stefanski is going to get this thing rolling for us. Like I said, I feel like it was a great hire," Wilson said. "Coach Woods coming from the 49ers, their defense was very successful. I feel like he's going to put guys like me and the rest of my teammates in a position to make plays.

"I'm fired up about it. I feel like…Like I said, we have some great coaches and I feel like we can do some great things this year."
Wilson said the Browns' new coaches have told the players it didn't seem like the team was having fun during last year's 6-10 campaign.
"When they watch film, they see us not really celebrating after one of our teammates make a play," Wilson said. "They say, 'that's something that we have to change,' and I was all in for it. I agree with them. That's something we're going to try and work on this year."
Wilson said he thinks the Browns are at a "little bit" of a disadvantage with a new coaching staff in 2020, especially amid the closures of team facilities due to the coronavirus pandemic.
"It's going to be critical that we take this time seriously with watching the videos that our coaches send us on our iPads to lock on the new things that they update day to day on iPads being like that," Wilson said.
The show hosts asked Wilson what it was like for the Browns to lose linebackers Joe Schobert and Christian Kirksey in free agency.
"It's going to be kind of crazy. Just building a relationship with those guys throughout a whole year," Wilson said. "Having great veterans like those guys who helped me out throughout the whole season.

"Even when 'Kirko' went down, he was always in my hip pocket, asking me questions, making sure that I was good. He was somebody who I came to the sideline after every possession to talk to, and kind of like…he sees some of the things that I did wrong, and we tried to correct those things on the sideline as I get ready to go back out for the next possession."
Kirksey signed a two-year, $16 million deal with the Green Bay Packers and Schobert signed a five-year, $53.75 million deal with the Jacksonville Jaguars.
Wilson called Schobert "a great leader."
"[Schobert was] a vocal leader on the field," Wilson said. "[He was] one of those guys who tried to make sure that I knew what I was doing every snap so that we can both play fast and feed off one another."
During his rookie season in 2019, Wilson compiled 82 tackles, one sack, one interception, one forced fumble, four tackles for a loss and seven passes defended.
It's likely the Browns will rely on increased production from Wilson as he heads into his second season.