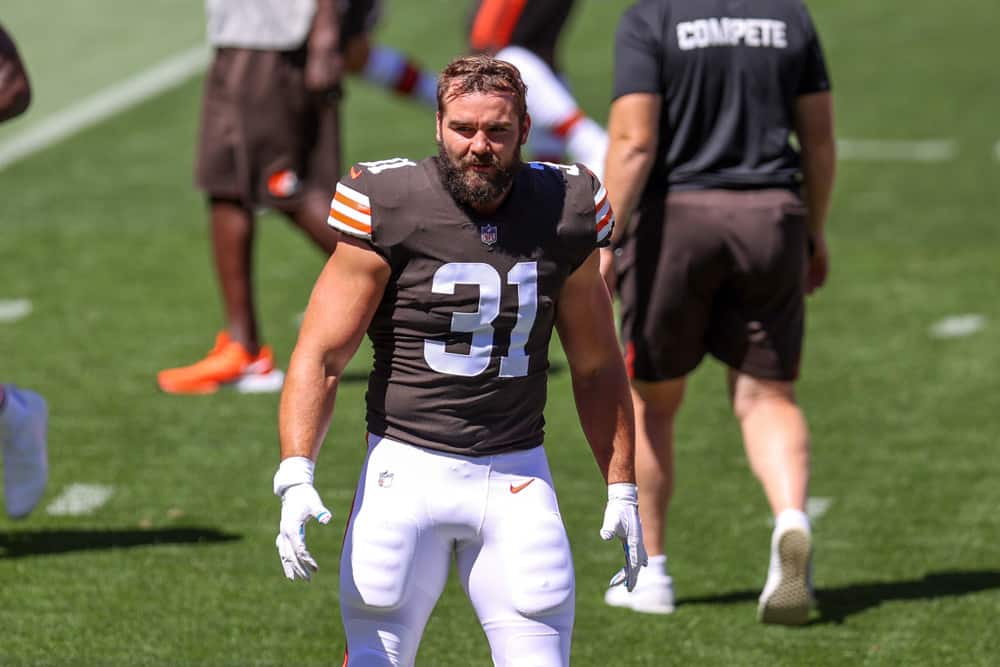 On Veterans Day, the NFL announced the 32 nominees for the annual Salute to Service Award.
The award honors the player who donates his time, effort, and money to causes that aid the military community.
This is the 10th year the NFL has presented this award to one of its players.
The 2020 Cleveland Browns Salute to Service Award nominee is FB Andy Janovich.
Congratulations to our #SaluteToService nominee, @AndyJanovich!

We're set to honor servicemen, servicewomen during our game vs. the Texans » https://t.co/QT6ctUp01F pic.twitter.com/Whp8Z2EVwZ

— Cleveland Browns (@Browns) November 12, 2020
Janovich's Work
In 2018 and 2019, Janovich supported the Hunting with Soldiers initiative through My Causes My Cleats.
Hunting with Soldiers helps soldiers suffering from PTSD to get outside and go hunting and fishing at no cost to them.
As a Bronco, when asked about his strong commitment to Hunting for Soldiers; Janovich said:
"Hunting with Soldiers combines my passions for hunting and military support and outreach into one experience."
Through My Cause My Cleats, Janovich donated his cleats to an auction with the proceeds going to Hunting with Soldiers.
While with the Broncos in 2018, Janovich joined the Salute to Service caravan which visited military families at Fort Carson Army Base.
He also uses social media to actively support the military.
Though new to Cleveland in 2020, Janovich intends to begin collaborating with the USO of Northern Ohio for other military service projects.
My Cause My Cleats
The NFL started this program in 2016 so that players could wear "their hearts on their feet." 
On My Cause My Cleats weekend, players can wear their custom made cleats which are later autographed and auctioned.
In March 2019, Andy Janovich's cleats were auctioned off for $480.
NFL's Selection of Salute To Service Winner
Each team's candidate is evaluated by the NFL.
Finalists are announced in January.
The winner is announced during the NFL Honors ceremony normally scheduled for the day before the Super Bowl.
Unless there is an unforeseen change, the Super Bowl is scheduled for February 7, 2021 so the NFL Honors ceremony should occur on February 6.
Besides the honor of being selected as the winner, the winner also receives charitable donations in his name.
USAA donates $25,000 to the official aid societies representing all five military branches in the winner's name, and the NFL donates $25,000 to the winner's military charity of choice.