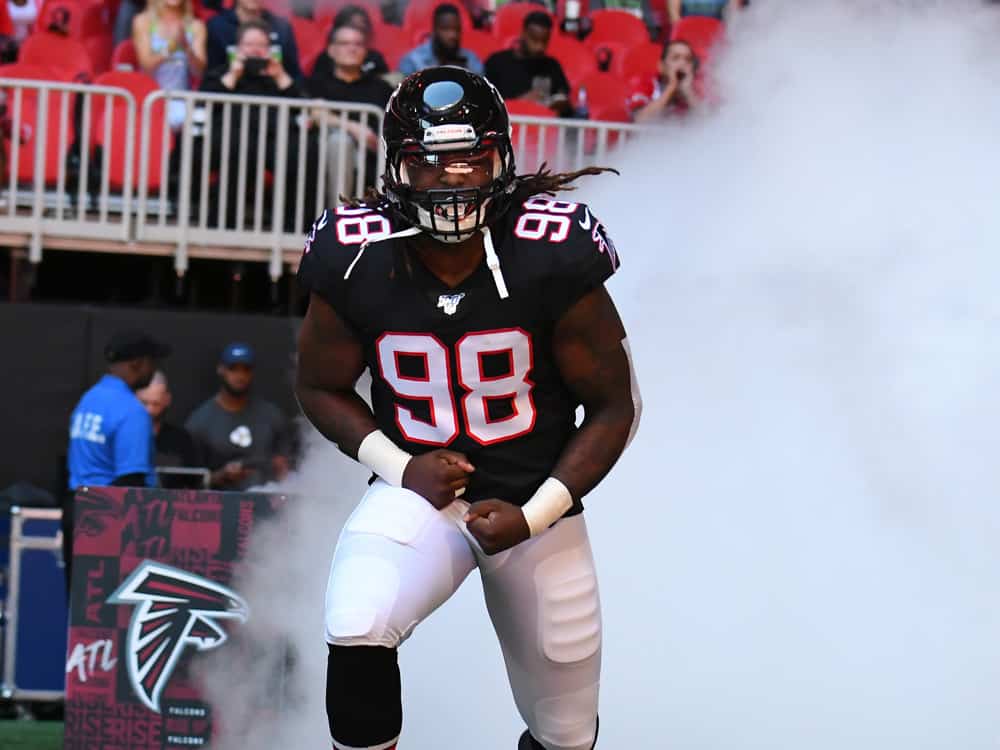 Earlier this week, the Atlanta Falcons decided to waive former first-round pick linebacker Takkarist McKinley.
The 25-year-old linebacker was frustrated in Atlanta and that is likely what led to his departure.
McKinley went on social media to talk about how the Falcons failed to trade him at the deadline.
These @AtlantaFalcons turned down a 2nd round draft pick when I requested to get traded last year.

The same @AtlantaFalcons turned down a 5th and 6th round draft pick from multiple teams when I requested to get traded this year. I only have 17.5 career sacks.

🤡🤡🤡

— Takkarist McKinley (@Takk) November 4, 2020
Despite his outburst, plenty of organizations still attempted to claim McKinley.
The San Francisco 49ers, Cleveland Browns, and Las Vegas Raiders all submitted claims for the former 26th overall pick.
Although, the Cincinnati Bengals 2-5-1 record aided them as they were given the highest priority on the list.
Tikk-Takk-Toe

We've acquired DE @Takk McKinley on waivers from the Atlanta Falcons.

— Cincinnati Bengals (@Bengals) November 11, 2020
Usually, the Browns are higher on the waiver claim list, but a 5-3 record makes it tougher for them to snag decent players on waivers.
Browns Eyeing McKinley
The Browns could definitely use the help, but sadly McKinley won't be playing in Cleveland.
Cleveland had shown interest in McKinley before he was released by the Falcons.
Earlier in the year, the Browns attempted to make a trade to acquire McKinley from Atlanta.
Browns had some trade talks with the Falcons on McKinley earlier in the season, so their involvement makes sense. https://t.co/P7hipicv3y

— Albert Breer (@AlbertBreer) November 11, 2020
It fell through much like the Browns pursuit of Jadeveon Clowney this offseason.
The Browns made significant offers to Clowney, but he decided to sign with the Tennessee Titans.
His performance has been lackluster to say the least, so it appears the Browns have dodged a bullet.
Maybe, missing out on McKinley was them avoiding another possible disaster.
McKinley's Performance
It's fair to say that McKinley never lived up to the high expectations of being taken in the first round.
He was given chances to start in Atlanta, but never became a reliable contributor.
His below average performance and poor attitude were enough for the Falcons to completely give up on him.
Through four games this season, McKinley has eight tackles, one sack, and one pass defended in Atlanta.
He doesn't exactly seem like the type of player that is going to be an upgrade to the Browns defense.
Although, McKinley does have 17.5 career sacks through four seasons in the league.
He certainly has potential, but McKinley has not shown signs of improvement since entering the NFL.
Possibly, a change of scenery will help McKinley unlock his untapped potential.
The Browns could've used the depth at linebacker, but it doesn't seem like they missed out on anything special here.