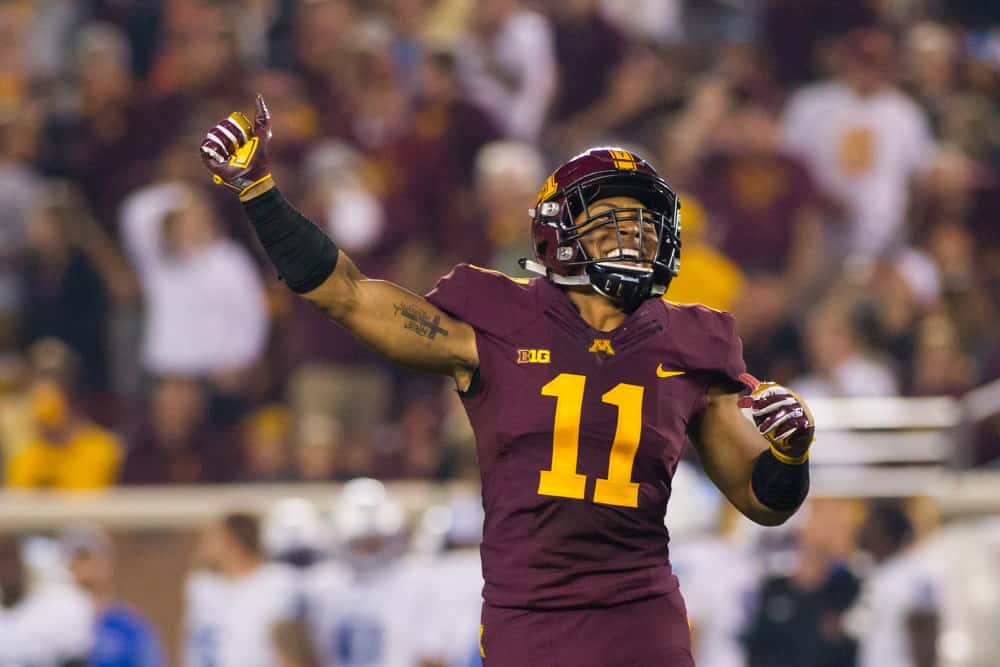 The Cleveland Browns should look to add a safety or two during the 2020 NFL Draft.
One player to target is Minnesota's Antoine Winfield Jr., who is the son of the former Ohio State Buckeyes defensive back.
Winfield is at the combine and spoke over the weekend about how he would welcome the opportunity to play for the Browns.
🎥: Minnesota DB Antoine Winfield Jr. talks about his versatility, what he learned from dad + he wouldn't mind returning to Ohio to play for #Browns pic.twitter.com/OIYO9XkAvS

— Daryl Ruiter (@RuiterWrongFAN) February 28, 2020
The safety prospect mentioned how all his family is in Ohio and also dropped in a bit about how he loves playing in the cold.
His career with the Golden Gophers was enough evidence of that.
Antoine Winfield Jr's College Career
Winfield was a four-year player at Minnesota.
He began as a freshman in 2016, finishing the year with 52 total tackles and one interception.
Then, the injuries came as Winfield missed a ton of time between 2017 and 2018.
2019 was the most important year of his football life and he responded with 85 total tackles, three sacks, two forced fumbles, and seven interceptions.
The impressive season made Winfield an All-American and he decided to enter the draft even though he had several years of eligibility remaining due to his past injuries.
Was watching Wirfs vs Minnesota when I couldn't help myself finding and watching Antoine Winfield Jr. (11). Lined up behind the ref on the left hash. Straight hustle for Winfield. pic.twitter.com/KIHiipkavy

— Dylan Tereman (@dvillionaire) February 22, 2020
WalterFootball.com has Winfield as the No. 10 overall safety and he is projected to go between the third and fifth round of the draft.
Yet, he is still working at the combine to try to best his dad, who was drafted No. 23 overall in 1999 by the Buffalo Bills.
The elder Winfield was with the Bills from 1999-2003 before his most well-known stint with the Minnesota Vikings that lasted from 2004-2012.
His dad's playing history sheds light on why his Winfield Jr. is so comfortable in cold-weather cities.
The younger Winfield was also born in Ohio while his parents attended Ohio State.
The Browns and Antoine Winfield Jr.
Winfield having a mid-round draft projection obviously means the Browns don't have to reach for him early on.
That allows the team to focus on other positions of need in the first two rounds, keeping Winfield in mind as a safety to target.
Risk arises with such a strategy, but that is the story of each and every NFL Draft.
#Gophers S Antoine Winfield Jr. with his 2nd Interception of the game. He's a ball hawk who has a bright future in the NFL.
pic.twitter.com/ZS9V32ipx7

— Tyler Kazmer (@KazmersKorner) November 9, 2019
The top two safeties for the Browns to target are LSU's Grant Delpit and Alabama's Xavier McKinney.
Drafting one in the first round may shift the focus to improving the offensive line.
But, Winfield hanging around near the latter half of his projected draft slot means the Browns could always draft two safeties in the same draft.
The likely scenario, based on the roster construction before free agency, still appears to be the Browns drafting an offensive lineman at No. 10 overall.
That scenario would be good news for Winfield if he wants to end up playing for the Browns.
He would be a great pick and would more than fulfill the "gets us" qualification that is so important for some fans.
Winfield also had some brief experience returning punts back in his shortened 2018 season.
That just adds to his abilities and makes him a dynamic player worth keeping an eye on throughout the draft process.