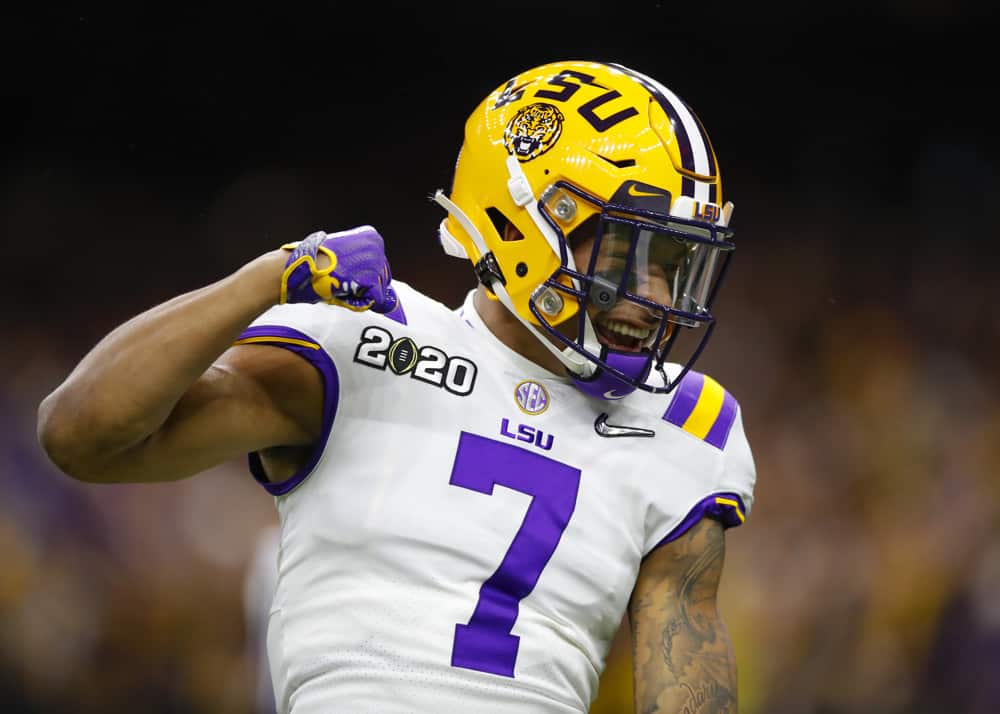 Entering the 2019 NFL season, the Browns appeared loaded with safeties who could deliver.
However, injuries,internal disorder, and lack of depth ended up leaving this position as an area of need in 2020.
The Browns will have second-year safety Sheldrick Redwine return, but he did not overly impress last season.
The team needs a safety that can pack a punch against the run and be a terror in pass defense.
The following is a list of the top safeties in the 2020 NFL draft.
Note: This list is for informational purposes only and not intended for ranking.
LSU Safety Grant Delpit (@realgrantdelpit) Highlights

Delpit has been one of the best defensive players in the country since his 1st game as a Freshman. Opposing teams need to make sure they know where he is at all times #GeauxTigers

Full Video 🎥: https://t.co/yOPJ6OGJmL pic.twitter.com/kXmdmw9hjv

— JustBombsProductions (@JBP_Official) October 27, 2019

Delpit is widely regarded as the best safety coming out of college.
He earned First-Team, All-SEC recognition in 2018 and 2019.
The Jim Thorpe Award as the nation's best defensive back in 2019 went to Delpit as well.
Watching him on film, especially from the 2019 season, is something to behold.
At 6'3, 201 pounds, he is strong in nearly all facets of the game.
He can cover in zone or man defense and is an absolute ball-hawk.
Whether he is in pass or run defense, Delpit will fly to the ball and attempt to disrupt the play.
He is equally adept at breaking up passes or intercepting balls thrown near him.
Delpit only had two interceptions in 2019, but offenses tended to throw away from his side of the field.
However, even when the play is away from his side, Delpit will track down the ball carrier.
His timing on blitzes is impressive, evidenced by his seven career sacks.
Delpit can cover receivers lined up in the slot or out wide.
He can neutralize his opponent's best receiver and frustrate their offensive game plan.
Also, Delpit looks like he's always playing full speed.
There are numerous game clips where he appears out of nowhere to track down the ball and break up a play.
His only downside (mentioned by numerous scouts) is his tackling.
He has a tendency to arm tackle instead of using his body to ensure a solid tackle.
His tenacity in disrupting a play can also backfire leading to missed tackles.
Despite these few red flags, Delpit looks like a solid choice to be the first safety off the board in April.
🌍Xavier Mckinney #15 Regular Season Highlight Tape🌍 https://t.co/tLOMzOT2eL via @YouTube

— Winning! (@hump2g) July 10, 2019
At 6'1, 200 pounds, McKinney is another versatile safety that can play multiple positions on the field.
Game film shows him lined up as a safety, in the slot, out wide, and rushing the passer.
Wherever he is asked to play, McKinney will track the ball and make a play.
This shows in his career college stats with six sacks, six forced fumbles, five interceptions and two touchdowns.
He can take down an opponent in an instant and pack a wallop when he does so.
McKinney will blitz from the edge or up the middle to pressure the quarterback.
His athleticism allows him to bait the opposing quarterback in throwing to areas that he can get a jump on.
When in coverage, McKinney does a great job of matching his opponent stride for stride.
He plays fast no matter what he's asked to do and plays with confidence.
His nose for the football helps him drive through traffic to make a play.
Scouts note that there aren't a lot of negatives in his game.
He is not always great in man-to-man coverage of receivers and can be inconsistent.
McKinney also has a tendency to tackle high on an opponent which can lead to extra yards after catch.
Regardless of these minuses, McKinney should perform well in the NFL.
His versatility and athleticism will impact any team immediately.
Antoine Winfield Jr. Highlights (2019) pic.twitter.com/6E8SHiZJ7q

— Mostly Always (@Mostly_Always) November 21, 2019
Winfield is an intriguing prospect for NFL teams.
He is listed as a sophomore, but he has four years of playing experience at Minnesota.
In both the 2017 and 2018 seasons, Winfield played in the first four games before being sidelined by injuries.
He applied for, and received, a medical hardship waiver by the NCAA in 2017.
When he finally got on the field full time in 2019, Winfield made a huge impact.
The Gophers had an exciting '19 season and Winfield was one of the primary contributors.
With 62 solo tackles, three sacks, two forced fumbles, seven interceptions, and one touchdown, Winfield showed his ability.
He has a knack, through experience, to see the field and make plays everywhere.
Winfield can play in single-high safety and man coverage and is adept at both.
He is listed at 5'10, 195 pounds, which is considered light for a safety.
However, against the run, he is a consistently accurate tackler and rarely misses.
On film, he is always looking to make a play on the ball.
He will try and attack the ball and find a way to return it for a defensive score.
As noted by scouts, he doesn't have top-flight speed.
Also, his previous injuries are a concern.
However, Winfield has enough upside that scouts can look past these negatives.
He is the son of former 14-year NFL vet Antoine Winfield Sr.
He also received numerous post-season accolades including All Big-Ten First Team, and Big Ten Defensive Back of the Year.
Even more notable, Winfield made Academic All-Big Ten and Big Ten Distinguished Scholar honors.
The NFL team that drafts Winfield will most likely reap the benefits for years to come.
Watch "Shyheim Carter 2018 Highlights" on YouTube https://t.co/8vsQs2LSkh

— KATUARTR! (@kjppatterson) September 11, 2019
Watching film of Carter from 2018 and 2019, one can see that he has great football instincts and fearlessness.
He is consistently around the ball, looking to make a play.
Due to his aggressiveness, Carter always puts his nose in to break up a pass or a running play.
In Alabama's defense, he played nickel corner and overhang safety with frequency.
These spots put him in position to see the field and react quickly.
Carter is a bit light for a safety at 6'0 and 191 pounds.
However, the way he flies around the football and hits opponents, he plays larger than he is.
When tackling, Carter can work through blocks quickly to get to the ball carrier.
He stays low when anticipating contact and places his hands well.
Of note, he does have a tendency to tackle high.
This can lead to missed tackles and will be a problem at the next level.
Also, scouts believe that Carter is much better sticking with slot receivers and backs when in man coverage.
They don't envision Carter as a "back end," traditional safety, yet.
Given the right team and position coach, Carter could develop in this area and be dependable.
Look for Carter to be used more as a nickel corner prospect in the NFL.
Cal S Ashtyn Davis vs. Oregon is exceptional tape so far. Reads Herbert like a book and makes a wonderful play from single-high alignment. Dude has serious range. pic.twitter.com/bRumqb2DdQ

— Jon Ledyard (@LedyardNFLDraft) February 11, 2020
A former walk-on player who was already terrific at track and field, Davis eventually earned a football scholarship.
Each year he improved to eventually become a standout athlete for the Golden Bears.
As a safety, he is adept at both covering receivers and taking on blockers to make tackles.
Davis has great range and will stay over the top of routes and go sideline to sideline.
Scouts love his ability to close distances quickly.
His 6'1" 195-pound frame translates to a fast player at the point of attack.
Davis will meet an opponent head on and does not hesitate to deliver a big hit.
He can frequently be found stripping at the football to cause turnovers.
One common knock against Davis' tackling is that he will sometimes drop his head at contact.
This leads to sloppy arm tackles and even straight misses.
Also, Davis can cover slot receivers more consistently than receivers split out wide.
Scouts see him as a Cover-2 safety in the NFL.
These safeties are usually responsible for the deep halves and thirds of the field.
Overall, Davis' athleticism, physicality, and football IQ will be appealing to an NFL team.
Look for him to be picked up on days two or three of the draft.
Did not plan to take a look at Clemson safety K'Von Wallace this morning but couldn't help but notice his instincts and ability to make a play on the football. pic.twitter.com/szoPUUOBXA

— Daniel Valente (@StatsGuyDaniel) February 11, 2020
Wallace has overcome a lot to become one of the best safeties in college football.
As a child, he and his mother moved numerous times.
Wallace eventually found his way to Clemson and matriculated through the program to become a team leader.
Although small for a safety at 5'11" and 199 pounds, Wallace brings his A-game every play.
His compact build has allowed him to play numerous positions on the field during his time with Clemson.
Wallace has played the nickel, free, and strong safety positions.
Watching film of Wallace shows what he brought to the Tigers every week.
With a high football IQ from four years of experience, Wallace displays no hesitation.
Whether in pass defense or run support, Wallace makes plays all over the field.
He will challenge blockers to make tackles and work angles to break up passes.
His ball pursuit is aggressive and will arrive at just the right time to make a play.
While he is adept at man-to-man coverage, scouts mention he is best operating in space.
When he is covering deeper downfield, Wallace can get beat.
Taller receivers can use their height as an advantage over Wallace in jump ball situations.
Also, Wallace has a tendency to arm tackle which has led to big gains for the offense.
Wallace's game, as well as his maturity and leadership, will be a valuable addition for any NFL team.
Texas safety Brandon Jones goes highlight video to announce return for 2019. Despite being limited to just 10 games by injury, had 70 tackles and two interceptions. https://t.co/viuLBrVPYq

— Chuck Carlton (@ChuckCarltonDMN) January 10, 2019
Jones finishes his career at Texas as a two-year starter.
He brings knowledge and leadership to the field which is evident in his gameplay.
Jones has a great build for a safety at 6'0", 205 pounds.
He is best suited in straight-line situations and zone coverage.
He plays fast and aggressive and there is no question when he hits an opponent.
Scouts mention that Jones has a good tackle radius, though he can fail to wrap up in the open field.
His linear burst is positive and he will accelerate through a tackle.
However, his lateral movement is not as strong.
Jones can cover routes in the middle of the field, especially tight ends.
When left on his own, Jones has a good nose for the ball in zone coverage.
He does struggle to cover quicker receivers and does not travel much in deep coverage.
Jones does not have overly quick hips.
This hinders him when trying to keep up with opponents when backpedaling or mirroring receivers in press coverage.
Overall, scouts view Jones' NFL role as more of a strong safety.
He is a great run defender and can zone cover within 10-15 yards of the line of scrimmage.
If he has a good position coach, he could be shown the nuances of man coverage in the pros.
Look for Jones to be picked during day two of the draft.
8) Kyle Dugger, Sr., Lenoir-Rhyne.
Go Check the new highlights out on YouTube

Kyle Dugger (RS) Junior Highlights || LR Bears Football || https://t.co/aboqlv6tct

— Kyle Dugger (@KingDugg_3) February 24, 2019
Dugger has fast become one of the surprise sleepers of the upcoming draft.
The 6'1", 217-pound senior from tiny Lenoir-Rhyne, a Division II school in North Carolina, is amazing to watch.
On film, he frequently looked like a man amongst boys.
His speed, athleticism, and tenaciousness overpowered opponents at times.
Dugger tore up the competition, frequently making plays and imposing his will.
He is quick and can make adjustments on the fly.
In run support, he will explode through a blocker and take the ball carrier head-on.
Dugger's acceleration is evident in all facets of his game.
For example, the Bears used him not only on defense, but at running back and punt returner.
Coaches and teammates raved about Dugger's great attitude and leadership.
He would frequently challenge his teammates to play above their ability.
It is no surprise that Dugger was a two-time team captain during his time with the Bears.
On the downside, scouts note that Dugger can use some help in his coverage skills.
At times, he seemed to rely more on his talents than good execution.
Due to the level of his competition, scouts question how he will translate to the NFL.
He is seen as a strong safety or Will linebacker in the pros.
Dugger will be an interesting player to keep an eye on.
Depending on the Combine and individual workouts, he may rise to a day two-player in April.