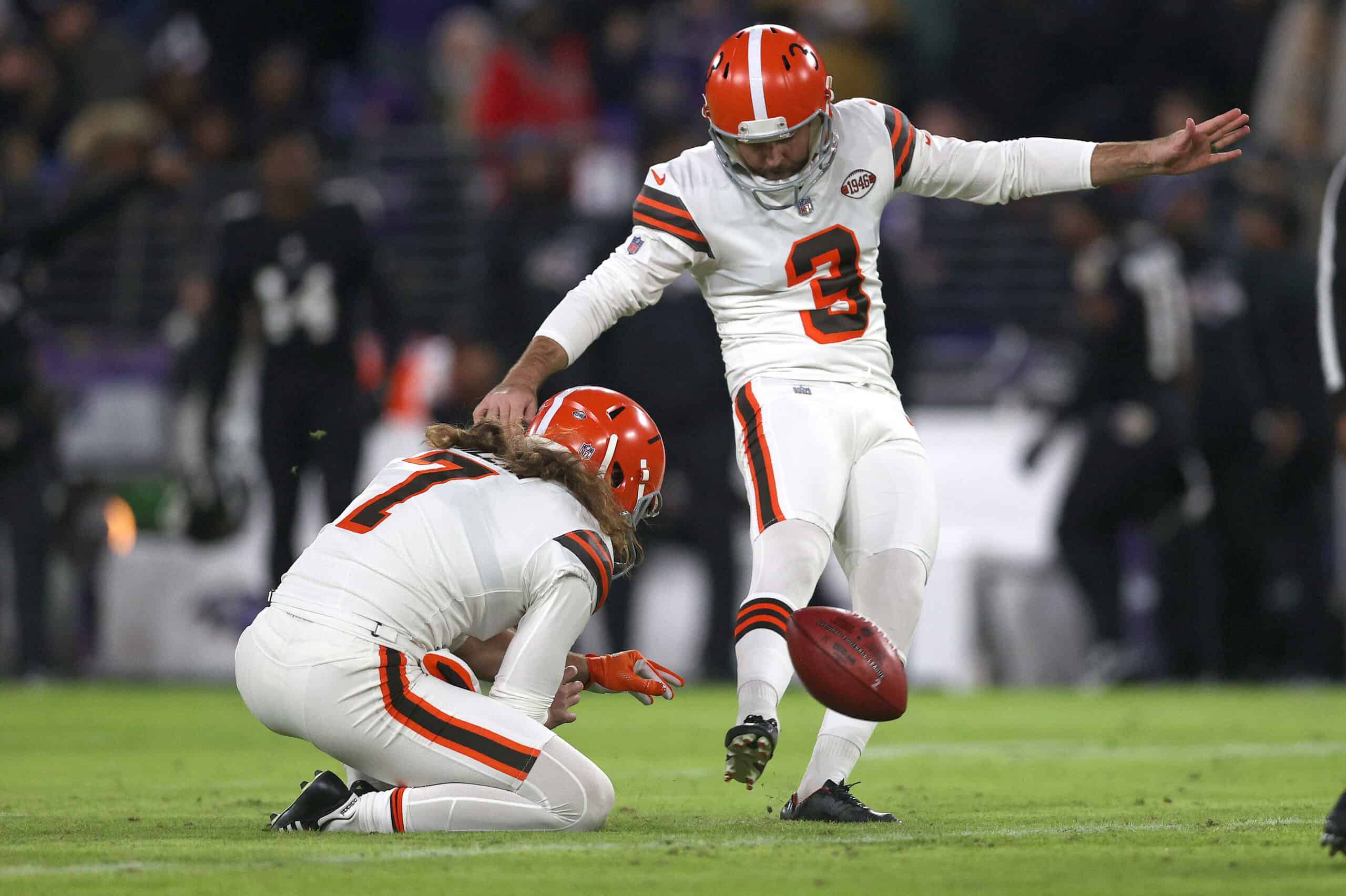 It doesn't seem like the Cleveland Browns kicker woes are ever going to end.
Last season, Cody Parkey showed flashes a consistency, but it didn't last.
In fact, he didn't even make the final roster in 2021 after suffering an injury in training camp.
His eventual release led to Chase McLaughlin taking over as the full-time kicker in Cleveland.
There have been some concerning results from him, which could lead to the organization searching for another kicker.
Kicking McLaughlin To The Curb?
The Browns have experienced a tough time finding a reliable kicker for quite some time now.
To be fair, plenty of teams around the league are having the same problem.
It's not easy finding a Justin Tucker who can seemingly make every field goal attempt.
This season, the Browns took a chance on McLaughlin after Parkey didn't offer much competition during the preseason.
The 25-year-old has found some success in the NFL and even made a few big kicks during his limited time as a pro.
From 47 yards!

CHASE. MCLAUGHLIN. #GoNiners pic.twitter.com/f3YuNyjqa2

— San Francisco 49ers (@49ers) November 12, 2019
Yes, McLaughlin has bounced around, but it hasn't been because of his lack of success.
Before coming to Cleveland, McLaughlin made 22-of-28 field goal attempts and only missed one extra point in two seasons.
The field goal percentage isn't amazing, but it was slightly better than his current percentage with Cleveland.
Through 12 games, McLaughlin has made 14-of-18 field goal attempts, which is 77.8 percent of his kicks.
Every kicker wants to be perfect, but McLaughlin has been about as advertised.
The Browns basically handed the kicker job to McLaughlin, which obviously wasn't the plan heading into the season.
However, the injury to Parkey basically forced the Browns to use McLaughlin because they didn't have anyone else.
Honestly, it's uncertain if the Browns could find an upgrade at this point in the season.
Ride It Out With McLaughlin
There are five games left in the regular season and the Browns cannot afford to make any mistakes.
That being said, it makes sense that the organization might consider making an upgrade at kicker.
However, the Browns' current record is not the fault of McLaughlin.
In fact, the Browns won three of the four games in which McLaughlin missed a field goal attempt.
The only contest they lost was against the Baltimore Ravens and it was by six points, so McLaughlin's missed field goal didn't lose them that game.
Honestly, McLaughlin has helped the Browns more than hurt them this season.
He had an epic four field goal performance earlier in the season against the Chicago Bears.
When #Browns Kicker Chase McLaughlin drilled this 41 yard FG after making one from 57 earlier

Announcer: "That's child's play" 😂 pic.twitter.com/PBQoMKxn3T

— SportsUpdateOhio™ (@SportsUpdateOH) October 2, 2021
Despite plenty of success, it doesn't seem like the Browns coaching staff always has faith in McLaughlin.
That being said, it wouldn't be shocking to see the Browns attempt to replace him over the offseason.
Until then, McLaughlin is likely going to remain the kicker throughout the rest of the season.
The Browns have bigger concerns on their mind right now and McLaughlin is good enough for now.
It's uncertain if McLaughlin will be in their future plans, but his performance isn't going to be the determining factor to whether this team makes or misses the postseason.
Cleveland isn't going to find a better option in free agency right now, so stick with McLaughlin through the rest of the season.