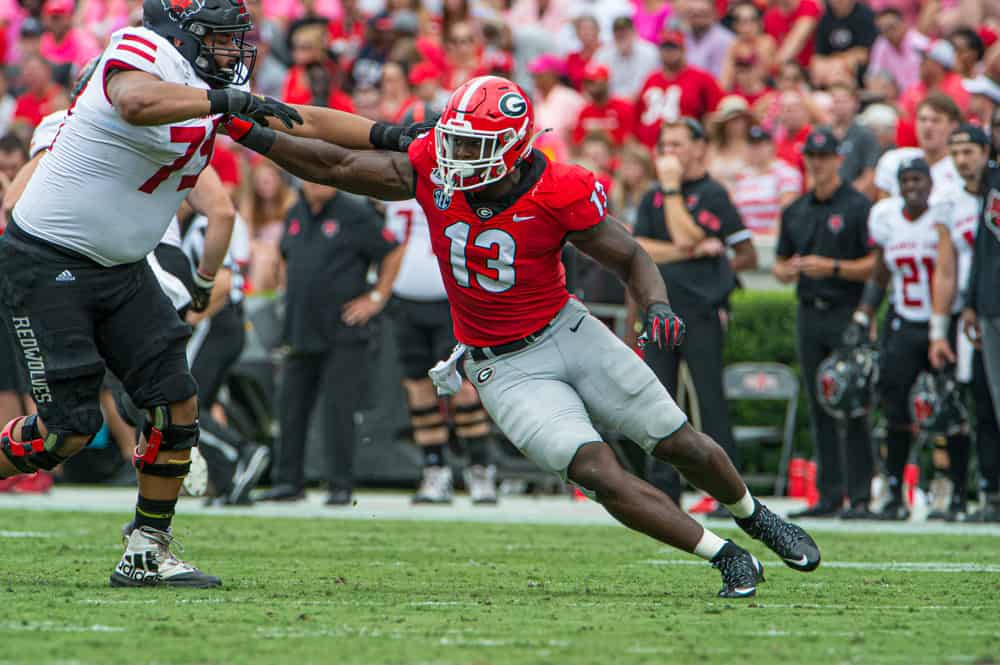 It's never easy to predict what your favorite team is going to do during the NFL Draft.
However, Cleveland Browns fans should be able to limit down the possible answers.
It seems likely that the organization would go heavy on defense early in the draft.
Possibly an edge rusher or linebacker in order to add some much-needed depth to this roster.
One possible option could be Georgia pass rusher/linebacker Azeez Ojulari.
Ojulari To Cleveland?
A popular mock draft destination for Ojulari on draft day is to Cleveland at No. 26.
On paper, this move makes sense for the Browns since they need help at this spot.
Ojulari is an effective player both as a linebacker or as an edge rusher chasing the quarterback.
Recently, Ojulari had a chat with Cleveland.com reporter Mary Kay Cabot, which revelated some interesting information.
The former Bulldog appears excited and intrigued about the possibility of playing alongside Myles Garrett in Cleveland.
Ojulari had nothing but nice things to say about the chance to line up next to a player like Garrett next season.
"It would be stellar, it would be sick," Ojulari said. "It would be ridiculous just trying to race him to the quarterback to see who gets there first. It's going to be a competition in everything we do, no matter what it is."
That wasn't all, Ojulari continued by saying that he'd love the chance to learn from a player of Garrett's caliber.
"Myles is a freak of nature," Ojulari told Cabot. "It would be great to have someone like that on the team, to learn from him."
It certainly seems that Ojulari would welcome the chance to play alongside Garrett in Cleveland.
A Pro Bowl talent like Garrett would be a great presence for a young and promising prospect like Ojulari.
Ojulari Worth The Risk?
Clearly, Ojulari is open to the idea of the Browns drafting him later this month.
However, it's uncertain if the Browns will go after Ojulari on draft day.
Last season, Ojulari had a career year at Georgia and certainly raised his draft stock.
Through 10 games, he recorded 31 tackles, 12.5 tackles for loss, and 9.5 sacks with the Bulldogs.
The Browns are looking for another capable pass rusher to play alongside Garrett.
Ojulari recorded 15 career sacks during his college career at Georgia.
He is not an elite top 10 talent, but Ojulari is worth targeting late in the first round.
His quickness and versatility make him an intriguing option for the Browns.
The hope is that Garrett would be able to help Ojulari with his technique and translate his game to the next level.
Nothing has been decided, but at least Ojulari is open to the idea of playing in Cleveland.