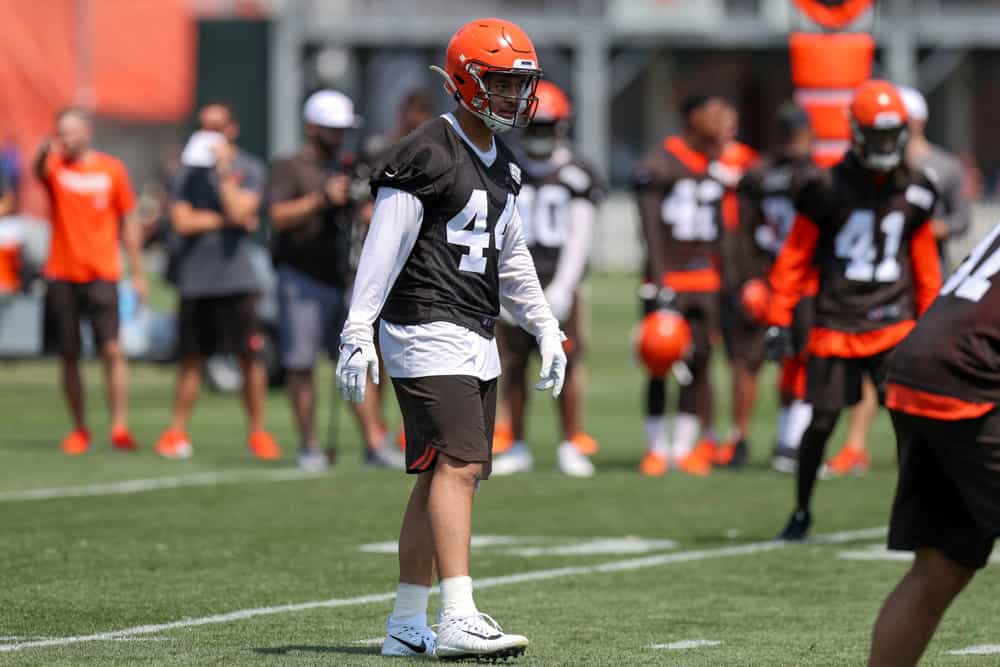 Last season, the Cleveland Browns entered the season with one of the youngest linebacker groups in the league.
There were certainly some learning curves, but linebacker coach Jason Tarver believes these players are ready to take the next step.
A year ago, the front office didn't do much to address the issues at linebacker.
Instead, the team went trial by fire and let the young linebackers learn on the job.
That move could end up paying off for the Browns heading into the 2021 season.
The Youth Movement
The Browns linebacker core consists of Mack Wilson, Jacob Phillips, and Sione Takitaki.
All were recent draft selections by the organization and are expected to take on bigger roles in 2021.
"I really like the entire room," Tarver said. "We want to get as many good players as we can and put them in positions to be successful. The age range, the experience range and the ability range is all there."
The oldest player of that trio is 25, so the Browns are certainly confident in their youth.
Takitaki made the biggest jump from 2019 to 2020 with an increased role last season.
He recorded 67 tackles, one sack, and one interception in 15 games with Cleveland in 2020.
The Browns started Takitaki in 12 of his 15 games, so it appears that he's ready to take on a larger role on this defense.
Both Phillips and Wilson showed flashes as well, but saw limited action on the Browns defense.
A year later, the Browns have tape of these young linebackers to help them learn and grow for the future.
"Now, we have the video to teach off of," Tarver said. "It's all of our job together as coaches, players and organizationally to go, 'This is the standard. It needs to look like this.' The closer we get to that, the better we'll play."
The hope is that they continue to improve as players and become consistent contributors on the Browns defense.
Cleveland did bring back veteran linebacker Malcolm Smith on a one-year deal.
He saw significant playing time on the Browns defense last season and should make his presence known once again.
Smith wasn't the only linebacker the Browns added during free agency.
Winning With Walker
The Browns went out and added more depth to their roster this offseason.
They signed four-year linebacker Anthony Walker to a one-year deal.
He spent the first four years of his career with the Indianapolis Colts.
Last season, Walker recorded 92 tackles, five passes defended, and one interception in 16 games.
Although, his biggest contribution might be as a leader in the locker room and on the field.
His former teammate Darius Leonard had all nice things to say about Walker when he signed with the Browns earlier this offseason.
Amazing player man, he does everything the right way! It sucks that he's leaving but Cleveland is gaining a Dawg! He's a great leader and he's going to lead your defense to be great! I will truly miss him! I give him a lot of credit for my success! I wouldn't be me without him!

— Darius Leonard (@dsleon45) March 19, 2021
This addition could be huge for the progress of the Browns young linebackers.
Tarver has noticed the intelligence of Walker and knows he's capable of calling plays on defense.
"Anthony is disciplined, tough and smart on and off the field," Tarver said. "He has a nice pace about his play. He's quick and explosive, so the football intelligence and ability to play all three linebacker positions … he makes it easy. We're excited about him."
Cleveland also added a handful of other players on defense to improve their unit as a whole.
It's unclear what the Browns will do during the NFL Draft that is quickly approaching.
Regardless, this Browns linebacker group should be in better shape than they were a season ago.