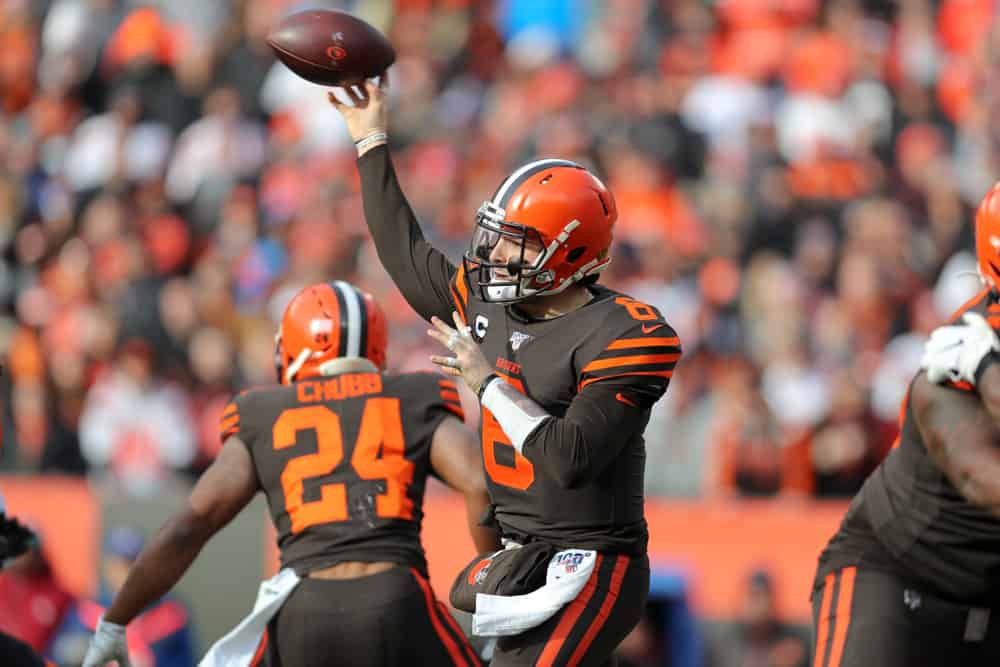 Cleveland Browns quarterback Baker Mayfield had a pretty good day on paper during the team's 27-25 win Sunday against the Jacksonville Jaguars.
Mayfield went 19-of-29 passing for 258 yards, two touchdowns and no interceptions.
However, Mayfield missed a few passes that could have cost the Browns the game.
"I really feel like we left a lot of points on the board. I truly do," Mayfield said. "I mean there [were] a ton of missed opportunities from just my perspective. [I had] a lot of missed throws."
In Mayfield's postgame news conference, he discussed two missed passes midway through the second quarter, which forced the Browns to settle for a 24-yard field goal.
Mayfield first discussed an overthrow of wide receiver Rashard Higgins on first and goal from the Jacksonville five-yard line with 7:53 left in the second quarter.
"I went on the Higgy (Higgins) one from high to low instead of high to low. I should be putting that ball on Higgins early instead of going from (tight end) Harrison (Bryant) to him," Mayfield said. "Just late in the progression. I just need to put it on him earlier."
Mayfield said he hates two things more than missing passes: Lying and skim milk.
This overthrow of Higgins is an example of why many media members and fans to question whether the team should pick up the fifth-year option on Mayfield's rookie deal or whether to offer him a lucrative contract extension.
Baker Mayfield just missed the easiest TD in NFL history. #Browns pic.twitter.com/bFopAvSLwU

— Alex Kozora (@Alex_Kozora) November 29, 2020
Somehow this setup for Baker Mayfield did not result in a TD. pic.twitter.com/GAPONHhxCR

— CBS Sports (@CBSSports) November 29, 2020
#Browns squander an opportunity in the end zone. You rarely see anyone as open in the end zone as Higgins (and even Hunt) is here. Baker sails pass to him. CLE settles for FG @NextGenStats pic.twitter.com/2xsUHivSJA

— Jake Trotter (@Jake_Trotter) November 29, 2020
Two plays later on third down, Mayfield threw short on an incomplete pass to wide receiver Jarvis Landry.
"The one to the left, the rollout there to Jarvis, just get it down. Plain and simple. I have made that throw 1,000 times. There are a lot of throws today that I make consistently so it is about making them," Mayfield said. "We found a way to win and that is the most important thing, but I am always going to be critical of myself."
Mayfield also threw an incomplete pass behind running back Kareem Hunt on a third-down conversion with 5:47 left in the fourth quarter.
The Browns failed to convert on fourth down from the Jacksonville 22-yard line and turned it over to give the Jaguars a chance down 27-19.
"I want him to make [every throw]," head coach Kevin Stefanski said. "There's nobody that makes every throw."
I know I can be better… and I will be. Job isn't finished, lot of ball left. We're 8-3 and not satisfied. That's the best part about this team.

— Baker Mayfield (@bakermayfield) November 29, 2020
On Sunday, Mayfield did have many impressive throws, which included several to Landry.
Landry finished with eight receptions on 11 targets for 143 yards and a touchdown.
Sunday marked Landry's first score of the 2020 season and his first 100-yard game of the year.
Incredible. 🤯@God_Son80 | @bakermayfield

📺: @NFLonCBS pic.twitter.com/7K70oFtuwm

— Cleveland Browns (@Browns) November 29, 2020
Mayfield hasn't thrown an interception in his past 123 consecutive passing attempts, which spans five games.
During that stretch, the Browns are 4-1 and Mayfield has seven passing touchdowns, a 106.9 rating and one AFC Offensive Player of the Week award.
Mayfield and Houston Texans quarterback Deshaun Watson were the only two starting NFL quarterbacks that did not throw an interception in November.
The Browns are trying to make the playoffs for the first time since the 2002 season.
Their 8-3 record marks the team's best start since 1994.