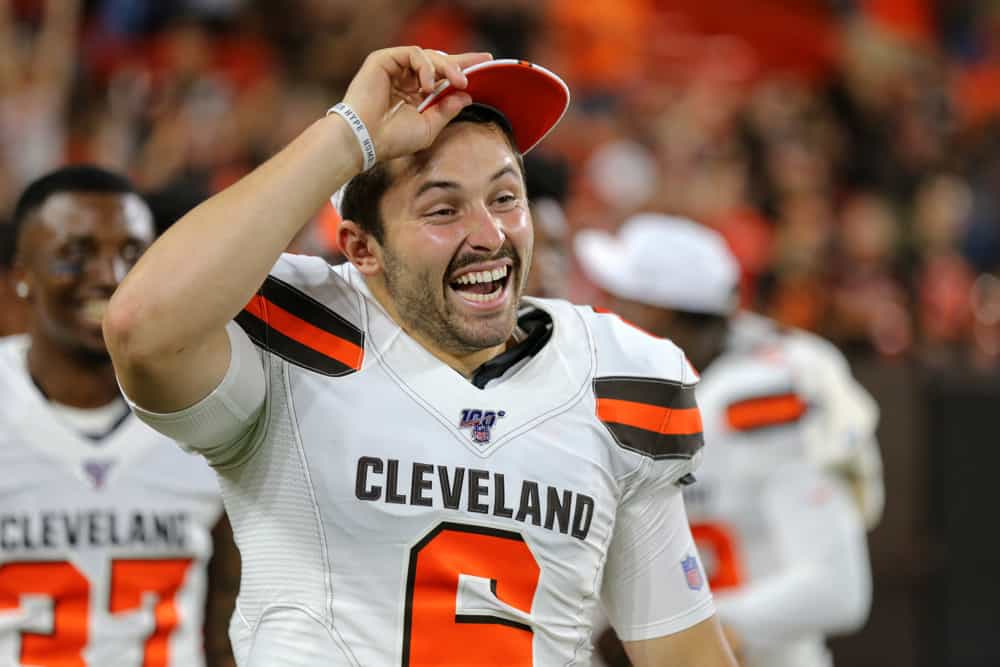 An episode from the 2020 season of Unsolved Mysteries revolves around multiple accounts of a UFO sighting in Berkshire County, Massachusetts.
Perhaps Cleveland Browns quarterback Baker Mayfield would make a nice addition to the next season of the show, as he believes he's seen a UFO himself!
Baker Mayfield on his alleged UFO sighting: "I believe."

— Jake Trotter (@Jake_Trotter) April 26, 2021
The recent comments from Mayfield are actually a double-down on a sighting he discussed earlier this year in March.
"I'm a firm believer in UFOs and Sasquatch,'' Mayfield said, via Mary Kay Cabot of Cleveland.com.
He claims he and his wife Emily were near Lake Travis, close to where Baker grew up and played high school football, when they saw what they believed to be a UFO while on their way home from dinner.
Almost 100%, Em and I just saw a UFO drop straight out of the sky on our way home from dinner… we stopped and looked at each other and asked if either of us saw it… Very bright ball of light going straight down out of the sky towards Lake Travis. Anybody else witness this?

— Baker Mayfield (@bakermayfield) March 4, 2021
His wife chimed in on social media following the event as well.
She admits while she doesn't tend to believe in those sorts of things, she was in awe after what she witnessed.
I won't lie… I'm typically not someone who buys into UFO talk. But all I know is… I saw something tonight that I have never seen. And I'm a little thrown off.

— Emily (Wilkinson) Mayfield (@emilywmayfield6) March 4, 2021
When asked about it again this week, Mayfield responded with an "I believe", while also noting his belief in the existence of Sasquatch.
Life of Its Own
Most people have a belief they feel others think is crazy.
Whether it's a religious belief, moral value, UFO sighting, or something else, many believe in something others might view as abnormal or obscure.
It happens all the time with athletes too, just take a look at Kyrie Irving and his flat-earth beliefs.
To this day, plenty of Twitter users berate him and make of him for that.
While claiming to have seen a UFO is a bit different from thinking the Earth is flat, it's almost a guarantee there will be some fun had at Mayfield's expense with this.
Colin Cowherd, not shy when it comes to commenting on Baker, already had his round of fun back in March.
There's some satire to the bit, but these instances still tend to get bigger than they need to be.
There will be no judgment here on Mayfield, as quite frankly this has zero impact on his football ability.
Astrophysicist Neil DeGrasse Tyson also made a great point on Cowherd's show in March, saying it's not a bad thing when your quarterback is seeing things instead of not seeing them.
All Browns fans ask is that if Mayfield does believe in Sasquatch and tries to go looking for him, exercise some caution.