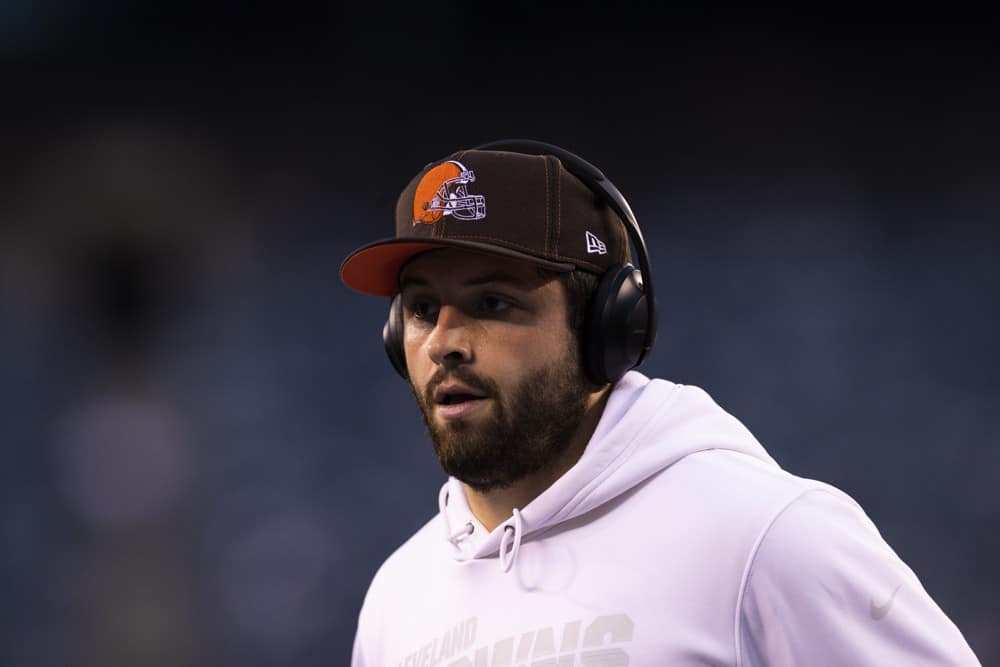 Cleveland Browns QB Baker Mayfield is riding high as his team climbed to 7-3 and in sole possession of second place in the AFC North.
While Baker is always animated in his postgame press conferences (especially winning ones), rap music fans have noticed that he is dropping rap lyrics into his answers.
Here is a compilation of recent cases.
Baker's been dropping rap lyrics into his press conferences 😂 @bakermayfield

(h/t @Browns) pic.twitter.com/n7vY4evuTX

— The Checkdown (@thecheckdown) November 23, 2020
Week 11 Reference – "Get Funky On The Field"
Mayfield channeled Snoop Dog and Dr. Dre's "Nuthin' But a 'G' Thang" after the win over the Eagles.
He was giving props to the Browns defense for stepping up in the absence of their leader Myles Garrett.
Week 10 Reference – "Real G's Move In Silence Like Lasagna"
Again, Mayfield was praising the Browns defense after the Week 10 win over the Texans.
He was talking about Myles Garrett's outstanding performance which included a half-sack and six tackles.
Garrett also became the fastest Browns player to reach 40 career sacks.
How exactly Myles Garrett's greatness relates to Lil Wayne's line in the song "6'7", I can't say for sure.
Week 7 Reference – "Ruff Ryders Anthem"
Baker Mayfield threw 5 TDs in this win over the Cincinnati Bengals.
He dropped DMX lyrics into the postgame presser.
Perhaps he was referencing his own performance with DMX's words,
"Stop, Drop, Shut Em Down, Open Up Shop, Oh No, That's Just How Ruff Ryders Roll."
Browns On A Roll
Most Browns fans wouldn't care if Baker Mayfield recited Abraham Lincoln's "The Gettysburg Address" in his postgame press conferences so long as the Browns keep winning.
Winning Baker also is capable of these moves.
The Baker Mayfield x Riff Raff mash up you didn't even want: pic.twitter.com/VkoeWvQz5A

— Jordan✨ (@jordancicchelli) November 22, 2020
Mayfield's offense was able to hold on and go 2-2 in the 4 weeks Nick Chubb was out with his MCL injury.
But now Chubb is back, and the Browns offense led by Chubb is looking great.
Mayfield has performed well too; he looks comfortable in the Alex Van Pelt/Kevin Stefanski offense.
The biggest improvement has been his TD/INT ratio.
I hesitate to tout it so as not to jinx it, but he has thrown 15 TDs compared to only 7 INTs.
Last year, Mayfield was not throwing the ball that cleanly, and he ended up with 22 TDs and 21 INTs.
Next Browns Game
The Cleveland Browns play the Jacksonville Jaguars in Week 12.
While the Jaguars are 1-9, this still will not be an easy game.
Myles Garrett has already been ruled out for Sunday's game.
"We're ruling him out because that's what the protocols call for.  We're just following the rules and will continue to do so."
CB Denzel Ward is expected to miss this game and probably more with a calf strain.
And Chris Hubbard and Andy Janovich remain on the Reserve/COVID-19 list (along with Garrett).
Upcoming Meetings with Ravens and Steelers
No game will be taken lightly, but certainly the Browns realize the games against the Ravens (Week 14) and Steelers (Week 17) are must-win games.
Hopefully, the team will be healthy (or as healthy as possible) for these games that very well could determine the playoff picture in the AFC North.
Both the Ravens and Steelers beat the Browns in the first meetings (Weeks 1 and 6) handing them 2 of the 3 losses they have thus far in 2020.