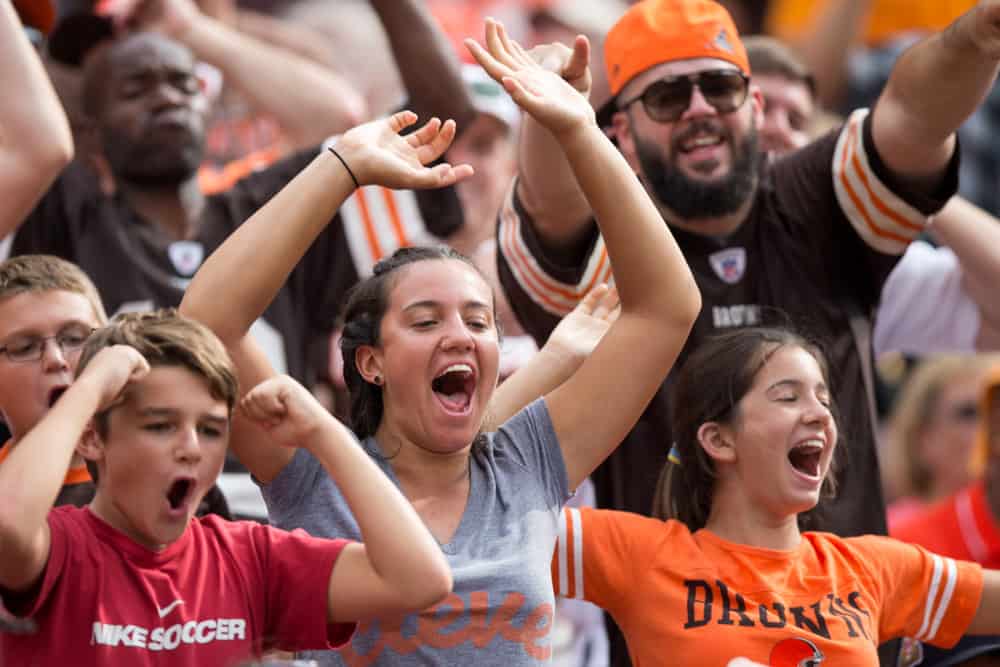 By now, everyone knows that the Cleveland Browns are 7-3 and in second place in the AFC North division.
Browns fans are processing this news in decidedly different ways.
Case in point, social media personalities Sir Yacht and Gabb Goudy chose to celebrate by jumping into the very cold waters of Lake Erie.
THE BROWNS ARE 7-3 AND BETTER THAN THE RAVENS SO @GABBGOUDY AND I JUMPED IN LAKE ERIE!!! pic.twitter.com/2KCYLTEsdx

— Sir Yacht🛥 (@SirYacht) November 22, 2020
The self-proclaimed CEO of Ohio, Sir Yacht, has over 33,000 Twitter followers.
He is a diehard Cleveland Browns fan.
Sir Yacht's Twitter account has a lot of Browns tidbits.
Reminder that Baker Mayfield is in his 3rd year under his 4th head coach. He's 25. Be patient with him.

— Sir Yacht🛥 (@SirYacht) November 24, 2020
And his fandom includes making bets with other social media personalities who do not support the Browns.
A bet between an Eagles fan and a Browns fan, with a special announcement. (Featuring @siryacht) #nflcomedy #lostabet pic.twitter.com/E8mKdb38IX

— Xavier Moore (@BigX987) November 23, 2020
If the Browns keep winning, Sir Yacht will certainly amp up his celebrations even more.
Also a native of Cleveland, Gabb Goudy is a social media personality who loves sports and her Browns.
She has over 28,000 Twitter followers.
Maybe Lake Erie wasn't so bad since Goudy has been in FirstEnergy Stadium this season in the wet, miserable conditions.
here we go brownies. woof. 🐶 pic.twitter.com/d4Hi72YhGz

— gabb 🌟 (@gabbgoudy) November 22, 2020
the browns have won every game that i have attended this year. who's taking me the ravens game?!

— gabb 🌟 (@gabbgoudy) November 22, 2020
Browns Fans Are Excited
No one can fault the Browns fans for being exuberant about their team.
Their franchise has endured extremely painful, winless, and way below .500 seasons.
It even moved to Baltimore leaving Cleveland without a football team for a few years.
In 2009, Bleacher Report ranked the Top 10 most loyal fan bases, and the Browns fans finished third behind the Packers and Eagles.
It's easier to be loyal when your team is winning so for the Browns to be in the Top 3 is a testament to their extreme loyalty.
As for Sir Yacht and Gabb Goudy, their followers are telling them they need to keep jumping in Lake Erie after each win.
Another follower suggested a mass jump, socially distanced of course, into Lake Erie if the Browns make the playoffs.
There is also talk of doing it again to raise money for charity, an idea that Gabb Goudy said she liked.
Stay tuned.