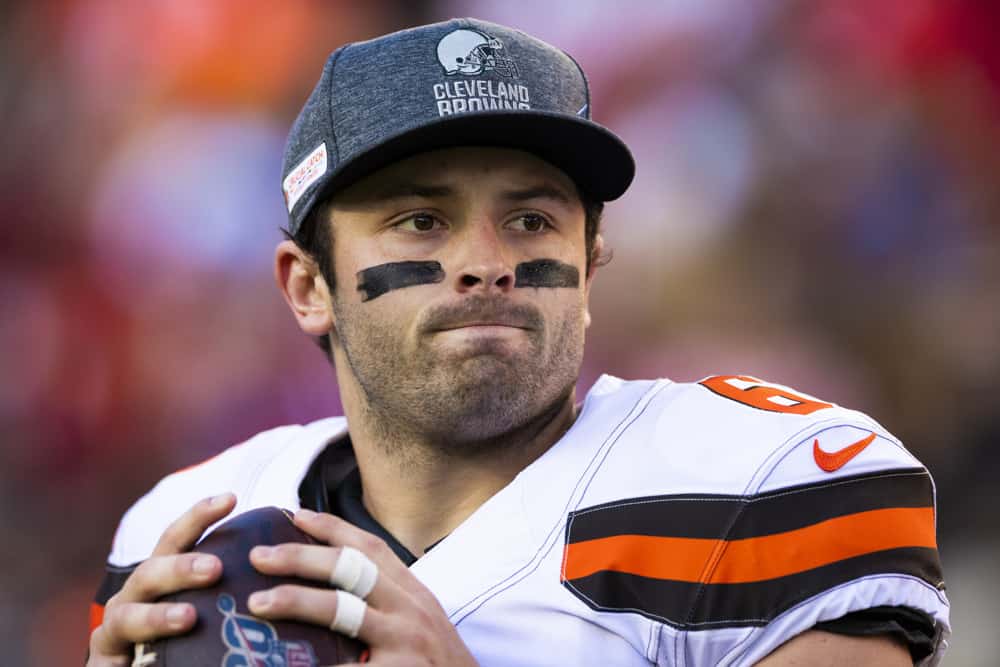 Despite his 2020 playoff run, Cleveland Browns' quarterback, Baker Mayfield, still has his critics.
After all, what has he done to really be considered a top-notch quarterback?
Does being a successful 2-time walk-on college quarterback and Heisman Trophy winner amount to anything?
How about owning the NFL's best deep-ball passer rating and one of the historically-best NFL playoff debuts?
Apparently, none of that counts, according to the crew- or at least the social media manager- at NFL Game Day.
View this post on Instagram

Besides the argument over Mayfield's superior statistics and success, there is one blatant matter that Game Day seems to ignore.
Mayfield still has a few years ahead of him as the leader of the Cleveland Browns' excellent offense.
While the future is never certain, there are two dominant questions circling Mayfield's career at this time.
The first is, "When will Andrew Berry extend Mayfield's contract?"
And the second is, "Will Mayfield lead the Browns to a Super Bowl this season, or the next one?"
Regardless, Baker Mayfield's career is far from over, making the Instagram post ridiculous out of hand.
Mayfield, to his credit, limited his response to a zip-mouthed emoji.
View this post on Instagram

His subdued rebuttal was fine since his fans were quick to berate Game Day for their slight.
ESPN's Mike Clay Piles On With a Subtle Jab 
NFL GameDay was not the only major NFL entity to diss Baker Mayfield this week.
ESPN's Mike Clay drew some fans ire with this post on Twitter.
Browns. Broncos. Football Team. 49ers. Patriots. Giants.

If we remove QB from the discussion, these are teams with ~top 10 (if not top 5) rosters on paper right now. The team(s) that get the most from the QB position have a shot for a big 2021 season.

— Mike Clay (@MikeClayNFL) March 23, 2021
Clay threw an underhanded compliment at the Browns. calling them a top 5 or 10 team.
But only if you take the quarterbacks out of the equation.
The respected ESPN analyst was quick to follow up with some love for Mayfield in response to a question.
Clay asserts that if Mayfield builds on last season's performance, the Browns could be in the next Super Bowl.
I think the Browns have the best roster in the NFL if we ignore QB. Baker Mayfield took a big step forward last season and another leap in 2021 could get them in Super Bowl contention. https://t.co/fneVDXG2wb

— Mike Clay (@MikeClayNFL) March 23, 2021
Mayfield is not among the statistical leaders in most quarterback categories, lending credence to Clay's statement.
But there is a lot more than statistics that makes Mayfield an excellent quarterback.
You can't blame the passer if the offense is focused on the run and the defense can't get off the field.
Why Baker Mayfield is Not a Bust 
Baker Mayfield's trajectory could always take a turn for the worse.
And it is far too early to measure his NFL career against other former quarterbacks.
But there is overwhelming evidence he is the perfect quarterback for the Cleveland Browns.
Baker the touchdown maker 😏@bakermayfield pic.twitter.com/oCDqgL0I5b

— Cleveland Browns (@Browns) February 24, 2021
Or for any team with a good offensive game plan and personnel.
Whether a quarterback can be a leader is almost as important as passing skill and statistical numbers.
And Mayfield's enthusiastic presence, on the field and off of it, makes him such a leader.
Every one of Andrew Berry's free-agent acquisitions mentioned Mayfield as the first new teammate to reach out.
Mayfield's fan interactions propel him to even higher regard.
Last season's efforts to assure a dying cancer patient's desire to attend a Browns game is just one example.
This week, he responded to a fan's plea to help him convince his wife to name their baby, "Baker."
Hopefully I'm not too late on this…

— Baker Mayfield (@bakermayfield) March 23, 2021
Regardless of what happens in the years ahead, Mayfield will have fans who defend his record.
But a Super Bowl run or two will certainly serve to make NFL GameDay eat their awful "Bust" take.