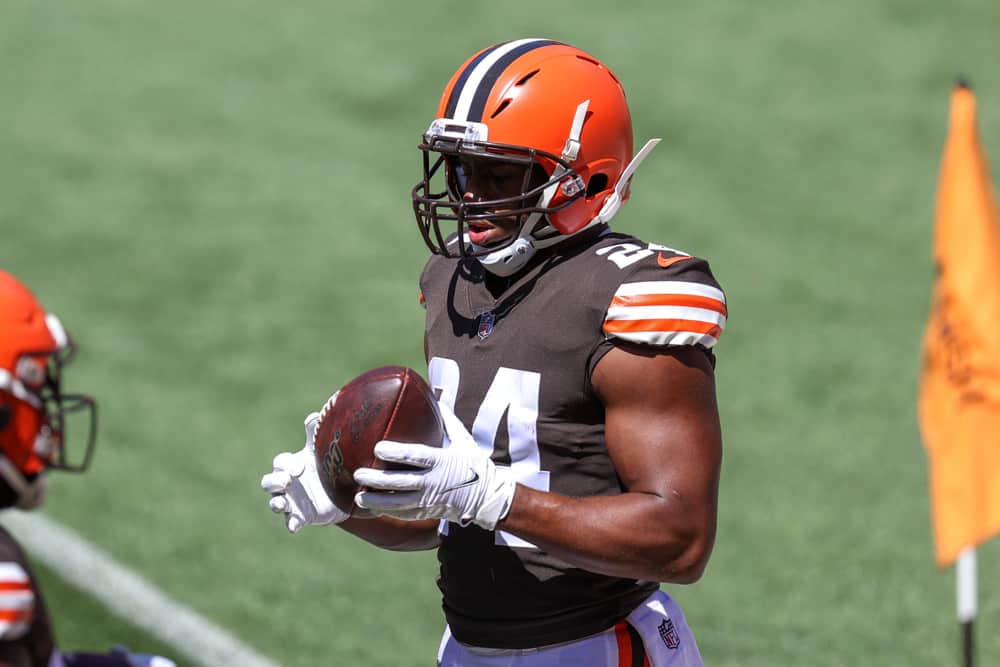 In Sunday's Week 10 victory over the Houston Texans, Nick Chubb looked strong with a game-high 126 rushing yards.
However, Chubb's day was most remembered for his 59-yard run that ended at the one-yard line:
Nick Chubb ripped off a 59-yard run and stopped at the 1-yard line 😲

(via @thecheckdown)pic.twitter.com/IK5Pbpyyi1

— SportsCenter (@SportsCenter) November 15, 2020
In the huddle prior to by far the longest play of the game, Baker Mayfield instructed that Chubb not score on the play.
Chubb told ProFootballTalk the following about the decision to go out of bounds:
"It was made in the huddle, and I got the call from Baker to if we get a first down or anything, let's just end the game and not score. There's an opportunity for me to do that, and that's what I did. It was tough, but I'm a team player. I decided to just win the game and not worry about stats and get the win and go home."
Fantasy football managers may have not been happy with Chubb.
However, Mayfield and the Browns were satisfied with the victory and wanted to air out the clock.
Meanwhile, Myles Garrett went to Twitter, and he voiced his praises of Chubb's character:
This play will show you what kinda guy chubb is. If that's me, I'm taking 6 😂 https://t.co/vGGP0Okjnx

— Flash Garrett ⚡️ (@MylesLGarrett) November 15, 2020
Garrett jokingly said that he would have gone for the touchdown, but Chubb knows there are plenty of touchdowns ahead of him.
The third-year running back scored his fifth touchdown of the season earlier in the contest on a nine-yard rush.
Chubb finished the game with 6.6 yards per carry on his 19 rushes on Sunday.
Should Chubb Have Went Out of Bounds?
The win-the-game mentality shown by Chubb and Mayfield bodes well going forward.
Although the success rate of onside kicks is declining, Mayfield made the right decision to tell Chubb to go out of bounds.
The Texans, who were offensively challenged in Sunday's weather-affected game, did not have a strong chance of scoring again in the game.
They would have had to score twice in less than one minute.
Even so, it was still the correct move for Chubb to not score the touchdown.
Mayfield is growing as a quarterback, and his leadership showed in this situation.
As Chubb mentioned, the only thing gained by scoring would be to pad his statistics.
The 24-year-old running back is looking wise beyond his years.
He is a team player, and so is Mayfield.
If a similar situation occurs in the playoffs, it appears that Kevin Stefanski and Andrew Berry have nothing to worry about with their offensive stars.
Is Chubb Officially Back and Ready to Lead the Charge in the Rushing Game?
In his first game since Week 4, Chubb showcased impressive footwork and intelligence.
His yards per carry were his best of any contest this season in which he had double-digit touches.
The 2019 Pro Bowler is hoping to carry this momentum in what will be an important stretch run to the end of the season.
With Kareem Hunt as the second fiddle, Chubb is on pace for by far his most yards per carry as an NFL player.
Heading into Week 11, Chubb has 6.1 yards per rush after finishing with 5.2 and 5.0 in 2018 and 2019, respectively.
Even with missing a bunch of games, Chubb also has a chance at setting a new career-high in rushing touchdowns.
He rushed for eight scores each in 2018 and 2019.
With five touchdowns in 2020, Browns fans could see double-digit rushing scores from Chubb this year.
He did have two receiving touchdowns in his rookie season, which did give him 10 total touchdowns.
Chubb elected to avoid his sixth rushing touchdown near the end of Sunday's game.
Nevertheless, there is a lot to be excited about with him moving forward in the 2020 season and beyond.