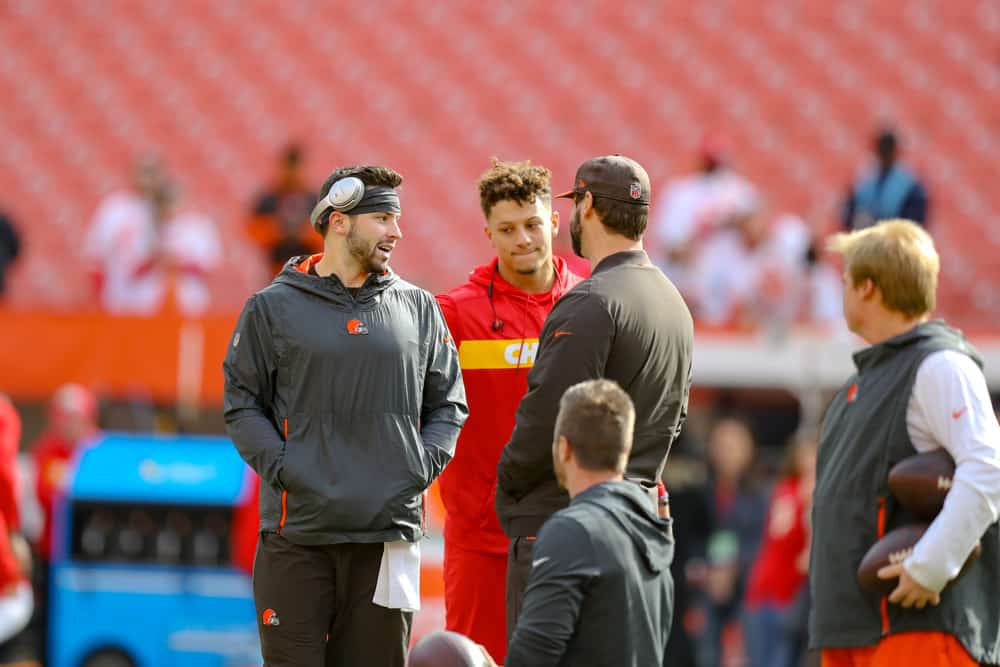 With the anticipation mounting for the divisional playoff game between the Cleveland Browns and the Kansas City Chiefs, now is a good time to take a stroll down memory lane.
On October 22, 2016, Texas Tech hosted the Oklahoma Sooners.
Texas Tech's starting quarterback was Patrick Mahomes.
Oklahoma's starting quarterback was Texas Tech transfer, Baker Mayfield.
The final score was Oklahoma 66 – Texas Tech 59.
Throwback to when Baker Mayfield & Patrick Mahomes faced off in College 🤯🤯 pic.twitter.com/Cl9pPOoybo

— OwnersBox (@OwnersBox) January 11, 2021
Later described as an "epic" game, it had a little bit of everything.
Drama
Mayfield was a walk-on starting freshman at Texas Tech.
A knee injury pushed him down the depth chart.
Citing a lack of scholarship money for the spring semester, Mayfield transferred to Oklahoma in December 2013.
Mahomes became Texas Tech's starting quarterback in 2014.
It was clear that fans didn't forget Mayfield's impromptu departure.
Traitor t-shirts were worn by many.
Injury
Mahomes was playing with a sprained throwing shoulder.
He also fractured his non-throwing wrist during the game.
Mahomes asked to be taped up and never missed a beat.
(Postseason surgery was required to fix the wrist.)
Offense
The stats are not typos.
It was a crazy amount of offense on both sides during the game.
Mayfield finished 27-of-37 for 545 yards and a school record of 7 TDs.
Mahomes was 52-of-88 for 734 passing yards and 5 TDs.
But that's not all.
Mahomes rushed for 85 yards on 12 carries and added 2 more TDs.
Each team finished with 854 total yards.
Mayfield and Mahomes combined for 1,279 combined passing yards, an NCAA record.
When Mahomes & Mayfield played in college, they set 4 FBS records:

• Most combined pass yds by opposing players: 1,279

• Most combined yds of offense by opposing players: 1,383

• Most individual yds of offense: 819, Mahomes

• Most individual pass yds: 734, Mahomes (tied) pic.twitter.com/c0lWJWV08F

— WTF Stats (@WTFstats) January 13, 2021
Arguably, Baker Mayfield had a better supporting cast which allowed Oklahoma to keep pace with what Mahomes was accomplishing with his arm and legs.
OU RB Joe Mixon rushed for 263 yards and 2 TD; he also caught 4 passes, 3 for TDs.
1st NFL matchup – November 4, 2018
While Mayfield and Oklahoma bested Mahomes and Texas Tech in 2016, the two young quarterbacks have since met in the NFL.
The Chiefs traveled to Cleveland during Mayfield's rookie season of 2018.
Mahomes got the best of Mayfield during that November 4, 2018 game.
The Chiefs won by a score of 37-21.
Mahomes threw 3 TD passes, 2 to Travis Kelce and 1 to Kareem Hunt.
Hunt also rushed for a TD for the Chiefs.
The passing numbers for both quarterbacks were more down to earth.
Mahomes was 23-32 for 375 yards.
He had 1 INT.
Mayfield was 29-42 for 297 yards with 2 TDs and 1 INT.
The Chiefs were beginning their ascent and left the game with a 8-1 record; whereas the Browns were struggling at 2-6-1.
2nd NFL matchup – January 17, 2021
This brings us to Sunday's game.
Each quarterback has bested the other one time in their two previous meetings.
The biggest difference between 2018 and now is that the Browns are now on the path of building a winning culture in Cleveland.
This Browns team, though still viewed as underdogs by many, is extremely talented.
There is a healthy respect between Mahomes and Mayfield.
Mahomes talked about his relationship with Mayfield this week.
"Obviously it's cool to get to play against him in such a big game in the playoffs and everything like that. I've known him for a long time, since I was a senior in high school. And to be able to play on this stage is going to be special. He went to Oklahoma, I went to Texas Tech. He got the better of me in college, so I'll try to do my best to win in the NFL."