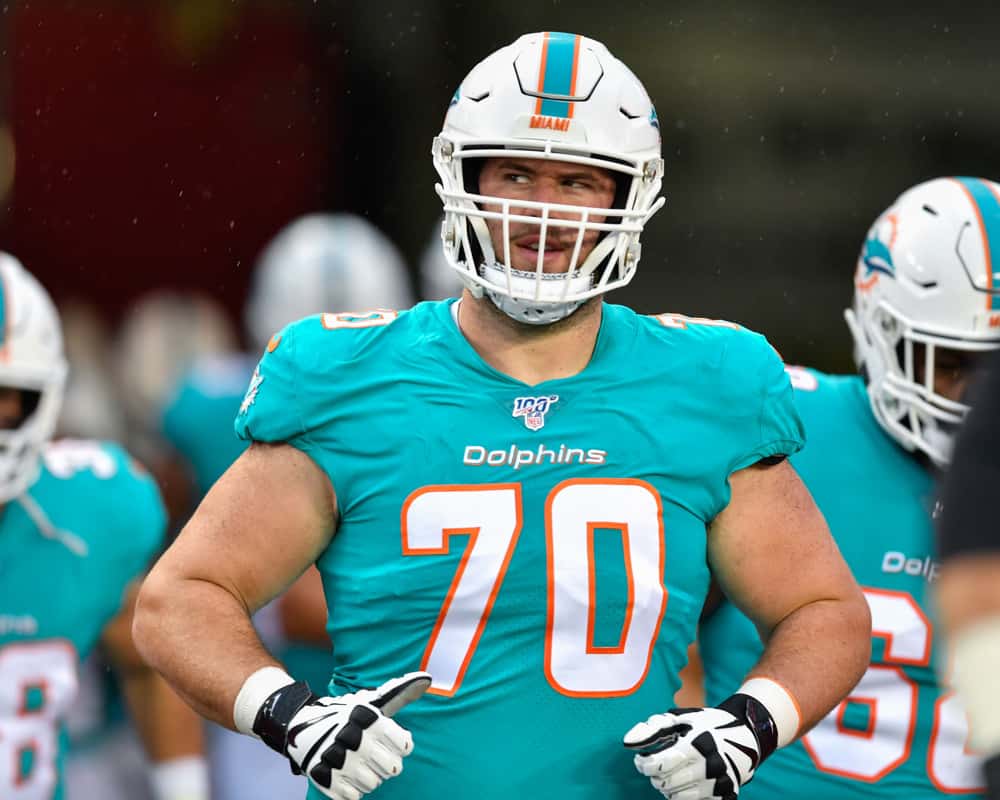 On Wildcard Weekend, the Cleveland Browns were able to pull off an upset over the Pittsburgh Steelers.
It wasn't an easy task, but getting off to an early 28-0 lead was huge.
Cleveland was able to secure the victory without head coach Kevin Stefanski and missing some key players due to COVID-19.
All-Pro left guard Joel Bitonio was sidelined for last week's matchup versus the Steelers.
The Browns decided to use undrafted left guard Michael Dunn for this contest.
It was a risky move by Cleveland, but it ended up paying off big time for the team.
The Legend of Michael Dunn
Browns fans will be telling their grandchildren about how Dunn played a crucial role in the team's first playoff victory in 26 years.
In 2017, Dunn went undrafted out of Maryland, but landed on the Browns practice squad in 2020.
What a road for our guy Michael Dunn:

2017: Undrafted.
2018: Cut by two NFL teams.
2019: Signs in the AAF and XFL.
2020: Cut by the Browns in camp.
2021: Starts in the Playoffs and does work.

Perseverance. pic.twitter.com/oi5L6rugDQ

— Maryland Football (@TerpsFootball) January 11, 2021
The 26-year-old was forced into action with Chris Hubbard and Nick Harris on injured reserve.
Coming into this game, the Browns had practiced twice in two weeks.
The organization was just hopeful that Dunn would just be able to hold is own and could give Cleveland a chance to win.
However, Dunn ended up playing much better than anyone could've imagined.
Michael Dunn was elevated off the Browns practice squad and he destroyed Cam Heyward on Kareem Hunt's first touchdown run of the game. pic.twitter.com/KNskTxgxOB

— Johnny Kinsley (Wyatt Teller Hive CEO) (@Brickwallblitz) January 13, 2021
#Browns Michael Dunn, Kendall Lamm, and Blake Hance combined for 68 pass-blocking snaps against the league's top pass-rush.

They allowed a combined two pressures and zero sacks. pic.twitter.com/m44EMyaL8a

— PFF CLE Browns (@PFF_Browns) January 11, 2021
In 54 snaps, Dunn allowed a single pressure and earned a 82.4 run-block grade from Pro Football Focus.
Among 27 guards with qualifying snaps in #WildCardWeekend, #Browns Michael Dunn's 82.4 run blocking grade ranked fourth (pictured below at practice)

— PFF CLE Browns (@PFF_Browns) January 12, 2021
Sadly, Dunn suffered a calf injury that forced him out of the game.
He was placed on the injured reserve earlier this week, but Browns fans won't forget his incredible performance.
Dunn stepped up and delivered in the most important game of the season.
Dunn's Long Journey
As mentioned before, Dunn went undrafted in 2017, but hadn't taken a snap in the NFL until this season.
In 2018, Dunn bounced around and was cut by two different organizations.
After that, Dunn decided to try the XFL and work on his craft over there.
Dunn was a star in the XFL and was graded as the second-best lineman in the league.
Look what happens when you finally get your chance. See Taylor Heinicke.

In the XFL, @MikeDunn4Real allowed only 3 pressures in pass pro playing LT and RG for the @XFLDragons

Michael Dunn was the 2nd highest-graded lineman behind only fellow XFL to NFL alum Storm Norton.

— Mike Mitchell (@ByMikeMitchell) January 11, 2021
In 2020, the Browns decided to give Dunn a chance after seeing what he did in the XFL.
Luckily, Cleveland kept Dunn around long enough to see what he could do at the professional level.
Maybe it was a fluke, but he has probably earned a backup spot in 2021 just because of that performance.
Dunn will be a fairly cheap option to keep around and Cleveland doesn't have many reliable backups on the offensive line.
There is a good chance that Dunn won't play again this season, but his contribution to this team will not be forgotten anytime soon.