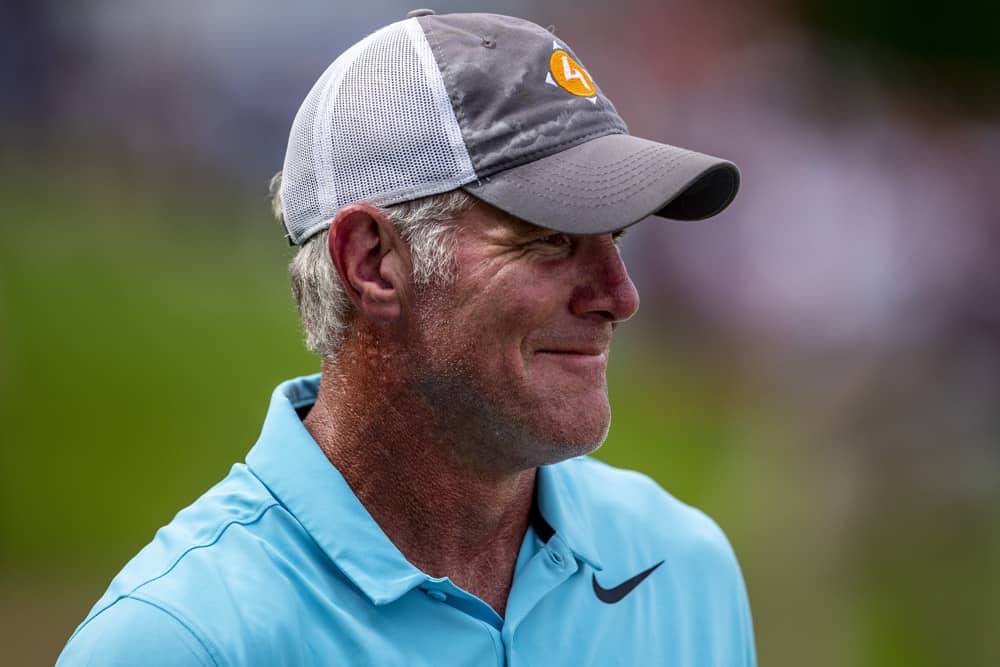 It's always a good thing when a hall of fame quarterback has a ringing endorsement for your next head coach, right?
Brett Favre had a historic career performed primarily in a Green Bay Packers uniform.
However, Favre ended his playing days with two seasons in Minnesota with the Vikings.
That's where he developed a relationship with the next head coach of the Cleveland Browns, Kevin Stefanski.
Stefanski was the assistant quarterback's coach during Favre's time in Minnesota.
Despite his young age at this time, Favre believes he commanded respect and was someone players trusted.
According to 247sports.com, Favre had this to say on SiriusXM NFL Radio earlier this week:
"He was there when I was there. He's definitely paid his dues. I really like Kevin. I thought he was one of those young really bright minds. The players really loved him."
Now, being a hall of fame talent does not always mean you are a top talent evaluator.
Look at what Michael Jordan has done with the Charlotte Hornets in the NBA.
That has been far from pretty.
Plus, we've seen plenty of guys voice support for head coaches before.
Jason Campbell told theundefeated.com back in 2011 that he believed Hue Jackson would be a great leader and coach in the NFL.
"He knows the Xs and Os of the game, he's really good with that, but what's great about Hue is he practices to win," Campbell said. "With some coaches, you know you don't have a chance [to win] because you're not looking at the right things in practice, not bringing the right energy. With Hue, you know you've done everything all week in practice to give yourself the best chance. That makes a big difference."
Campbell spent time with Jackson in the Oakland Raiders organization.
Former Cowboys defensive coordinator Brian Stewart, as well as Bengals receiver A.J. Green both shared similar sentiments about Hue later in that article.
Browns fans need some sense of optimism after the Stefanski hiring though.
Following Ian Rapoport's report on Sunday that Stefanski would be the hire, Clevelanders were in a frenzy.
Talks of how the team botched McDaniels, selling off season tickets, and straight up denouncing Browns fandom flooded social media all day long.
Having Favre support the decision and voice his respect for Stefanski is a pinch of optimism this entire fan base needed.
.@BrettFavre has lost a little height since his playing days, but he was spotted at #VikingsCamp this week, once again with @Vikings coach Kevin Stefanski. pic.twitter.com/INhQuknnaS

— Lindsey Young (@LindseyMNSports) August 3, 2019
There is something important to remember here.
Throughout the 2018 NFL Draft process, Baker Mayfield drew many comparisons to Favre for his play at Oklahoma.
Both quarterbacks are gunslingers that throw hard and are not afraid to throw an interception here or there.
Now with Stefanski at the helm, Mayfield will be working with a guy who's dealt with one of the best gunslingers in NFL history.
It's one thing to gain respect as an assistant coach or a coordinator.
It's entirely different when you become a head coach.
We saw this with Freddie Kitchens, who players, especially Mayfield, seemed to adore when he was just calling plays under Gregg Williams.
Things changed quickly when he took over as head coach.
The thoughts on Freddie were similar to Favre's comments on Stefanski as well.
A young, smart, up-and-coming football mind that would adapt well to the modern NFL and a guy who "deserves a chance".
Stefanski's resume is about the same as Freddie's, there is no denying that.
Again though, Favre's comments serve as a beacon of hope and optimism that Browns fans need right now with so many questions around Stefanski.
Favre was already a future hall of famer when he played in Minnesota.
Hopefully, Stefanski can be the reason Mayfield becomes that same kind of talent, if not better, in Cleveland.