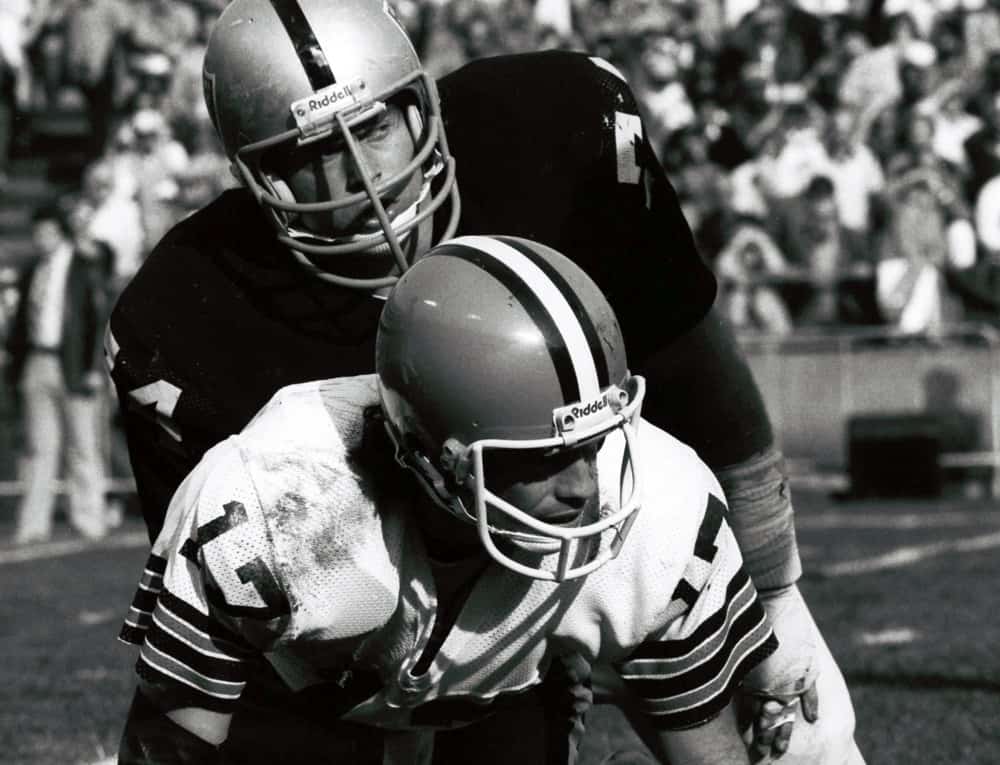 When the Cleveland Browns began play in 1946, they had the good fortune of being led by quarterback Otto Graham.
Graham led the team through several championship seasons before hanging 'em up in 1955.
Because of his success, Graham became the standard-bearer for which all future Browns quarterbacks were judged.
After his departure, Frank Ryan was the next Browns quarterback to get the team to the promised land.
Bill Nelsen saw a few good years in the late 1960s-early 1970s.
Once Nelsen was gone, however, the Browns wandered in the wilderness for eight years.
Their return to respectability coincided with the rise of a late-round draft pick from San Diego State.
Brian Sipe of the #Cleveland @browns Source: @Cleveland_PL from Sam, Sipe, and Company. Photo by Tony Tomsic. @BernieKosarQB 1974-1983💪 pic.twitter.com/n2anaX6QBv

— John Skrtic (@SkrticX) May 28, 2020
Brian Sipe was drafted by Cleveland in 1972 and didn't see significant playing time for the next few years.
Once he finally became an established starter, Sipe would become part of Browns lore.
His leadership of the "Kardiac Kids" would help kick start the Browns resurgence in the 1980s.
This is the story of the life and career of Brian Sipe.

Early Years through College
Brian Winfield Sipe was born on August 8, 1949 in San Diego.
He was destined to be a sports star from a young age.
Before he got to high school, Sipe played baseball and participated in the 1961 Little League World Series for El Cajon, California.
A short time later, he entered high school and played well for the Grossmont High School Foothillers.
After a productive high school career, Sipe headed to nearby San Diego State to play college ball.
At the time, SDSU was coached by Don Coryell.
Coryell would later coach the San Diego Chargers, who were known for their high-flying offense.
Sipe's college career began slowly.  Finally seeing action during the 1969 season, he passed for 557 yards on 45 completions in 82 attempts.
Sipe also had four touchdown passes and two picks for the year.
In 1970, Sipe had a significant uptick in numbers, going 195 for 337 and 2,618 yards for 23 scores and a whopping 20 interceptions.
His final college season of 1971 led to 2,532 yards on 196 completions.
Sipe's INTs increased to 21 and his touchdown passes decreased to 17.
As a senior, Sipe was named an Honorable mention All-American.
San Diego State QB Brian Sipe. pic.twitter.com/BXN6t6Z78W

— Steve Vanderpool (@SteveVanderpool) August 9, 2018
By the time he prepared to leave the Aztecs, Sipe was then ranked second all time in SDSU history for total offense, passing yards, and completions.

Slow Start as a Pro, 1972-1975
Despite the impressive numbers as an Aztec, Sipe was passed over by every team multiple times for most of the 1972 NFL Draft.
Eventually, Cleveland chose him with the 330th overall pick in the 13th round.
Fitting for his draft position, Sipe was parked on the Browns reserve squad for the 1972 and 1973 seasons.
During those two years, Sipe watched Nelsen lead the team to the '72 playoffs (where they lost to the Dolphins 20-14) and a 7-5-2 record in '73.
Sipe was still chained to the bench in 1974 until Week 7.
During that contest against the Broncos, the team was down by 12.
Coach Nick Skorich was desperate and sent Sipe in to try and salvage a win.
Sipe did just that, leading Cleveland to a comeback 23-21 victory.
He was rewarded for his efforts by starting the next four games.
Unfortunately, the Browns won only one of his starts and he was benched before Week 12, replaced by Mike Phipps.
For the season, Sipe passed for 603 yards, one touchdown pass, and seven interceptions.
He also rushed the ball for 44 yards and four scores.
Brian Sipe is about to know what real pain feels like. pic.twitter.com/kGEYO6Vqvb

— VintageSteelers (@VintageSteelers) September 4, 2019
In 1975, Sipe saw action again after the Browns struggled to begin the season.
Sipe's presence led to three more losses and he was sent back to roam the sidelines.
His time on the field that year led to 427 passing yards, one touchdown pass, three picks and nine yards rushing.

1976-1978
In 1976, Phipps went down with an injury in the opening game of the season.
Sipe stepped in and led the team to a 9-5 record, which was a six win improvement over the '75 season.
His stats vastly improved with the increased playing time and he finished the year with 2,113 yards passing, 17 touchdowns, 14 interceptions, and 71 yards rushing.
Sipe and the Browns had a great start to the 1977 season, winning five of their first seven games.
However, during a Week 9 game against division rival Pittsburgh, he suffered a season-ending shoulder injury.
In nine starts that year, Sipe passed for 1,233 yards, nine scores and 14 picks.
The '77 season also saw head coach Forrest Gregg fired after Week 13.
In 1978, Sam Rutigliano was hired to replace Gregg.
One of his first acts was to put Sipe back in as the starter.
The '78 season was also the first year of a new 16 game NFL season.
Sipe started every contest that year and had his best season at that point in his career.
Although the team itself finished 8-8, Sipe had 2,906 passing yards, 21 touchdown passes, 15 INTs, 87 rushing yards with three rushing touchdowns.

The Beginning of "Kardiac" Magic in 1979
The Browns began the 1979 season hoping to improve their record enough to return to the postseason.
At that point, it had been seven years since they played beyond the last week of the season.
What Cleveland did that year instead was create an atmosphere of anguish and excitement that would carry over to 1980.
It began with a Week 1 game against the Jets.  In the 4th quarter, the Browns had led by six, but New York came back to take a 22-19 lead.
As the clock was nearing the end of the game, Jets fans began filing out of the stadium, celebrating a victory.
That's when the fun started.
Trying to get the ball into field goal position to tie the game, Sipe heaved the ball 45 yards downfield.
Browns receiver Dave Logan miraculously corralled it and stepped out of bounds with a few seconds remaining.
The play added injury to insult for the Jets as defensive lineman Joe Klecko hit Sipe after the pass and was assessed a 15 yard penalty.
That put the Browns in perfect position for kicker Don Cockroft to kick a game tying field goal.
In overtime, both teams battled to a stalemate until the last 30 seconds when Cleveland intercepted the ball.
Another big pass from Sipe to Logan led to a game winning kick from Cockroft.
Somehow, Cleveland escaped New York with a 25-22 win.
After returning to Cleveland, Sipe received some troubling news.
"One of the physicians from the Cleveland Clinic came down to our training center in Berea," Sipe said. "I think it was after that game, and showed us a paper readout on a cardiac machine, and it showed that somebody had died right at that moment. I think the story was that he was watching the game, and he died."
The moniker stuck and the "Kardiac Kids" were born.
It was only right that the Browns won their next two games against the Chiefs and Colts by three points each.
After a blowout win over the Cowboys in Week 4, Cleveland lost three straight (their Week 7 loss to Washington was by four points).
Kardiac Kids!!
Brian Sipe #17
Vintage #Browns pic.twitter.com/OV5eNzaIoh

— Vintage Browns (@VintageBrowns) January 4, 2019
Over the course of their last nine games, Sipe and Cleveland went 5-4.
Four of their victories were decided by seven points or less.
On the flip side, all four losses were by five points or less.
Their final record for the year was 9-7, which was the best Cleveland record since 1972.
Unfortunately, the Steelers and Oilers finished ahead of the Browns in the division and Cleveland spent another postseason at home.
Sipe ended the year with 3,793 passing yards, 28 touchdown passes, 26 picks, and 178 rushing yards with two rushing touchdowns.
He was named a Second-team All-Pro after the season.

Sipe and the Kardiac Kids Finally Break Through in 1980
All the excitement and buildup of the 1979 season was out the window by the third week of 1980.
In Week 1, the Browns were throttled by the Patriots 34-17.
At one point in the game, the score was 34-3.
The Cleveland defense struggled mightily and allowed 452 yards to New England.
In Week 2, the Browns played division rival Houston on Monday Night Football.
The Oilers continued to embarrass Cleveland and left Ohio with a 16-7 win.
The "Kardiac Kids" were now 0-2.
"Unless Sipe and Co. prove otherwise, this is going to be a boring season," wrote former News-Herald columnist Hal Lebovitz after the game.
The Browns began to turn things around when they defeated the Chiefs and Tampa Bay respectively in Weeks 3 and 4.
Both games were decided by seven points.
In Week 5, the Broncos came to town and beat Cleveland 19-16, moving the Browns to 2-3.
After that loss, Sipe got the party started and the Browns began to right the ship.
"I think what really set up apart at that time is that the guys could get focused late in the game when they need to be focused," Sipe said in a 2019 interview. "That's not to say they weren't that way in the first half, but the psyche of a game changes late. This is not to slight the effort by my teammates or whatnot, but coaches get a little funny, teams get a little funny in the fourth quarter when they're protecting leads."
Over the next five weeks, the Kardiac Kids won each week with four of the wins coming by six points or less.
After a three point loss to Pittsburgh in Week 11, Sipe led the "Kids" to four more wins in their final five games.
Fittingly, three of the wins were decided by three points.
Their only loss during those final games came when Minnesota's Tommy Kramer threw a Hail Mary touchdown pass to receiver Ahmad Rashad to complete a 28-23 upset.
I was never a Browns fan (even when they were really the Browns); but Sam Rutigliano's "Cardiac Kids" with Brian Sipe at QB were one of the most fun teams to watch in NFL history. You couldn't help but to pull for 'em if your team wasn't on the field. pic.twitter.com/iteNcgKs7f

— Tex Louveaux [BBB Towers] (@cheap_heat_gfx) July 3, 2019
By the time the smoke cleared, Cleveland had an 11-5 record, a first place finish in the AFC Central, and a trip to the playoffs for the first time since 1972.

Red Right 88
On January 4, 1981, the hated Oakland Raiders came to Cleveland.
It was perfect conditions for Browns football as the weather at game time was four degrees.
That made it the coldest playoff game in the NFL since the 1967 "Ice Bowl" between the Packers and the Cowboys.
Due to the harsh weather, the field was like a skating rink.
"Those were probably the most difficult conditions I ever played in," running back Mike Pruitt recalled. "It was super cold. Everybody knew that. You couldn't wear cleats because the ground was frozen solid. We had to wear shoes with a rubber spongy bottom. You couldn't stop and cut because you couldn't get any traction. You couldn't stop and turn because you'd slip and fall.  The field couldn't have been worse. Trying to throw the ball, trying to catch the ball — as soon as you took your gloves off your hands would freeze. Your hands were just about numb. I remember coming off the field to get some water and the water was ice."
The first half went about as expected, with both teams unable to score in the first quarter.
In the second quarter, Cockroft missed two field goals from 47 and 30 yards.
However, with roughly six minutes left in the half, Cleveland's Ron Bolton intercepted a Jim Plunkett pass and returned it for a pick six.
Cockroft's PAT attempt was blocked by Oakland's Ted Hendricks.
Just before halftime, the Raiders Mark van Eeghen crashed over the goal line from the one.
The extra point was good and Oakland led 7-6 at the half.
In the third quarter, Cockroft kicked two field goals for a 12-7 lead.
Early in the fourth quarter, van Eeghen scored again from one yard out and the Raiders re-took the lead 14-12.
After both teams failed to add to their score, the Browns found themselves with the ball and 2:22 on the clock.
On second down, Sipe found tight end Ozzie Newsome for a 29 yard gain.
Four plays later, Sipe found Greg Pruitt for 23 yards.
Mike Pruitt added 14 yards on a run play, then added another one-yard run.
The Browns found themselves at the Oakland 13 yard line with 49 seconds left.
Then, they called a timeout.
It would have made sense to have Cockroft attempt the short field goal for the win, but he had already missed two attempts and the PAT was bungled.
Cockroft later explained why he wasn't an option at that point.
"What many people don't know about that situation is that I was a long way from being 100 percent physically in 1980," Cockroft said in 2006. "I had two herniated discs and needed four epidurals to just get through the season. I probably should have gone on IR."
During the timeout, Rutigliano met with Sipe on the sideline and gave his quarterback the play, 'Red slot right, halfback stay, 88.'
"His last words to me were, 'Just don't get sacked," Sipe said after the game.
After the snap to begin play, Sipe looked in the direction of Logan, who was covered.
The next read in his progression was to Newsome who was headed through the left side of the end zone.
Sipe let fly in the direction of Newsome and the whole of Cleveland held their breath.
"The play was designed to go to [Dave] Logan, but when I saw Burgess Owens pick up Logan, I went to Newsome," Sipe said at the time. "Our passing game, remember, is based on what the defense does. So when Burgess did what he did, it changed my plan. But I'm not trying to dodge responsibility. Play selection isn't as important as execution."
Unfortunately, the Browns were facing the open end of old Cleveland Stadium.
Therefore, the cold, icy air was blowing straight at them and affected Sipe's pass.
The attempt left the quarterback's hands as a spiral and quickly devolved into a fluttering free-for-all.
January 4th 1981 Divisional Playoff game it was 4* at the
( mistake by the lake ) Mike Davis picks off Brian Sipe aka (Red Right 88) to send the Oakland Raiders to the AFC Championship game in S.D. who beat the Chargers 34-27 then on to win Super Bowl XV 27-10 vs the Eagles pic.twitter.com/nvNOMLB6xj

— ~ Outläw ~ (@Outlaw_Bandits) August 22, 2019
Oakland safety Mike Davis was covering Newsome and saw the pass nearing him.
He broke on the ball and made a pick, ending another Kardiac Kids thriller.
"As the play unfolded, I could hear feet hitting the ground, and I saw Ozzie's eyes get big, so I knew the ball was in the air and I took a peak in," Davis said. "I broke on it. When the ball first came out, it was a spiral, but then the wind hit it and it started to wobble. It still had a little sting on it when it hit me, and I grabbed it. Then, all of a sudden, I saw sparks and stars because I hit my head on the ground. It was quiet. So quiet I could hear myself breathing. I could hear my uniform sliding on the ice. I thought, I must be knocked out because it was like the world had just stopped. Nobody knew what happened because it happened so fast."

https://twitter.com/SadCleveland/status/816661778860048384
Although the Kardiac Kids magic ended that day, Sipe had his best season as a pro.
In 1980, Sipe threw for 4,132 yards, 30 touchdown passes and 14 interceptions.
He also had 55 yards rushing and a score.
For his efforts, Sipe was voted to his first and only Pro Bowl and was also named a First-team All-Pro.
He was then recognized by his peers as the NFL's MVP for the season and received the UPI AFC Offensive Player of the Year and the 101 Awards AFC Offensive Player of the Year awards.

1981-1983
Any hope that the Kardiac Kids would continue improving in 1981 was dashed by Week 6.
By then, Cleveland was 2-4 and on their way to a 5-11 record.
Even worse, the Browns finished the '81 season losing seven of their final eight games.
Sipe actually had a decent year, completing over 55% of his passes for 3,876 yards, 17 touchdown passes, but 25 picks.
He also contributed 153 rushing yards and a rushing score.
In 1982, the players' strike shortened the season to nine games.
However, the Browns 4-5 final record netted them a playoff spot.
They once again met the Raiders and once again came up short 27-10.
Because of a season in which he struggled, Sipe was benched in favor of Paul McDonald and did not see action in the playoffs.
He contributed 1,064 yards passing, four touchdown throws, and eight INTs for the year.
1983 was a rebound year for Cleveland.
The franchise had a winning record of 9-7, but a third place division finish kept them from the postseason.
Sipe found his way back into the starter's role and had a strong year.
He completed nearly 60% of his passes for 3,566 yards, 26 touchdowns and 23 picks.

Sipe Finishes his Career in the USFL
Despite having a solid 1983 season, Sipe was in negotiations with the New Jersey Generals of the United States Football League during the year to play with the team during the 1984 season.
The negotiations with General's owner Donald Trump were open and on-going, making Sipe an object of scorn for Browns fans and the media.
Once the '83 season ended, Sipe left Cleveland and played for the Generals in '84.
His only season in New Jersey was productive with a 59.1% completion percentage, 2,540 passing yards, 17 touchdowns, and 15 interceptions.  He also had 27 rushing yards and a touchdown.
New Jersey Generals QB Brian Sipe…… pic.twitter.com/vcioeNhGCF

— USFLFan (@VUSFL2018) July 20, 2019
In 1985, Sipe moved on to the Jacksonville Bulls where he had 685 passing yards, four touchdown passes, and two picks along with 33 rushing yards and a touchdown.
After the season, Sipe called it a career.
In 12 NFL seasons, Sipe had a passer rating of 74.8, 23,713 passing yards, 154 touchdown passes, and 149 interceptions.
He was also the NFL MVP in 1980 and voted to his only Pro Bowl the same year.

In Retirement
After retiring, Sipe spent time helping to design custom homes in the California cities of Del Mar and Rancho Santa Fe.
Eventually, he found himself returning to the game he grew up playing.
Sipe was approached about coaching the football team at Santa Fe Christian School in Solana Beach, California.
"I was friends with former athletic and head football coach (at Santa Fe Christian) Bob Dennison, who was after me for a couple of years to help him out by becoming quarterback coach," Sipe said in a 2009 interview. "I did it part time for a few years. Then I realized that we are put here on Earth to help others."
In eight years with Santa Fe Christian, Sipe and the Eagles went 75-21-1 and won four California Interscholastic Federation titles.
Then, in 2009, Sipe was hired by his alma mater, San Diego State to coach their quarterbacks.
He held that position through the 2014 season.
Former Browns QB Brian Sipe is the QB coach @ his alma mater San Diego State. Welcome back ! pic.twitter.com/PkhIK90uQh

— Clay Hall (@claywsyx6) September 6, 2013
Since retiring, Browns fans have occasionally "reminded" Sipe about his errant pass in the Red Right 88 game.
"The pass will be with me as long as I'm around football fans," Sipe said in 1987. "It's the thing that people remind me of from that year."
However, Sipe prefers to remember how much fun those Kardiac Kids years were and how much that time meant to him, his teammates, and the city of Cleveland.
"It was electric around here. I don't know how to describe it," Sipe said in 2019. "It was just a riot."