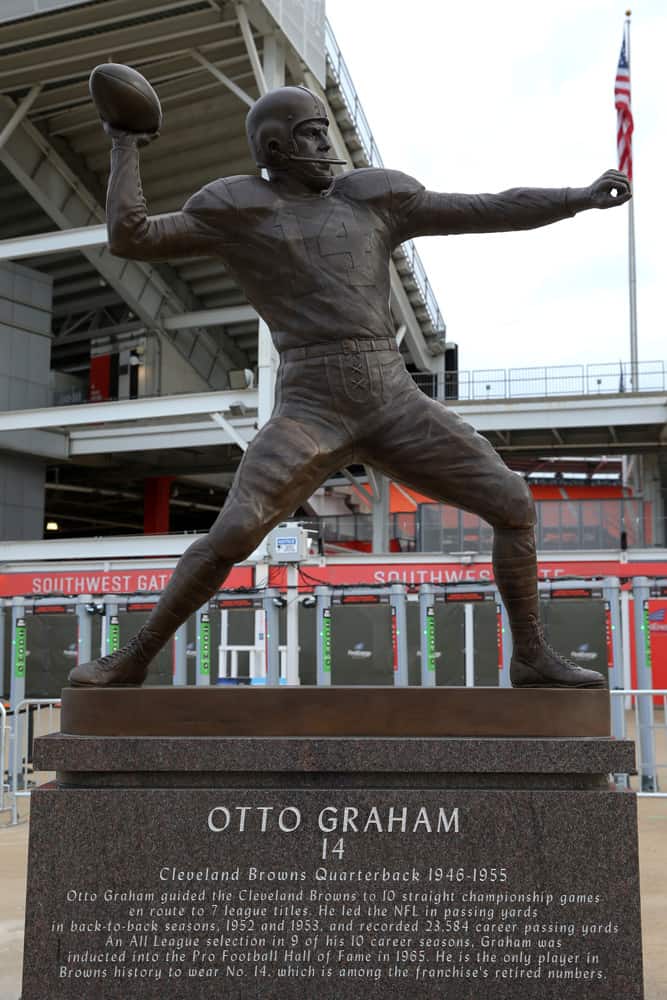 As exciting as expansion can be in pro sports, it is usually a period of growing pains for the team itself.
"Gifted" with cast-offs from other organizations and forced to try and build through the draft, many expansion teams take years to develop a core group.
Case in point, the 1999 Cleveland Browns returned after a three year absence from the league.
It took the Browns until their fourth season in 2002 to reach the postseason.
Then, as all Cleveland fans are well aware, it was 18 years before the team returned to the postseason.
Contrast that group of players to the first Browns team in 1946.
As the old school All-American Football Conference was getting set to kick off, head coach Paul Brown had already been busy assembling a team for the ages.
The leader of the team was unquestionably quarterback Otto Graham.
Today is Otto Graham's birthday, the greatest QB of all time

– Served in WWII
– Never missed a game as a pro
– 105-17-4 record
– Took the Browns to the title game every season he played 1946 to 1955
– Won 7 championships
– Also won a National Basketball League championship

— Michael Killi (@MikeKilli) December 6, 2020
The world of pro football was smaller then and Brown was familiar with Graham.
He tabbed the signal caller to run his team and Graham did so with aplomb.
Over the course of ten seasons, Graham led Cleveland to league championships every year, winning four AAFC titles and three NFL championships.
He was the standard bearer for every Browns quarterback that came after him.
Though many tried, no other Cleveland quarterback came close to matching Graham's achievements.
This is the story of the life and career of Otto Graham.

Talented From the Start
Otto Everett Graham Jr. was born on December 6, 1921 in Waukegan, Illinois.
It is common knowledge that he set a state record just by being born.
At delivery, Graham weighed 14 pounds, 12 ounces.
His parents were both music teachers which meant that Graham was invested in music almost immediately.
By the time he was in high school, Graham was already skilled at piano, violin, and cornet.
Once he reached high school, Graham focused on the French horn.  He was skilled enough in the instrument that Graham was the Illinois state champion.
Graham also played in a brass sextet that won a national championship.
Of course, Graham was rather fond of sports and played both basketball and football at Waukegan High School.
In 1938, he was selected as a member of the All-state basketball and football squads.
During a game against mighty Dundee High School, Graham scored 20 points.
His play helped defeat a Dundee squad that had not lost in three years.
On the gridiron, Graham played tailback and kicked the ball as well.
Not only was Graham a terrific musician and athlete, he could more than hold his own in the classroom.
Graduating early from high school, he had his pick between nearby Northwestern University and Dartmouth.
Graham chose to play close to home and took a full basketball scholarship opportunity with Northwestern.

Star in Several Sports at Northwestern
Graham arrived at Northwestern and immediately shined on the basketball court.
He played on the varsity team as a freshman and eventually became a team captain.
Graham acquired a nickname, "Automatic Otto,"  for his shooting ability.
Between the 1941-1944 seasons, Graham was the second leading scorer in the Big Ten and was named an All-American after his junior and senior years.
Additionally, Graham was named the team's MVP for his exploits as a senior.
Did you know that Otto Graham is the only College 🏈 Hall of Fame inductee to win a professional 🏀 championship title (with the Rochester Royals) and a professional 🏈 championship title (with the @Browns) in the same year – 1946? 🏆#NationalChampionship #ImARealFan pic.twitter.com/NGxIRAYFM8

— College Football Hall of Fame (@cfbhall) April 8, 2019
Selected as a college basketball All-Star, Graham's squad faced the defending National Basketball League champion Washington Bears.
The Wildcats and Graham played well and took down the Bears in an exhibition upset.
"That boy can shoot from east, west, north or south," legendary Indiana head coach Branch McCracken said of Graham. "No angle is difficult for him, and he's really terrific."
During his time in Evanston, Graham also found time to play baseball for two seasons.
Playing as a center fielder, Graham went 3 of 4 with a two RBI double in his first game against the University of Chicago.
Over the course of those two years, he posted the third highest batting average (.300) on the team.
As crazy as it seems now, Graham's only football outlet after arriving at Northwestern was as a member of his fraternity's intramural team.
However, Graham's ability to throw the pigskin eventually got the attention of Wildcats head coach Lynn "Pappy" Waldorf.
Waldorf decided to check Graham out for himself during an intramural game and was so impressed that he offered Graham an opportunity to try out for the team.
This invitation proved fortuitous as Graham tore up the varsity defense during spring practice by running for three touchdowns and throwing for three more scores.
After sitting out the following football season due to knee surgery, Graham took over play calling duties for Northwestern.
On October 4, 1942, Graham played his first game for the Wildcats and promptly returned a Kansas State punt for 90 yards and a touchdown.
That day, he would also run and pass for two more scores on the way to a dominating 51-3 victory.
Later that season, in front of nearly 72,000 screaming Buckeye fans, Graham threw two touchdown passes and helped the Wildcats take down Ohio State 14-7.
The loss turned out to be the only one of the year for OSU and head coach Paul Brown.
After his first loss in 37 games, Brown took notice of the young quarterback.
Otto Graham at Northwestern #GoCats #Doesntlookgoodrightnow pic.twitter.com/XFZWDNbiBH

— Paul Kelly (@pau1ke11y) October 10, 2015
Completing all but nine passes for 295 yards, the Wildcats narrowly lost to the University of Michigan in '41.
Graham accounted for 27 of 41 points in a blanking of Wisconsin later in the year.
Over the next two years, Graham would break all Big Ten passing records including eclipsing Tom Harmon's Big Ten career and Angelo Bertelli's season passing marks.
He would also defeat Brown's Ohio State squad for a second time.
During a College All-Star game against the Washington Redskins, Graham intercepted Washington star Sammy Baugh and returned the ball 97 yards for a touchdown.
After the 1943 season, Graham finished third in the Heisman Trophy balloting.  He was, however, named the Big Ten's football and basketball MVP.
As a Wildcat quarterback, Graham was a two time All-American.
He was one of a select few that have been an All-American in two sports during the same year.

Service in the Navy
Not long after Graham finished his collegiate career, he enrolled in the U.S. Navy's V-5 carrier program.
He became a commissioned officer and ended up serving two years.
Thankfully, entering the service didn't mean giving up sports.
In fact, Graham played service ball under a young coach named Paul "Bear" Bryant.
At the time, Bryant served as the Navy assistant coach for the North Carolina Pre-Flight Cloudbusters.
We honor HOFer Otto Graham who served in the military during World War II.

This month, we salute veterans & active military members who have protected our country by offering free admission to visit the Hall.

Football greats who have served: https://t.co/YXtRe6ninC pic.twitter.com/ja15pwuFwj

— Pro Football Hall of Fame (@ProFootballHOF) November 12, 2020
Graham played well under Bryant's watch and was named a 1944-45 service All-American.
As the war was winding down, Brown, who was forming a new team in the AAFC (and who never forgot how Graham beat him twice in college), paid him a visit.
"I was getting a naval cadet's pay in World War II when Brown came out to the station and offered me a two-year contract at $7,500 per," Graham said. "He also offered me a $1,000 bonus and $250 a month for the duration of the war. All I asked was, 'Where do I sign?' Old Navy men say I rooted for the war to last forever."
Not only was Brown interested in Graham but so were the Detroit Lions, who drafted him in 1944.
Instead of heading to Detroit when his service ended, Graham married his girlfriend from Northwestern, Beverly Collinge, and chose to play for Brown.
However, he took a small detour first to play professional basketball.

Member of the Rochester Royals
Still having the itch to play basketball, Graham was signed by the Rochester Royals of the National Basketball League (the forerunner of the NBA).
During the 1945-46 season, Graham was mostly a role player, coming off the bench to provide the occasional bucket and defensive stops.
The Rochester Royals, 1946 National Basketball League champs. That's Red Holzman, 2nd from the left in the front row, with his arm around Otto Graham. #Browns #Knicks pic.twitter.com/j5OvPNJgBN

— Dan Daly (@dandalyonsports) February 28, 2021
Along with such teammates as Red Holzman, Kevin Connor, Al Cervi, and Tom Rich, the Royals went 24-10, good for second place in the NBL Eastern Division.
During the season, Graham averaged 5.2 points per game and scored 165 total points during the regular season.
In Rochester's sweep of the best-of-five NBL Championship series against the Sheboygan (Wisconsin) Red Skins, Graham scored six total points.
After the Royals' season ended, Graham retired from pro basketball so he could devote his time to Brown and the upstart Cleveland team.

Immediate Success in Cleveland
The All American Football Conference was the brainchild of Chicago Tribune sports editor Ach Ward.
In 1944, Ward assembled a group of wealthy men and pitched the idea of a competitive league to rival the NFL.
Many of the men had been turned down as owners of NFL clubs and were only too happy to get a chance to stick it to the venerable league.
One of the men who received an AAFC franchise was Arthur "Mickey" McBride.
McBride, in turn, hired Brown to be his head coach.
The decision to hire Brown, especially for a team based in Cleveland, was a no-brainer.
Brown had proved himself as a head coach at Massillon High School, Ohio State, and the Great Lakes Naval Station.
Bringing in a favorite son to lead a team in Ohio would prove beneficial to the AAFC and, later, the NFL.
During the nearly two year period before the AAFC began play, Brown began assembling his new team.
A number of the players he approached had either played against Brown (Mac Speedie and Graham) or with Brown (Marion Motley, Dante Lavelli, Lou Groza, and Bill Willis) when he coached in college or the service academy.
75 years ago today @Browns were founded by Arthur "Mickey" McBride. Recruiting names like Otto Graham, Dante Lavelli, Lou "the Toe" Groza, and Coach Paul Brown from @OhioStateFB McBride formed the most successful team in modern #CLE sports history winning 5 championships in a row pic.twitter.com/aapJOoGN8i

— Chris Ronayne (@chrisronayne) April 20, 2020
The newly named Browns were a force to be reckoned with right out of the gate in 1946.
After winning their first seven games to begin the season (allowing only 34 points during that time), the Browns lost their next two against the San Francisco 49ers and Los Angeles Dons.  Cleveland would not lose again and defeated the New York (football) Yankees 14-9 in the inaugural AAFC Championship game.
That season, Graham passed for 1,834 yards, 17 touchdowns and five interceptions.
With the win over New York, he also had the distinction of being the first professional athlete to win two championships in two professional sports.
Brown was so impressed by Graham's play in 1946 that he tore up his original contract with the quarterback and upped his salary to $12,000 per year.
Before there was Joe Montana or Tom Brady, there was Otto Graham. #Browns pic.twitter.com/ZnVmTHHntB

— Daryl Ruiter (@RuiterWrongFAN) September 7, 2019
1947-1949
The next three years would be more of the same for Graham, Brown, and the franchise.
In 1947, the team would finish 12-1-1 and again defeat the Yankees in the AAFC title game 14-3.
Graham threw for 2,753 yards, 25 touchdowns, and 11 picks and was named the league's Most Valuable Player and a First-team All-AAFC selection.
In 1948, Cleveland had a perfect 14-0 season (one of only a handful of teams in pro football history to go undefeated) and culminated in a 49-7 beat down of the Buffalo Bills in the championship game.
Graham was again awarded the AAFC MVP as well as named a First-team All-AAFC player.
The 1949 squad took down the Bills and the 49ers, respectively, in the AAFC playoffs and title game after a 9-1-2 regular season.
Graham was a First-team All-AAFC member after passing for 2,713 yards, 25 touchdowns, and 15 interceptions.
"Otto was my greatest player," Brown said many years later. "He had the finest peripheral vision I had ever seen, and that is a big factor in a quarterback. He was a tremendous playmaker. He had unusual eye-and-hand coordination, and he was bigger and faster than you thought."

"What I loved was that we were a passing team in an era of the run," Graham recalled about his time with the Browns. "I could throw hard if I had to, I could lay it up, I could drill the sideline pass. God-given ability. The rest was practice, practice, practice."
Cleveland receivers such as Lavelli loved Graham's ability to place just the right amount of touch on the ball.
"I used to catch a lot of them one-handed", Lavelli said. "He had great touch in his hands."
Move to the NFL and Another Championship in 1950
The Browns winning streak wasn't exactly the best thing for the AAFC.
With a four year record of 52-4-3, they did not have much competition.
By the end of the 1949 season, the league was looking at shutting down permanently.
Before closing up shop for good, the league's main competitor, the NFL, scooped up the Browns, 49ers, and the Baltimore Colts.
In an effort to teach the Browns a lesson about better competition, then NFL commissioner Bert Bell pitted Cleveland against the two-time league champion Philadelphia Eagles in their first game of the 1950 season.
A loss against the Eagles would surely show the Browns that they were in over their heads as members of the much superior NFL.
Instead, Bell's plan greatly backfired.
"When we went into that game, I can assure you that no team in the entire history of the sport was as well prepared mentally as we were," Graham said in an interview after his retirement.
Cleveland (and Graham's) preparation was evident on his very first pass of the game, a 59 yard touchdown pass to Dub Jones.
By the end of the contest, Graham had passed for 346 yards and two more scores on the way to a 35-10 shellacking of the defending champs.
The win meant a lot to Graham who saw it as the highlight of his career despite the bounty of championships he won.
"It was the highlight of my whole career," he commented in retirement.
The victory in Philly was the first of 10 wins and two losses for the Browns that year.  In the Conference Playoffs against the Giants, Cleveland narrowly escaped with an 8-3 win.
The team then faced the LA Rams for the NFL Championship.
Otto Graham 🐐
Vintage #Browns pic.twitter.com/l7ZFy78bfZ

— Vintage Browns (@VintageBrowns) November 9, 2019
During the game, Graham tossed four touchdown passes for 298 yards and rushed for 99 yards.
He also fumbled the ball late in the game and believed he had cost Cleveland the title.
Thankfully, the Browns got the ball back with 1:48 remaining and Graham drove the team downfield.
With 20 seconds remaining, Groza won the game 30-28 after making a 16 yard field goal.
The win was Cleveland's fifth championship in as many years.
Graham was voted to his first Pro Bowl after the season on the strength of his 1,943 passing yards, 14 touchdown passes, and team championship.

1951-1953
The following season, the Browns were even better than their inaugural season.
The team finished 11-1 but lost a close game in the championship to the Rams 24-17.
Graham passed for 2,205 yards, 17 touchdowns, and 16 picks and was named the NFL's MVP along with a First-team All-Pro nod and another trip to the Pro Bowl.
In 1952, the team went 8-4, the most losses in team history in a single season to that point.
Despite the setbacks, Graham led the Browns with a career best 2,816 yards (which led the league that year) along with 20 touchdowns (which also led the league).
Fitting for their record, he also had a career worst in interceptions with 24.
During a Week 2 game against Pittsburgh, Graham passed for 401 yards and three touchdowns.
It would be the only game in his career where Graham threw for over 400 yards.
The Browns got back to the title game and lost for the second year in a row, this time to the Detroit Lions 17-7.
Graham was a Second-team All-Pro after the season and named to his third straight Pro Bowl.
Unfortunately, during the week of Pro Bowl practice, Graham's six month old son, Stephen, died after battling a severe cold.
Graham bounced back from the devastating loss to have another stellar season in 1953.
That year, Cleveland put together an 11-1 record and Graham was the NFL's MVP for the second time after throwing for 2,722 yards (which led the league for the second year in a row), 11 touchdowns, and nine interceptions.
His quarterback rating of 99.7 led the NFL and he was voted to a fourth Pro Bowl along with being a First-team All-Pro selection.
It was during the '53 season that Graham was responsible for an unintentional, permanent addition to the pro game.
During a Week 8 victory against the 49ers, San Francisco linebacker Art Michalik delivered a forearm to Graham's chin that required 15 stitches to close.
Otto Graham. How many roughing the passer flags you think he got that day? Just kidding, you already know. pic.twitter.com/6715WWvjkl

— Super 70s Sports (@Super70sSports) December 24, 2020
While being put back together in the locker room, Graham had the team's equipment manager cobble together a makeshift plexiglass face shield that covered the lower part of his face.
The temporary face mask ended up becoming part of the league's standard equipment.
Graham continued to play the game once his stitches were set and defended Michalik after the contest.
"I don't think he [Michalik] did it on purpose. Anything can happen in a game like that," said Graham.
For his part, Michalik wished Graham a speedy recovery.
"I made a dive for Graham and hit him with my elbow.  I hope he's all right. I certainly didn't mean to hurt him," Michalik said.
Cleveland returned to the title game and lost again to the Lions 17-16.
Losing three championship games in as many years took a toll on Graham.
"Emotionally, I was so far down in the dumps those three years," he said. "I was the quarterback. I was the leader. It was all my fault."
Return to Glory in 1954 and 1955
By the time the 1954 season arrived, a number of the original Browns from the 1946 team were retiring or close to retiring.
Graham felt the pull as well and told Cleveland management that he would call it a career after the season.
The Browns put together a 9-3 record with Graham accounting for 2,092 yards, 11 touchdowns, and 17 picks.
For the ninth year in a row, Cleveland was playing for a championship when they met the Lions, their opponent in the previous two championship games.
During the game, Graham had a performance for the ages when he ran for three touchdowns and passed for three more.
The result was a convincing 56-10 pounding of their nemesis.
HOFer Otto Graham looks around on the sidelines during 1955 Browns-Giants game.#NFL #Browns  #NYGiants #Cleveland #NYC #1950s pic.twitter.com/mQKFkaiCoC

— Tom's Old Days (@sigg20) December 30, 2017
Graham was named to the Pro Bowl squad and was a First-team All-Pro for the year.
After the Lions victory, he announced his retirement from the game.
However, Graham's quarterback replacements did not appeal to Brown and he coaxed Graham to return for the 1955 season.
In an effort to entice him to come back, Brown made Graham the highest paid player in the NFL with a $25,000 salary.
Graham returned, but it wasn't because of the money.
"I'd have played for the fun of it, and a lot of guys felt that way then," said Graham.
In 1955, the Browns were the class of the NFL and Graham played well enough to be named the league MVP for the third time.  With Graham throwing for 1,721 yards, 15 scores, eight interceptions, and a league leading passer rating of 94.0, Cleveland went 9-2-1 and met the Rams in the Championship game.  During the game, Graham threw for two touchdown passes and ran for two more on the way to a resounding 38-14 win.  When Brown pulled him out of the game during the 4th quarter, the crowd at the LA Coliseum gave Graham a standing ovation.
Graham announced his retirement from pro football after the Rams game.
He was named First-team All-Pro for the fourth time and he also received the Hickok Belt for the best professional athlete of the year.
In ten years as Cleveland's signal caller, Graham only lost 17 regular season games and did not miss a contest due to injury.
His teams appeared in ten straight title games, losing only three.
"Old Days"Otto Graham,One of the NFL's first superstar QBs,scores in a 1955 Browns-Rams game.#Cleveland #Browns #Rams #LosAngeles #1950s #NFL pic.twitter.com/cAK7Q0t84a

— Tom's Old Days (@sigg20) September 4, 2019
During his career, Graham threw for 174 touchdowns, 23,584 passing yards, and completed 55.8 percent of his passes.
Until the 1980's, he remained the top-rated professional passer of all time.
In games he quarterbacked, the Browns won 114 games, lost 20, and tied four.
At only 33 years of age, and given his elite level of play in 1955, Graham could have played several more years.
However, he sounded like a man ready to move on once he announced his retirement and he stated his admiration for Brown.
"Paul Brown was just light years ahead of everybody," Graham told reporters. "I'm grateful I got to play under him. I learned a lot about football, about organization, about life. There were times when I hated his guts. I could have killed him. Other times I felt something close to love."
Brown also appreciated Graham's contributions to Cleveland and pro football.
"The test of a quarterback is where his team finishes," said Brown. "By that standard, Otto Graham was the best of all time."
Second Career as a Coach and Athletic Director
Even in retirement, Graham could not stay away from the game he had played since his youth.
Beginning in 1958, he coached the College All-Star squad in their annual game against the pros through 1965.
During that time, Graham's squad defeated the Detroit Lions in his first year as coach and then defeated the Packers in the 1963 game.
Dick Butkus, Otto Graham, and Roger Staubach before the 1965 College All-Star Game. pic.twitter.com/yeiLxall3m

— Kevin Gallagher (@KevG163) December 6, 2020
While moonlighting as the All-Star coach, Graham was also hired by the Coast Guard Academy as their head football coach and athletic director.
He was offered the job on the recommendation of his good friend (and future Yankees owner) George Steinbrenner.
Only a few years later, Graham led the Bears to an undefeated season in 1963.
After the season ended, the team played in the Tangerine Bowl where they lost to Western Kentucky.
As he was embarking on his coaching career, Graham found himself imitating and emulating his former coach in Cleveland.
"I found myself doing and saying the same things that used to make me so mad at him," Graham remarked about Paul Brown.
In 1965, Graham was elected to the Pro Football Hall of Fame in his first year of eligibility.
Graham's HoF bio reads, "Pro football is no game for weaklings-everyone knows that. The men are rugged, they play hard, but they play clean.  When men get into big time football, they're good enough not to have to play dirty.  We love the game and we believe football competition, as well as any sports competition, makes high types of men."
While working at the Coast Guard, Graham turned down numerous offers from the pros and college ranks to be a head coach.
At one point, he remarked that he was content to coach the Bears on his $9,000 salary and deplored the pro game's "win at all costs philosophy."
However, in 1966, Washington owner Edward Bennett Williams offered Graham the opportunity to become the head coach and general manager of the Redskins.
At the time, Washington had a decent core of players including quarterback Sonny Jurgensen, receivers Charley Taylor and Bobby Mitchell, and linebacker Sam Huff.
The offense, especially Jurgensen, played well.  However, the Redskins lacked a decent running game and the defense was inconsistent.
Over the course of three years (1966-1968), Graham's teams went 17-22-3 and their highest season win total was seven.
With calls for his job making the front page of the local paper in 1968, Graham was dismissed after his third season.
He was replaced by former Packers legend Vince Lombardi.
"He said he was not cut out to coach professional football, but he did it for [Redskins owner] Edward Bennett Williams," said Jurgensen.
Return to the Coast Guard
Graham was not out of sports long.  In 1970, he was the coach of the College All-Stars for the tenth and final time.
He also returned to the Coast Guard to be their coach and athletic director.
In 1976, Graham stepped down as coach to focus on his AD duties.
Otto Graham also became a captain and a commander in the U.S. Coast Guard and served as a head coach for both the Coast Guard Academy and the Washington Redskins. Otto Graham born December 6, 1921 in Evanston, #Illinois. #Midwest pic.twitter.com/R6wDCYipV5

— Patrick Kerin (@PatrickKerin1) December 6, 2017
One year later, Graham was nearly brought down by the toughest foe he ever faced, colon cancer.
However, he eventually overcame the disease and was widely revered for his willingness to attack the cancer and defeat it, even after a portion of his colon and rectum were removed.
"He picked apart a zone defense few people can penetrate — cancer. It's a pass rush that won't let you stay in the pocket, the ultimate blitz. Graham handled this adversary as coolly as he did the 1950 Rams. It was the old quarterback's finest hour," said LA Times journalist Jim Murray.
In 1985, Graham retired from the Coast Guard Academy.  He then became a spokesman in the fight against colon cancer.
The NFL named Graham to their 75th Anniversary All-Time Team in 1994.
He was also added to the NFL's 1950s All-Decade Team, enshrined in the Browns Ring of Honor, and had his Cleveland number 14 retired by the team.
Graham spent the next decade or so on the golf course or the tennis court.  At the age of 82, Graham passed away on December 17, 2003 from a heart aneurysm.
After his passing, Graham was praised for his character, career as a player, and ability to lead.
"He was as great of a quarterback as there ever was," said Steinbrenner, who grew up in Cleveland. "He was a god in Cleveland."

"Otto Graham was the superstar of the 1950s, when the NFL was gaining stability and growing in popularity," former NFL commissioner Paul Tagliabue said. "He helped glamorize the sport by winning championships and elevating the role of quarterback as the NFL entered the television era.  He also played a major role in building the tradition of the Cleveland Browns."
Although it might be surprising for pro football aficionados and Browns fans to believe, Graham actually would have preferred pursuing a different passion than football, something he revealed only a few years before his passing.
"I would trade every trophy, every honor I've ever had, to have just continued playing the piano."