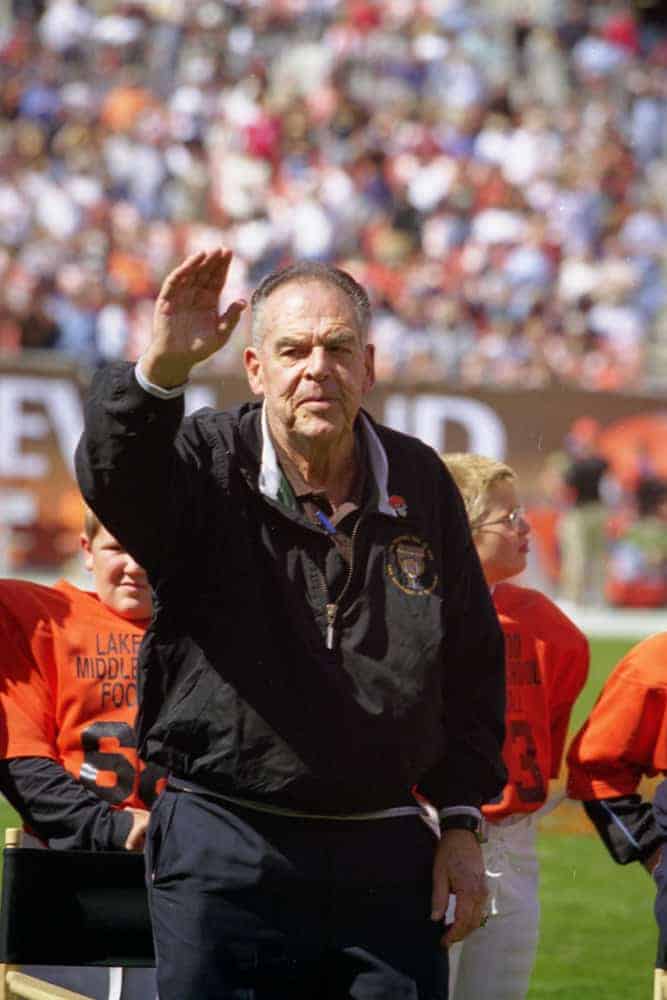 Otto Graham Profile
When it comes to Cleveland Brown quarterbacks, none of quite the legend of Otto Graham at his finest.
This quarterback had almost unprecedented success and remains an essential reminder of the power of pairing a good coach with the right quarterback.
Otto's Early Life
Otto Graham was the first player signed by Paul Brown when the Cleveland Browns joined the All-American Football Conference.
Such a career move probably seemed like a strange element to Graham.
Before attending Northwestern, Graham was a basketball phenomenon but, history intervened, as it often does, and Graham was discovered playing intra-mural football during his first year at the school.
Graham's throwing skill, combined with his presence and leadership, impressed the college team.
As a result, he found himself on the football team instead of the basketball squad.
Here, he headed up a pretty impressive squad that beat Paul Brown's remarkable Ohio State team.
After that game, Brown earmarked Otto as a talent to watch and snagged him at the first chance.
Brown got to work helping Graham master his unique T formation style, which Otto had never played.
However, Brown believed in Graham's ability to adapt to the formation and that his ball-handling and professionalism would help him succeed.
Graham's Browns Years
Otto Graham slotted into the T formation as if he had been playing it his whole life.
As a result, he and the powerhouse Browns won four straight AAFC championships.
Throughout this period, Graham amassed a 52-4-3 record.
The untimely demise of the AAFC as a league is directly attributed to this dominance: fans stopped coming to games only to see the Browns destroy their team.
However, the Browns had impressed the nascent NFL well enough to invite them and two other teams to join the league.
Spectators believed that Otto Graham and the Browns would be laughed out of the league.
However, Graham won his first NFL game against the defending champions, the Philadelphia Eagles, and helped the team to a 30-28 squeaker win in the NFL championship: the first of the team's career and the first for a former AAFC team.
Graham threw four touchdown passes in a game that few believed was possible.
However, the Detroit Lions knocked them out of the championship games in 52 and 53.
However, Graham and the Browns got their revenge by demolishing the Lions 56-10 in the 1954 title game.
Otto was a big part of that success – he threw three touchdowns and ran for three more.
The next year – in his final NFL game – he passed for two touchdowns and scrambled for two more in a 38-14 victory over the Los Angels Rams.
For his efforts, he was named first-team all-league quarterback – he won this award nine out of 10 seasons.
Later Life
Otto Graham's post-Brown's career was a storied one.
He was the Athletic Director and football coach for the United States Coast Guard Academy in New London.
Under his leadership, the team went undefeated until their appearance in the Orange Bowl.
For two years in 66-68, Graham was the head coach of the Washington Redskins.
And while he was affected by rectal cancer in 77, he retained a strong spirit that helped him beat the disease.
As a result, he was named the honorary chairman of the National Cancer Society in the same year by President Jimmy Carter.
And Graham was a goodwill ambassador and athletic director of the Coast Guard Academy until he finally retired at 85.
Career Stats
Otto Graham's career statistics with the Browns are legendary and put him in a top league with other quarterbacks in football history.
For example, his record of 57-13-1 is one of the finest in league history and remains a cornerstone of many quarterbacks.
Otto was also known as an Iron Man who played and finished every game in which he started.
As a passer, Graham was an accurate and skilled hurler who was capable of hitting his target most of the time.
He finished his career with a 55.8 career completion rating, having hit 1,464 times in 2,626 attempts.
His career-high ranking came in 1953 with 64.7 percent. In only one year (1952) did he fall below 50 percent and then just barely (49.2 percent).
And he threw for an impressive 174 touchdowns, which averages out to about 17 every year or more than one per game.
He threw for a career-high 25 in 1947 and 1948 in an era when passing wasn't attempted as often.
And Otto was also a skilled runner, averaging just over nine yards per rush with a career-high run of 99 yards.