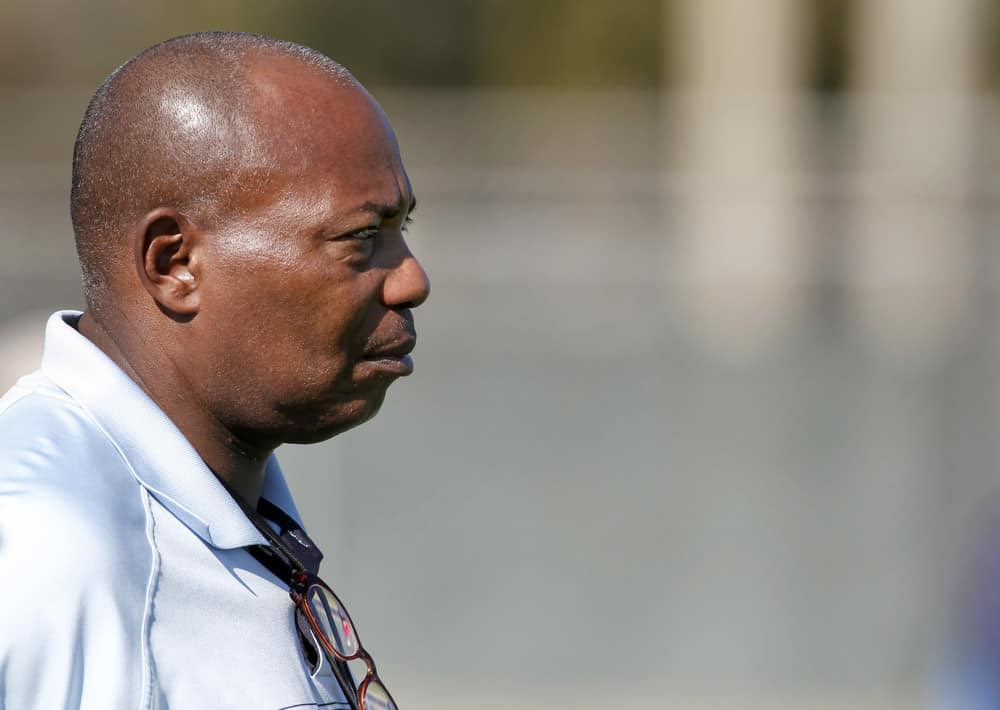 Despite their current slump, the Cleveland Browns are a storied NFL franchise.
After 70 plus years of their existence, the Browns have 17 former players enshrined in the Pro Football Hall of Fame.
That number is good for the sixth most enshrinees in the league.
One of those members is former tight end Ozzie Newsome.
Two @browns legends, my dad and Ozzie Newsome, both of whom were drafted in the 1st Round of the 1978 NFL Draft: my dad (12th pick) & Ozzie (23rd pick). Ozzie was inducted into the @ProFootballHOF in 1999. Now, it's time for #57 to join him in Canton.#ClayMatthewsHOF pic.twitter.com/n2bJhijkE2

— Jennifer Matthews (@JennMatthews57) August 15, 2019

"The Wizard of Oz" spent 13 years as a player for the team and was responsible for many memorable moments during his career.
Even more impressive, while many former players retire to a relatively obscure life, Newsome remained in the public eye for nearly three more decades.
His eye for talent as an executive, first for the Browns and then Baltimore Ravens, led to multiple championships for the Ravens.
This is the story of the remarkable playing career and life of Ozzie Newsome.

Growing up in Alabama
It's fitting that a future pro football player was born in a town named "muscle."
Specifically, Ozzie Newsome was born in Muscle Shoals, Alabama on March 16, 1956.
Growing up in Alabama (or anywhere in the American South) in the 1950s and 60s was a tall order for African-Americans.
When he was young, Newsome heard about four girls who were killed in an explosion while at their church in Birmingham, Alabama.
The act of terror was racially motivated and was only one of a number of crimes against African-Americans at the time.
Before he was 10, more attacks against people of color took place in Selma, Alabama on the infamous Edmund Pettus Bridge.
So, it was surprising when Newsome asked his parents if he could take a bus to an elementary school that was mainly attended by white students.
Befitting his nature, Newsome didn't have any concerns about putting himself into such a racially charged atmosphere.
"I knew I was going to have to compete with them (white students) academically and athletically eventually," Newsome said in a 2018 interview, "so I wanted to start."
Though he did experience moments of fear as well as hatred from classmates and townspeople, Newsome did not let the behavior of others influence his direction in life.
"I couldn't fight every day," said Newsome during the 2018 interview. "I had to learn to bite my tongue.  My parents had it much worse than I did. I was seeing progress."
Newsome continued to lead by example as a multi-sport athlete at Colbert County High School in Leighton, Alabama.
While in high school, Newsome helped the Indians football team to an undefeated record and state title in 1972.
That same year, he was a key member of the school's basketball team that won the Alabama 3A title.
In 1973, Newsome was named All-State for basketball and played in the 1974 North-South All-Star basketball game.
Newsome also played catcher for the Colbert County baseball team that reached the state finals in 1973 and the semifinals in 1974.
By the time he was finishing his senior year, Newsome had been named All-America and All-State as a receiver for the Indians football team.
Decades later, his outstanding achievements at Colbert County led to his induction in the National High School Hall of Fame.
"This is an honor I will always cherish," Newsome said at the time.  "I have been so fortunate to have so many strong influences in my life, especially my coaches and teachers.  My friends in high school have been my friends for life."
Next up for Newsome, a decision of whether to attend The University of Alabama or Auburn University.

The "Bear" Influences Newsome's Life
Initially, Newsome toyed with the idea of heading to Auburn.
His high school quarterback chose the school when he graduated a year before Newsome.
The thought of reconnecting with his former QB intrigued Newsome.
However, the prospect of winning national championships at Alabama led to his decision to become a member of the Crimson Tide.
While a student-athlete at Alabama, Newsome was coached by the legendary Paul "Bear" Bryant.
Bryant was known to push his players hard, but he also taught them valuable life lessons.
"Martin Luther King Jr. preached equality. Coach Bryant practiced it." — Ozzie Newsome

Crimson Tide Roll Call:https://t.co/BVgNLgP1Y1 pic.twitter.com/DwrSClfmy8

— Bama Central (@BamaCentral) June 3, 2020
For Newsome, Bryant's constant exhortations to improve daily as a player and a man was influential.
"He gave me the principles that shaped the rest of my life," said Newsome in 2018.
That influence led to Newsome becoming one of the greatest athletes ever to play for the Tide.
As a freshman in 1974, he was the team's leading receiver with 20 receptions for 374 yards and an 18.7 yards per reception average.
That year, Alabama went 11-0 and faced Notre Dame in the Orange Bowl.
Unfortunately, the ninth-ranked Irish upset the second-ranked Tide 13-11.
In 1975, Alabama ended the year 10-1 and ranked third in the country.
As part of the program's Wishbone offense, Newsome gathered 21 catches for 363 yards and five scores.
After the season, the Tide faced off against number eight Penn State in the Sugar Bowl.
For most of the game, the score was tied 3-3.
Late in the game, Alabama quarterback Richard Todd completed a 55-yard heave to Newsome.
That set up the eventual game-winning touchdown run by Tide running back Mike Stock.
Alabama broke a Bryant bowl game losing streak with a 13-6 victory.
The 1976 season was considered a disappointment for Alabama.
The Tide finished 9-3 and thoroughly pounded UCLA 36-6 in the Liberty Bowl.
For his part, Newsome had 25 receptions, 529 yards receiving, and six touchdowns during the year.
He also added two rushing attempts for 15 yards.
By the time 1977 arrived, Newsome had earned the nickname "The Wizard of Oz."
Alabama Legend, Ozzie Newsome will be on @TheGameWDGM at 5pm #Bama #RollTide #Ravens pic.twitter.com/ty075ED07G

— The Game Ryan Fowler (@TheGAMEon1009) June 12, 2014
As a senior, he was voted team captain and he had arguably his best season with 36 catches for 804 yards (22 yards per reception) and four scores.
Newsome received All-America honors after the season.
In 1977, the Tide wrapped up a 10-1 season with a trip to the Sugar Bowl to face number nine Ohio State.
Alabama crushed the Buckeyes 35-6.
Although the Tide was ranked number three before the game, Notre Dame defeated top ranked Texas and the Irish were awarded with the National Championship.
Newsome's dream of winning multiple championships (or even one championship) at Alabama failed to materialize.
During his four year college career, Newsome never missed a game.
He ended his time at Alabama with 102 total receptions, 2,070 yards, and 16 touchdowns.
His mark of 20.3 yards per catch was a program record that stood for over two decades.
Perhaps the best accolade Newsome received at the end of his time in college was from Bryant himself.
The Bear told the media that Newsome was, "…the greatest end in Alabama history, and that includes Don Hutson.  A total team player, fine blocker, outstanding leader, great receiver with concentration, speed, hands."

Ozzie Newsome saw through the fraud https://t.co/hGYR0CTqBR pic.twitter.com/Rg2tz6VSSh

— BamaOnLine (@BamaOnLine247) February 2, 2018
Years after being inducted into the College Football Hall of Fame, Newsome remembered his Alabama days with great fondness.
Responding to repeated requests that he return to the university in some capacity, Newsome said, "People keep talking about me being the AD.
If there's the opportunity to come back maybe to be the janitor at the University of Alabama, hey, I'll take that."

Newsome Becomes a Brown
As NFL teams prepared for the upcoming 1978 draft, Newsome was at the top of the list of possible first round picks.
He didn't wait long to hear his name called.
With the 23rd pick of the first round, the Browns selected Newsome.
That draft also produced Cleveland's number 12 pick, USC linebacker Clay Matthews.
The two would be teammates for parts of three decades.
One of the best tight ends to ever play the game, Hall of Famer Ozzie Newsome, on my dad, Clay Matthews.#ClayMatthewsHOF pic.twitter.com/7ntWkjSZXm

— Jennifer Matthews (@JennMatthews57) December 18, 2019
After Newsome was drafted, new Browns head coach Sam Rutigliano converted him to tight end.
According to the Cleveland Browns website, Rutigliano was already familiar with Newsome by the time he was drafted.
Before being hired by Cleveland, Rutigliano was the offensive coordinator for the Saints.
He had scouted the SEC and saw a number of Alabama games featuring Newsome.
Without hesitation, Rutigliano pulled the trigger to grab him in the '78 Draft.
As it turns out, Rutigliano's idea to move Newsome to tight end was a forerunner for today's game.
Up until Newsome's arrival, the NFL didn't see a lot of tight ends stretch the field vertically.
When he arrived in Cleveland, Rutigliano asked Newsome to gain another 20 pounds.
This would help Newsome survive the pounding he would receive as an occasional blocker.
Rutigliano was prophetic in his vision for Newsome.
His 6-2, 240-pound frame challenged defenders immediately.
During his rookie 1978 season, Newsome started all 16 games.
He was named Offensive Player of the Year after grabbing 38 receptions for 589 yards and two TDs.
Newsome also put fear into the hearts of defenders when he rushed 13 times for 96 yards and two more scores.
However, 1978 would be the only year where Newsome had more than two rushing attempts during a season.

The Kardiac Kids
Newsome arrived in Cleveland at just the right time.
After a significant stretch of playoff absences, the 1979 Browns looked poised as postseason contenders.
During the season, The "Kardiac Kids", led by quarterback Brian Sipe, won a number of games in the final minutes.
After losing their final two games of the season in similar fashion, the team finished 1979 with a 9-7 record.
Because they were third in the AFC Central, the Browns did not make the playoffs.
Newsome was one of the bright spots of the team in '79 when he hauled in 55 receptions for 781 yards and nine scores, earning him a First-Team All-Pro selection.
He continued to excel in 1980 with 51 catches and 594 yards as the Kardiac Kids once again pulled off countless last-second miracles.
This time, the 'Kids' went 11-5 and faced the Raiders in their first postseason game since 1972.
The Divisional Playoff game against Oakland would be a seesaw affair that came down to the final seconds.
Browns kicker Jon Cockroft missed two kicks during the game and had a third one (plus an extra point attempt) blocked.
In the final minutes, the Browns drove down the field and were perched at the Oakland 13 yard line.
Cleveland was only down 14-12, but the team did not want to risk another field goal gaffe by Cockroft.
Rutigliano made the call from the sideline and Sipe relayed, "Red Right, 88."
After taking the snap, Sipe dropped back and spotted Newsome moving from right to left in the end zone.
He let fly, hoping that the reliable tight end would come down with a miracle.
Unfortunately, the ball seemed to hang in the air for an eternity.
By the time it returned to earth, Raiders safety Mike Davis stepped in front of the throw for a game-ending interception.
In 1980, Mike Davis picked off a pass in the endzone with 49 sec left to preserve a playoff win against the Browns. Later the Raider's would win SBXV.🏆 @AK7682 @Angelrdz66 @KSJM_12_72 @AmyTrask @NFLMAVERICK @DinoL1313 #Destiny pic.twitter.com/YxIhY7VmEU

— TOOZ#72 (@denniss9117) June 18, 2020
In 1981, the Kardiac Kids magic fizzled and the team ended the year 5-11.
However, Newsome performed well, snagging 69 passes for 1,002 yards and six touchdowns.
He was also voted to his first of three career Pro Bowls.

The Broncos Get in the Way of a Super Bowl
In 1982, the NFL season was cut short by a players strike.
Despite a 4-5 record, Cleveland went to the playoffs and lost to the Raiders again 27-10.
Newsome collected 49 receptions for 633 yards and three TDs.
Three years later, the Browns returned to the playoffs with an 8-8 record and faced the Dolphins in the Divisional round.
During the 1st quarter, Newsome hauled in a 16-yard pass from quarterback Bernie Kosar to take a 7-3 lead.
However, the Browns eventually lost the game 24-21.
The 1986 season would be a difficult one for the Browns and Newsome.
Although he had 39 catches for 417 yards and three TDs, Newsome played through pain and injuries the entire year.
He was recognized for his contributions to the team after the season when he was given the Ed Block Courage Award for playing through his injuries.
Before he was a GM with the Baltimore Ravens Ozzie Newsome was a Ed Block Courage Award Winner for the Cleveland Browns.
Newsome received the Award from the Browns in 1986 after battling numerous injuries. pic.twitter.com/8nvrAuSNkX

— Ed Block Foundation (@EdBlock) July 9, 2019
Meanwhile, the Browns finished the year with a 12-4 record.
Their 12 wins were the most the team had while a member of the NFL (the team had 12 and 14 win seasons as members of the All American Football Conference from 1946-1949).
After defeating the New York Jets in double overtime in the Divisional round, the Browns faced the Denver Broncos.
With a Super Bowl berth on the line, Denver quarterback John Elway led "The Drive" to take his team 98 yards and tie the game at the end of regulation.
The Broncos would win the game 23-20 in overtime on a Rich Karlis field goal.
In 1987, Newsome's numbers continued to decline, finishing with 34 catches, 375 yards and no touchdowns.
Cleveland returned to the playoffs and again faced the Broncos in the AFC title game.
This time, Browns running back Earnest Byner was stripped of the ball while running for the tying score.
"The Fumble" ended Cleveland's season one game short of the Super Bowl.
Newsome continued to struggle in 1988, hauling in 35 receptions for 343 yards and two scores.
Cleveland returned to the playoffs and met a Houston Oilers offensive juggernaut.
Ozzie Newsome in action against the Oilers at Municipal Stadium pic.twitter.com/7lLayid7yO

— 216 Sports History (@History_Cle) October 15, 2017
The Browns defense stifled the Oilers during the game, but the team ended up on the losing end of the final 24-23 score.
The Browns and Broncos faced each other again in the 1989 AFC Championship game.
For the third time in four years, the Broncos upended the Browns in the title game.
After only mustering 21 points (all in the third quarter) the Browns were humiliated by Denver 37-21.
Newsome completed the season with 29 catches, 324 yards, and one TD.
His final year in the NFL coincided with the beginning of four straight losing seasons for the Browns.
In 1990, Cleveland finished with a disappointing 3-13 record.
Newsome had his worst year as a pro with 23 receptions, 240 yards and two touchdowns.
However, due to his community service work, he was the recipient of the Byron "Whizzer" White Award.
On this date in 1991, Ozzie Newsome won the NFL's Byron "Whizzer" White Humanitarian Award, named in honor of the Supreme Court Justice. Crimson Tide Roll Call: https://t.co/VG5ok2GjOJ pic.twitter.com/JmPxHpqeLw

— Bama Central (@BamaCentral) June 3, 2019
Then, after five consecutive years of declining production, Newsome retired.
In 13 years as a Cleveland Brown, Newsome had 662 catches total for 7,980 yards, and 47 touchdowns.
He was voted to three Pro Bowls, named First-Team All-Pro twice, Second-Team All-Pro four times, and was named to the NFL's 1980s All-Decade team.

Newsome Excels as an NFL Personnel Manager
Newsome didn't stray far from the game after retiring.
He did some coaching for the team initially and then decided to work in personnel.
Newsome prepared for life as an executive during his final years as a player.
During the offseasons, he spent time in the personnel department for East Ohio Gas Company.
"I was an on-campus recruiter," Newsome said of his duties with the gas company. "It was a little bit like scouting in the NFL: You go to a college campus, you set up your interviews, you have 30 minutes to make a determination."
After scouting for the Browns for a few years, Newsome became Director of Pro Personnel under then head coach Bill Belichick.
Unfortunately, the 1995 season would be the last one in Cleveland for three years.
Team owner Art Modell moved the team to Baltimore before the 1996 season and rebranded with the name "Ravens."
Modell then named Newsome his personnel chief after relocating to Baltimore.
After a legendary career as a TE for the Cleveland Browns, Ozzie Newsome went on to become the NFL's first African-American General Manager.#BlackHistoryMonth pic.twitter.com/w9RQl96QPz

— Sunday Night Football (@SNFonNBC) February 24, 2020
Newsome's eye for talent was immediate.
During the 1996 NFL Draft, he used the team's fourth and 26th picks on left tackle Jonathan Ogden and linebacker Ray Lewis, respectively.
The two would become key members of the Ravens future championship teams.
They would also eventually wind up in the Hall of Fame.
That's where Newsome found himself when he was inducted to the Hall's 1999 class.
Fellow teammate and Hall of Famer Ozzie Newsome and Hall of Famer Dan Fouts. pic.twitter.com/1IKYL9vM4W

— Felix Wright (@FelixWright22) August 3, 2018
The induction committee highlighted his career by using a Newsome quote from his playing days.
"I don't like dropping anything. I haven't played this game as long as I have, as well as I have, dropping footballs…I guess I'm a perfectionist."
1999 was also the year Newsome hired former Vikings offensive coordinator Brian Billick to be the Ravens new head coach.
The move paid off quickly.
After the 2000 season, Baltimore beat the New York Giants 34-7 in Super Bowl XXXV.
In the 2002 NFL Draft, Newsome used Baltimore's 24th pick of the first round to grab safety Ed Reed.
The following year, he selected linebacker Terrell Suggs with the 10th pick of the first round.
Reed was voted into the Hall of Fame in 2019 and Suggs was still playing in the NFL in 2019.
"I was proud of it. It really showed who I am. That was me during my career…. I remember [on Draft night Ravens GM] Ozzie [Newsome] looking at me and saying "Oh lord, who are we drafting?" Because my hair was everywhere." – Ed Reed on his HOF bust (@dpshow) pic.twitter.com/rOg3oeOHTi

— Andrew Perloff (@andrewperloff) August 6, 2019
After a 5-11 season in 2007, Billick was fired.
Looking over the vast coaching landscape, Newsome liked what he saw in Eagles special teams coordinator John Harbaugh and chose him to be Baltimore's new head coach.
Then, in 2008, Newsome took a chance on University of Delaware quarterback Joe Flacco with the 18th pick of the first round.
Both decisions were criticized, with many pundits believing Newsome had made two bad mistakes, especially hiring Harbaugh.
Those naysayers would be proven wrong as Harbaugh, along with Lewis, Reed, Flacco, and Suggs, won Super Bowl XLVII in 2012.
Harbaugh continues to coach the franchise and he has lauded Newsome's leadership ability.
"Ozzie is a transformational leader," Harbaugh said. "He develops people. He develops leaders. Look at the guys under him who have gone out. They've all done well. That's just how he does it. He gives them responsibilities. He's demanding high expectations, but he trains them."
Newsome decided that the 2018 season would be his last as the Ravens personnel director.
The @Ravens have announced that GM Ozzie Newsome will step down after the 2018 season.

He's currently the third longest-tenured GM in the NFL. pic.twitter.com/wUMS4gXeRJ

— ESPN Stats & Info (@ESPNStatsInfo) February 2, 2018
However, he gave the team one more parting gift before he left his position.
Near the close of the first day of the 2018 NFL draft, Newsome traded back into the first round to select University of Louisville quarterback Lamar Jackson.
Ravens GM Ozzie Newsome: Lamar Jackson is a Quarterback on my board. pic.twitter.com/rJXBqftkEW

— Jeremy Fowler (@JFowlerESPN) March 2, 2018
After being selected as a First-Team All-Pro and voted to his first Pro Bowl in 2019, Jackson is considered one of the NFL's rising super stars.

Newsome Goes Out a Winner
After five decades in pro football, Newsome didn't exactly retire.
He is currently listed as Executive Vice President for the Ravens.
Though he has stepped back as the chief decision-maker for Baltimore, Newsome continues to be recognized as one of the finest tight ends and executives in league history.
Ozzie Newsome & #Ravens fans can be proud of this throwback pic, featuring…

Combined Pro Bowls – 43
Ravens ROH Inductees – 6
Pro Football Hall of Famers – 3
Defensive POY Awards – 3
Offensive POY Awards – 1 pic.twitter.com/dneURZzEXq

— Patrick Gleason (@PMGleason) February 3, 2019
He has the very rare distinction of being voted into the Alabama Sports Hall of Fame, National High School Hall of Fame, College Football Hall of Fame, and Pro Football Hall of Fame.
Newsome was added to the Cleveland Browns "Ring of Honor" in 2010.
And, despite coming up short with championships as a college and professional athlete, he finally won it all as an executive with the Ravens when they won two Super Bowls under his watch.
Perhaps Newsome's career acumen is best summed up by former NFL General Manager Bill Polian.
"I would make the argument that if he wasn't in the Hall of Fame as a player, he would be in as a general manager," said Polian in 2019. "That's maybe the rarest of occurrences."