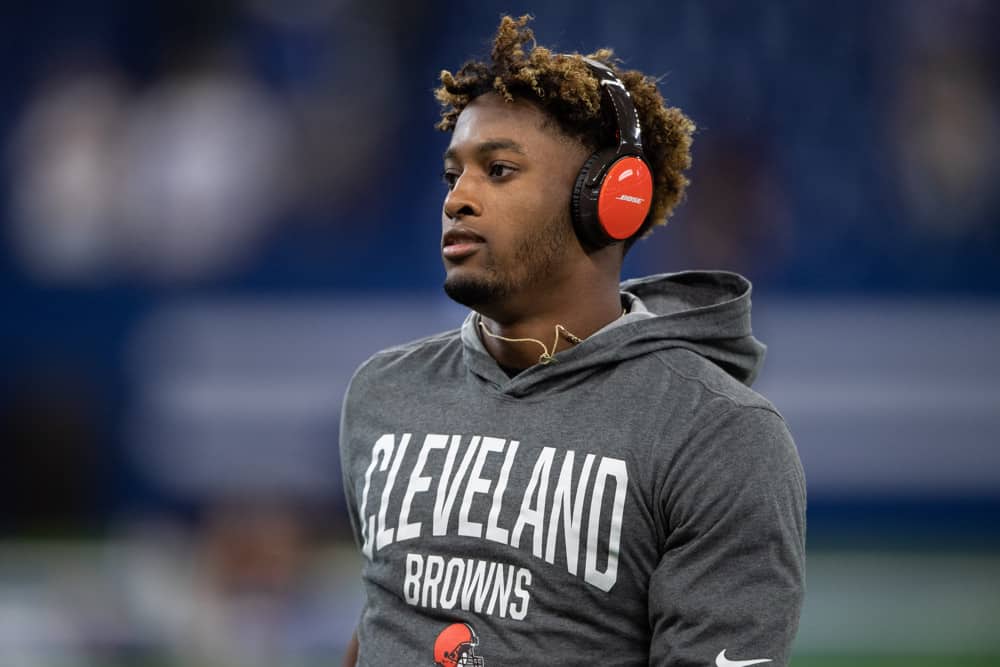 NFL pundits and fans can't decide what to make of wide receiver AJ Green after his 2020 debut.
They debate whether his career is near an end or if he just needs to shake off more rust after he converted just 3 of 13 targets this week.
But regardless of their position, Green's judges agree on one thing:
Denzel Ward in single coverage W2: 86.5 coverage gradepic.twitter.com/PpLyT2CFH0

— PFF (@PFF) September 19, 2020
The Cleveland Browns' Denzel Ward played a heck of a game Thursday night.
Then, they all go back to arguing over Green's diminished skills and missed opportunities.
Such is the life of an NFL cornerback that the conversation revolves around the wide receiver's abilities.
Few give more than passing mention to the defender over the course of a game, if even over a particular play.
That is understandable since cornerbacks face an average of 500 passing plays each year and it only takes 6 interceptions to lead the league.
Fortunately, there are people working hard to correct the slight against pass defenders.
PFF Ranks Denzel Ward Among Leaders
Pro Football Focus, for example, graded Denzel Ward's single-coverage defense at an eye-popping 86.5 against the Bengals.
Ward broke up more passes (4) than Burrow completed against him (3) in 9 tries.
PFF reported Ward had tight coverage, within one yard, on 7 of those 9 passes.
Bengals WR AJ Green lined up against Denzel Ward for 16 routes. Green got 7 targets, but had only 2 receptions for 14 yards, with Ward on him. @ESPNStatsInfo

— Jake Trotter (@Jake_Trotter) September 18, 2020
He shut down Green and rookie Tee Higgins on the outside.
In their preseason cornerback rankings, PFF lauded Ward's career 45-percent completion rate against.
Over the 2019 season, a decidedly "off" year for the defense, Ward allowed just one touchdown and a 58.0 passer rating when targeted.
PFF ranked Ward as the 16th best corner, and all of his ratables are better after 2 games of the 2020 season.
NextGen Stats tried its hand at ranking cornerbacks and pass defenders in the offseason.
Browns cornerback Denzel Ward forced 8 tight window passes on 11 targets as the nearest defender, the most tight windows forced in a game since 2017.

Denzel Ward as Nearest Defender
➤ 11 targets, 5 rec allowed, 46 yards, TD
➤ 73% tight window pct#CINvsCLE | #Browns

— Next Gen Stats (@NextGenStats) September 18, 2020
They introduced "Opponents Reception +/-" aimed at taking more variables into the ratings.
It is easy to see how the NextGen effort is flawed by unmeasurable influences.
Perhaps that is why it is still not listed on the 2020 NextGen statistics website.
But it is notable that Denzel Ward was their top zone pass defender in 2019.
Ward Even Better in 2020 For a Reason 
Some young NFL players might be satisfied with being among the top players at their position.
Denzel Ward is not among them.
Denzel Ward.. that's the tweet!

— Mack Wilson (@5mackwilson1) September 18, 2020
When defensive backs coach Jeff Howard approached him with a new man coverage technique, Ward pounced on it.
Howard spoke on a Zoom press session in the preseason about Ward's commitment to his game.
"That growth mindset is something that I can really see in Denzel. Every time he comes out on the field, he is really trying to get better, he is really trying to compete and he does not like to lose. That is really what you like to see in a corner."
Ward followed up after a practice session.
"I have not really worked that technique before. It has been a fun process so far and learning the new technique. Just trying new things out and not really being one dimensional."
Maybe AJ Green needs to knock off some more rust.
But Bengals fans should expect any receiver to have a tough time against Denzel Ward.
There is a reason PFF says Ward should be recognized as one of the NFL's best cornerbacks.